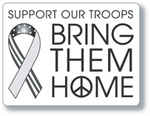 With antiwar momentum building in and out of Congress, major grassroots efforts kicked off last week to bring U.S. troops home.
It is especially vital now to press Republicans to end the Iraq war, MoveOn Political Action said in an April 2 e-mail message.
"There are several Republican senators who have criticized the war loudly, but haven't actually supported any efforts to end it," MoveOn said. The message launched a nationwide campaign to "flood their offices with phone calls from constituents" to "convince these senators to stand with the American people and support a deadline to end this war."
"For the first time since the Iraq war started, Congress has passed a deadline to end it," the message noted. "President Bush has promised to veto any bill that would end the war. But if Republican senators stop supporting him, he'll be unable to continue ignoring the will of the American people."
Likewise, the national peace coalition United for Peace and Justice sent out a March 30 action alert on "Keeping the pressure on Congress."
"Congratulations!" UFPJ's message said. "Because of the persistence and hard work of the antiwar movement, the Iraq debate in Congress has shifted from 'if' to 'when' we pull out of Iraq." The coalition urged phone calls, e-mails and visits to members of Congress while they are home on recess, along with vigils and other public actions, to insist on "a firm end date for our military presence in Iraq." It added, "Start bringing the troops home now, bring all the troops home in 2007, and no war in Iran."
Judith Le Blanc, UFPJ co-chair, told the World, "The biggest development since the opening of the new Congress is the standoff between Congress and Bush. Many members of Congress are trying to find a way to bring the troops home. The anti-Iraq-war movement has got to do everything possible to strengthen the hand of Congress to act to bring the troops home. Our message to both our allies and those who've been reluctant to take sides is: Bush is wrong, and the only way out is to bring the troops home by the holidays — Christmas, Hanukkah, New Year's — and get diplomacy under way."
Bush struck an aggressive pose in an April 3 news conference, accusing Democrats of undermining U.S. troops, and vowing to veto "artificial timetables for withdrawal." But, responded Le Blanc, "Bush is more obstinate than ever in refusing to recognize that the majority want this war to end. And it's his refusal to pursue diplomatic solutions that is undermining the troops and putting U.S. and Iraqi lives on the line."
This calls for "people who think the war was a mistake to raise their voices even louder," she said. "It's an exercise in democracy to press Congress to carry out the will of the people."
Stepping up the challenge to Bush, Senate Majority Leader Harry Reid (D-Nev.) announced April 2 he is co-sponsoring new legislation cutting off funding for the Iraq war by March 31, 2008.
Reid said he would press for Senate action on the bill if Bush vetoes Congress' appropriations bill because it sets a timetable for withdrawal. It was seen as a signal that Bush's veto would not stop congressional moves to end the war.
The new bill, to be introduced by Sen. Russ Feingold (D-Wis.) when the Senate returns April 9, would require beginning withdrawal within four months and end funding for military operations in Iraq in March 2008 except for specific defined purposes: limited anti-terrorism operations, protection of U.S. personnel, and training and equipping Iraqi forces. Sen. John Kerry has also signed on.
Reid spokesman Jim Manley told reporters it was the "next in a series of steps designed to try to force a change in administration policy."
A House-Senate conference committee is working to reconcile the bills passed by the House and Senate last month, which differ in some specifics. The final bill is expected to hit Bush's desk by late April or early May.
Rep. Charles Rangel (D-N.Y.) said the key thing for Democrats in Congress is to send Bush a bill with a withdrawal date. Speaking on "Meet the Press," April 1, Rangel said, "I think the most important thing and the worst thing that's ever happened to this country in recent history is getting involved in the Middle East, and I didn't care what was in that bill if there was anything to slow down, to, to say what the American people said in the last election, 'Get out of Iraq!'"
Meanwhile, NBC reporter Andrea Mitchell says moderate Republican senators told her privately that they don't favor Bush's Iraq surge and "don't believe it's going to work." Mitchell said on the Chris Matthews show last week, "What many Republican senators are saying, Chris, is that if there isn't real progress by the end of the summer, that`s when they are going to really break with the president."
Mounting public pressure may force them to act sooner.
suewebb @ pww.org