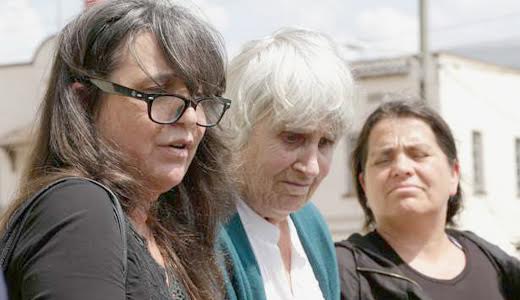 ORLANDO, Fla. (AP) – A former lieutenant under the brutal dictator Augusto Pinochet tortured and killed famed Chilean folk singer and political activist, Victor Jara, whose family had been seeking justice for more than 40 years, a federal jury in Florida ruled June 27.
The jury in the civil case ordered former Lt. Pedro Pablo Barrientos Nunez to pay singer Victor Jara's family $28 million in damages.
Jara's family had claimed that Barrientos was in charge of soldiers at the stadium where Jara was tortured and killed in the days after Pinochet's coup d'état in 1973. The coup led to the torture and disappearance of thousands of political opponents: trade unionists, students, journalists, communists, socialists, filmmakers and others.
"This is the beginning of justice for all the relatives in Chile awaiting the fate of what happened to their loved ones," said Joan Jara, Victor Jara's wife outside the federal courthouse in Orlando, Florida. "I hope that the verdict today continues the healing."
Barrientos – who now lives in central Florida – had discounted a witness who made that claim, and said the lawsuit should never have gone to court. His attorney, Luis Calderon, said no decision on an appeal had been made yet.
The lawsuit was filed by Joan Jara; Victor Jara's daughter, Amanda, who was 8 when her father died; and his stepdaughter, Manuela, who was 13, under the Torture Victim Protection Act, which allows civil lawsuits to be filed in the United States against people who have committed torture.
"It's a case for criminals to see that if they ever commit a crime anywhere on this planet, they cannot run away and hide," Amanda Jara said after the verdict.
Victor Jara was a popular singer and political activist who worked for the candidacy of Salvador Allende, a Socialist who was elected president of Chile in 1970. Allende's efforts to nationalize industries, including the takeover of U.S.-owned copper companies, drew fierce opposition internally and from the United States, which opposed leftist influences in Latin America.
Pinochet, an Army commander, orchestrated a coup against Allende's government in September 1973. Allende killed himself after unsuccessfully leading resistance to a military assault on the presidential palace. Pinochet and the military junta he headed shut down congress, opposition political parties and trade unions. Soldiers rounded up Allende supporters and ideological enemies and sent them to the stadium where many were tortured or disappeared. That sports stadium in Santiago is now named in honor of the murdered folk singer.
Years later, various commissions determined that almost 3,200 people were killed or went missing between 1973 and 1990, when Pinochet's dictatorship ended, and tens of thousands of people were tortured or arrested and interrogated.
In a 2000 report, The Central Intelligence Agency said it was aware of the coup plotting but that it didn't instigate it. Some historians argue that U.S. efforts to destabilize Allende's government helped foment the coup.
"Victor could never have imagined that justice for his case would occur in the United States," Joan Jara said after the ruling.
The Jara lawsuit claimed that the singer's music and political beliefs, spotlighting social inequality, were a threat to Pinochet's rule. Victor Jara was arrested during an army assault on the university where he worked, and he was transported to the stadium that had been converted into a makeshift prison for some 5,000 detainees. He was taken to an underground locker room where he was brutally beaten and then shot more than 40 times, including in the head, according to the lawsuit.
In 1978, Joan Jara attempted to have a criminal investigation opened in Chile, but those efforts were thwarted by a law granting amnesty to anyone who committed crimes from 1973 to 1978. In 2012, the Santiago Court of Appeals charged Barrientos as a perpetrator in the killing of Jara but couldn't move forward with a prosecution because Chilean law doesn't allow for prosecutions in absentia. That left the family with no options to pursue justice in Chile, the lawsuit said.
The California-based Center for Justice and Accountability, which filed a civil suit against Barrientos in 2013, has called the action an historic attempt to seek truth and justice for heinous crimes committed during the Pinochet regime.
"We believe that perpetrators of the worst human rights crimes should be held to account, no matter how long it takes or where they try to hide. We must strive for a world where all can live freely, unafraid to speak up or sing out for equality, opportunity and responsibility," said C. Dixon Osburn of the Center for Justice and Accountability. "We hope that the verdict today provides some measure of justice and accountability for those who have fought so hard to see this day."
In 2003, a jury in Miami awarded $4 million to the family of a Chilean economist, Winston Cabello, who was executed by a military death squad known as the Caravan of Death.
In the 2010 Chilean mine disaster, 622 meters below the parched surface of the Atacama Desert, Luis Urzúa, a son of the victims of the dictatorship, wrote the famous note giving the news that 33 miners were alive, and organized a daily routine, and stayed on alert even when the morale of the group was flagging. All 33 were eventually rescued and Urzúa raised his fist in jubilation after being the last miner out.
Urzúa's father was labor union director of the Communist Party. He became one of the "disappeared" at the beginning of the dictatorship of Augusto Pinochet.
His stepfather, Benito Tapia, was a copper miners' union leader and member of the Central Committee of the Socialist Youth organization. In October of 1973, he was murdered in the Copiapó cemetery and buried without a casket in a mass grave, together with two of his comrades, victims of the Caravan of Death. Tapia was 32-years-old. Luis Urzúa was barely 17.
Video of Victor Jara's last performance, August of 1973, in Peru. He sings the haunting, "Pienso en ti." I think of you.
PW's Barbara Russum contributed to this article.
Photo: Joan Jara, center, wife of Chilean singer and songwriter Victor Jara, makes a statement with her daughters Manuela Bunster, left, and Amanda Jara Turner, right, at the federal courthouse, June 27, 2016, in Orlando, Fla., after a jury ruled that former Lt. Pedro Pablo Barrientos Nunez, a military officer in the regime of Chile's brutal dictator Augusto Pinochet, tortured and killed the folk singer more than 40 years ago and is awarding his family $28 million. John Raoux | AP