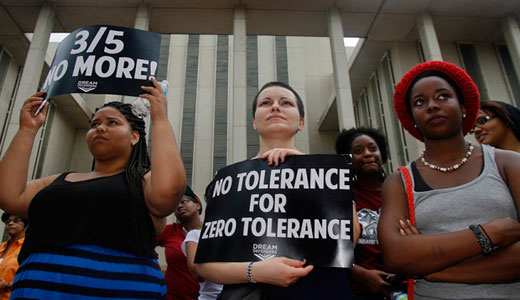 TALLAHASSEE, Fl. – After Florida's governor refused to call legislators back to hold a special session to discuss the state's Stand Your Ground law last week, the youth and students who have been occupying the state capital, decided to convene their own.
The Dream Defenders, a multi-racial human rights organization of youth who confront inequality with nonviolent direct action and coalition building, began their takeover of the Florida Statehouse last week. They demanded a meeting with Republican tea party Gov. Rick Scott and a special session of the Florida Legislature to address the "circumstances that led to the killing of Trayvon Martin over a year ago: the school-to-prison pipeline, stand your ground vigilantism, and racial profiling."
The vice president of the Dream Defenders at the University of Central Florida, Marie Paul, said, "In the state of Florida, young black and brown and poor children aren't safe. We have parents fearing for their young and babies fearing for their lives, and they have every right to be unsettled. They are being criminalized and penalized and stigmatized negatively and at alarming rates by a system that seems to be protecting everyone's rights but theirs. That's a problem.
"We're calling our own special session because lives are at stake and idleness will not be tolerated. The Scott administration seems to be more focused on their reputation than actually finding solutions," Paul said. "On their end, there has been nothing but talk up to this point; enough talk. We know what the issues are, and being that he is the governor, he too should be aware of the concerns plaguing his constituency—so what else do we have to discuss?"
The Dream Defenders plan to continue their takeover of the statehouse while holding their mock legislative session and to introduce a bill named "Trayvon's Law" to address Florida's Stand Your Ground, racial profiling and the school-to-prison pipeline.
Photo: AP