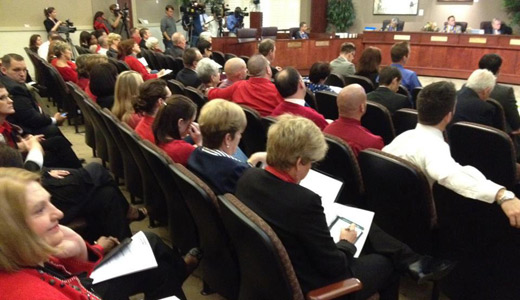 ORLANDO, Fla. – Orange County, home to Walt Disney World, now is poised to become the latest county in Florida to adopt a law setting up a domestic partners registry that would allow unmarried individuals to gain legal recognition and some legal rights for their relationships. The County Commission voted Tuesday, Feb. 21, 6-1, to instruct county staff to draft such an ordinance that may be similar to the one adopted by the city of Orlando in December 2011.
Orlando's ordinance allows domestic partners to visit each other in the hospital and jail, to make emergency medical decisions for each other, to participate in making decisions about the education of minor children in the household, and to designate each other as a pre-need guardian. It also requires notification of domestic partners in an emergency.
Many activists from the LGBTQ community, who spent months building support for the measure and convincing sometimes reluctant Orange County Mayor Teresa Jacobs of the need for it, hope that what is passed will mirror Orlando's ordinance. However, Jacobs, who only announced her support for the measure late last week, wants to go beyond what Orlando allows by making the registry available to individuals who don't live together. This along with issues involving cremation and religious and private schools and technical issues will have to be worked out before the measure is voted on some time over the next several months.
Other areas in Florida with domestic partnership registries include Miami-Dade, Broward and Palm Beach counties, and the cities of Gainesville, Miami Beach and Key West.
Unlike years past when other local government measures dealing with rights for LGBTQ individuals have attracted vociferous opposition from socially conservative Christians, no one spoke against the ordinance. More than a dozen individuals spoke in favor and the almost packed meeting room included more than 30 people wearing red as a sign of support.
"I think we've demonstrated that we have a progressive, inclusive community that is respectful of others," said Commissioner Ted Edwards, who supports the ordinance.
Joe Saunders, state field director of Equality Florida, a LGBTQ civil rights organization, said, "There really is a broad coalition of support from the private sector, from community organizations like mine, [and] from advocates in the community who think it's beyond time to do this." Equality Florida and the Orlando Anti-Discrimination Ordinance Committee have played leading roles in the campaigns for the Orlando and Orange County registries.
"There's numerous reasons why you should pass the domestic partnership," said Randy Stephens, executive director of the Gay, Lesbian, Bisexual, Transgender Community Center of Central Florida and a member of OADO. "There is the matter of equality, there is the matter of economics," he said, referring to support the measure has gotten from some in the business community, who feel it would make the area more attractive to corporations, "but, basically, it is the right thing to do." Stephens noted that the ordinance benefits not only gay and lesbian families but all non-traditional families.
Local political activist Suzannah Randolph, wife of state Rep. Scott Randolph, D-Orlando, read a letter to the commission from her husband, who is in Tallahassee at this year's legislative session.
"These rights are important to all families…including gay and lesbian couples as well as seniors who may not want to marry again after the death of a spouse," wrote Scott Randolph. "By passing the human rights [anti-discrimination] ordinance in 2010 and last year extending equal benefits to county employees['] [partners] Orange County has already demonstrated its commitment to equality for all. I urge you to continue on this path by implementing the … registry." Randolph has in the past sponsored legislation to create a statewide domestic partners registry.
Photo: Commission during discussion of ordinance. Via OADO Facebook page.