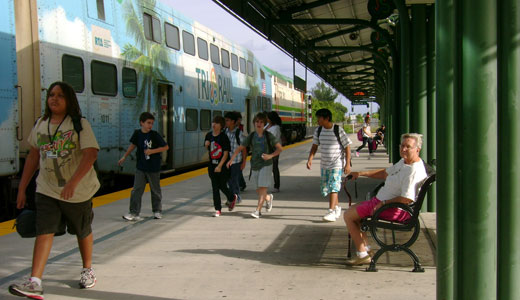 MIAMI – In a move that seems to have left everyone – aside from his tea party support base – fuming, Florida Republican Gov. Rick Scott refused to take billions of dollars from the Obama administration for what Scott's critics say would be an economic boom for the state: a high speed rail project connecting Tampa and Orlando.
Scott's move puts him at odds with transportation advocates and Democratic elected officials, but, reflecting growing splits within the Republican Party, Republican officials are also speaking out against the refusal.
Republicans in Tallahassee, the capital, have been divided – some in favor, and some politely quiet. U.S. Rep. John Mica, a Republican who represents much of central Florida, where the project was to be located, said in a statement, "I am deeply disappointed in the decision to not move forward with the Orlando to Tampa passenger rail project."
"This is a huge setback for the state of Florida, our transportation, economic development and important tourism industry," he said.
Some see Scott's decision as a slap in the face to the state's history. Florida is generally pro-rail, and considers that part of its heritage. Henry Flagler, who, in the late 1800s pioneered Florida's public rail system, is revered statewide, with his name appearing on streets, colleges and other institutions across the state.
Refusing money for commuter rail bucks the actual forecasted transportation trends. With the cost of gasoline likely to exceed $4 per gallon this summer, public transportation is likely to see an increase in ridership.
According to Wes Watson, Executive Director of the Florida Public Transportation Association, "In 2008, we as an industry found out that $4 per gallon tends to be a tipping point, where large numbers of Floridians start taking the bus or train to work."
"Now that gas is rising again and the population of Florida is growing again, it's time to make sound investment in public transportation," Watson said during the lead up to Scott's decision.
In a press release, FPTA noted that the average savings for each person who forsakes their care for public transit is $9,581 annually.
Since Rush Limbaugh famously announced that he "hope[s] Obama fails," Republicans, and especially their tea party arm, have been openly working to subvert Obama's agenda, even at the expense of jobs and the economy.
Reflecting this sentiment, Republican Speaker of the House John Boehner said Feb. 15, regarding the effects of his party's budget proposal, "[I]f some of those jobs are lost in this, so be it."
While Gov. Scott claims worry about cost overruns that could potentially be picked up by Florida taxpayers caused him to refuse the money, many see this reasoning as a smokescreen hiding a politically motivated move that would harm the state, particularly its working people. But according to planning documents drawn up by state officials, the companies bidding for construction jobs would be compelled to pay for any overage costs. Reportedly, construction companies were ready to agree to the deal.
Various plans are being floated to circumvent Scott's decision. Currently, some local lawmakers are looking into bypassing the state, instead allowing county governments to receive the funds. Others are unsure as to whether the governor is vested with the power to actually refuse the funds. A U.S. Department of Transportation lawyer is looking into the matter.
Grassroots advocacy for transit is on the rise. On Jan. 4, the FPTA, along with the Sierra Club and others, launched the "IM4Transit.org" campaign, aimed at "building a community of 100,000" public transit advocates across the state.
Photo: People getting on and off the train at a tri-rail station in Palm Beach County. Flickr