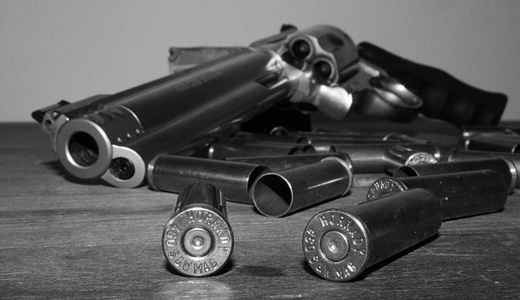 MIAMI – When it comes to changing gun laws, a plurality of likely voters in this state would rather "stand their ground."
When asked in a poll whether they support modifying, scrapping or keeping the state's controversial "Stand Your Ground" law, a vast majority of respondents in the Sunshine State, 64 percent, say they want to keep the law unchanged. 18 percent want to repeal it, while 16 percent want it modified and 2 percent are unsure what the state should do.
However, some criticize the poll's language. "The poll question is filled with misleading legaleze that makes it very difficult to understand what this law is actually about, so I wouldn't put any credence in this poll's responses concerning that question," said Daniel Vice, senior attorney for the Brady Center to Prevent Gun Violence.
The law came to national prominence most recently when George Zimmerman, a Latino self-appointed neighborhood watchman – many say vigilante – shot and killed the unarmed Trayvon Martin, an African-American youth who was walking from a relative's house in suburban Orlando to a local convenience store. Zimmerman claimed self defense while Martin's family, friends, and a number of witnesses said the watchman provoked the violence, resulting in the death of the 17-year-old Martin.
Currently, Zimmerman is on trial for second-degree murder. His initial arrest was delayed, because police in Sanford, where the shooting took place, allegedly feared that arresting him would violate the Stand Your Ground law.
There were strong disparities in support for the law by region, gender and race and ethnicity.
71 percent of men and only 58 percent of women polled favored keeping the law is. In northern Florida, which is most closely identified with "the South," 71 percent of respondents favored keeping the law. At the opposite extreme was southeastern Florida, which includes Miami-Dade as well as several counties to its north, only 55 percent supported the law and more than a quarter favored its appeal. In that region is Broward County, which is considered one of the most liberal in the state.
While 82 percent of Republicans support the law, a surprising 47 percent – statistically equal to half – of all Democrats polled want to keep the law as is.
The biggest division, however, was along racial and ethnic lines. 71 percent of white voters sampled favor keeping the law, while only 27 percent of blacks do. 59 percent of Hispanic voters favor keeping the law as is.
Florida's large Cuban-American population, with its unique background, has often pushed the overall Hispanic population in a conservative direction in polling results.
Vice suggests wording the question differently: "A Tampa Bay Times investigation has found that Florida's 'stand your ground' law is being used to free gang members involved in shootouts, drug dealers beefing with clients and people who shot their victims in the back. Do you support or oppose keeping Florida's 'Stand Your Ground' law as it is currently written?"
Despite the strong showing from most sectors in favor of keeping the law, respondents were more evenly divided on the Trayvon Martin case. Only 44 percent of all voters surveyed thought that Zimmerman was acting in self-defense, meaning that they thought it was an instance that should not have been covered by Stand Your Ground.
Even in north Florida, only 52 percent thought Zimmerman was acting in self-defense, while in Miami-Dade and surrounding counties, respondents disagreed with Zimmeran's claims 40 – 47.
The racial divide is even stronger on this question. Only 6 percent of blacks thought Zimmerman was acting within his rights under the law, while 50 percent of whites backed him.
According to Vice, the low amount of support for Zimmerman suggests "people responding to the poll's first question about the law did not fully understand how far this law goes in protecting dangerous people who kill in entirely avoidable confrontations."
Amongst other findings, President Barack Obama and Republican presidential hopeful were statistically tied, voters oppose Obama's health care reform 43-52 percent, and contradictory views on immigration.
The poll, conducted on behalf of the Tampa Bay Times, Miami Herald and Bay News 9 by Mason-Dixon Polling and Research, was performed from July 9 through July 11. It was conducted by telephone, and 800 registered voters were interviewed. The poll has a margin of error of slightly more than 3.5 percentage points overall. Because smaller numbers of people were polled, there is a larger margin of error for the various subgroups – regional, racial and ethnic, by party and by gender.
Photo: Greta Ceresini // CC 2.0