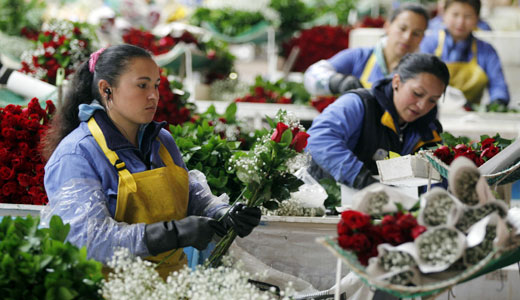 Today is Valentine's Day, and flowers will be sent to people all over the country. But the Colombian workers – mostly female – who cut and ship those flowers must endure substandard pay and conditions, reports the AFL-CIO. This holiday would provide an excellent opportunity to show support for them.
According to the U.S. Labor Education in the Americas project, workers in Colombia – where 60 percent of U.S. flowers come from – work long hours, and don't earn enough to support their families. They also endure sexual harassment, and any efforts they might make to form a union or to improve wages and conditions would get them fired .
And medical surveys indicate that two thirds of flower workers suffer from problems stemming from exposure to harmful pesticides, including nausea and miscarriages, according to a report by Oxfam International.
"The women have to come back into the greenhouses immediately after the flowers are sprayed with pesticides," said Dionise Trujillo, a former flower worker in Colombia. "Some of them get dizzy or have trouble with their blood pressure, and some of their children have been born with lung problems."
Colombia's Labor Action Plan, agreed to last year by President Obama and Colombia President Juan Manuel Santos, has reportedly failed to create better conditions for Colombian working families. The plan was touted as a big step in ending violence against trade unionists and protecting workers' rights to come together in unions, but such progress has not been made.
In response, USLEAP is calling on people to fight for the rights of the nearly 100,000 flower workers, and to turn Valentine's Day into International Flower Workers Day. USLEAP asks everyone to support their cause and sign a letter to Colombian Minister of Labor Rafael Pardo Rueda, demanding that flower workers receive "fair wages, equal treatment, and justice."
As people in the U.S. buy flowers today for that special someone, most will not think about where they came from, and who had to suffer for it. Valentine's Day is considered to be a day of love, but many feel that as International Flower Workers Day, it could also be regarded as a day of fairness and equality for workers.
Unfortunately, for the Colombian flower workers, until conditions improve, today will simply mean more of the same.
Photo: Colombian workers pack roses to be shipped to the U.S. Fernando Vergara/AP