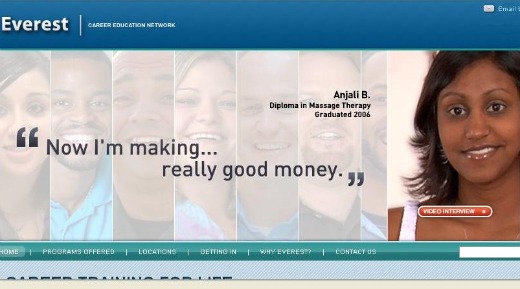 Armed with billions of taxpayer dollars, a consortium of for-profit colleges has managed to stymie a regulation aimed at protecting students and taxpayers from the colleges' predatory loan practices and false advertisement.
Civil rights organizations, unions, student and consumer protection groups are mounting a counter-campaign in favor of the government's regulation. New Department of Education data backed their claims that better oversight is necessary.
Called the "gainful employment" rule, its development came out of Education Department's 2009-10 regulation review. It would require for-profit higher learning programs (and possibly low-performing public and non profit ones) to prove they prepare students for "gainful employment in a recognized occupation." The battle is how to measure it. The Dept of Ed proposes one measure as the student loan default rate. If there is a high default rate, then graduates have not found successful jobs and are unable to pay back the loans., according to department studies.
The rule would come with levels of enforcement, from warning labels to loss of federal aid for unsuccessful programs (not necessarily the entire school).
Reports show an alarmingly high default rate among for-profit school students, and these businesses fear they will lose their federal gravy train if oversight is implemented.
For-profit schools, like the University of Phoenix, Everest College, Kaplan, and Devry University, account for 48 percent of all federal loan defaults, according to Ed. Dept. statistics, while only enrolling 9 percent of the nation's post-secondary education students. These profit mills receive 25 percent of all higher education federal aid, while producing a 25 percent loan default rate for 2008. This rate was significantly above the 10.8 percent rate at public colleges and a rate at private nonprofit colleges of 7.6 percent.
Students are often lured to the for-profit schools by TV ads and other promises of well-paying careers and easy access to government grants and loans. Education, after all, is the only way to get ahead in life, they are told. Many believe if the federal government is providing aid, then the certificates or degrees are widely viewed among employers and other learning institutions as acceptable or "accredited." But accreditation is a complicated process, and there are many schools that claim it, and yet the accreditations are flimsy and mean nothing to employers.
Like the banks' subprime mortgage scam, which preyed upon millions of people, especially lower income, seniors and people of color, and triggered the 2008 financial meltdown, these schools knowingly prey upon ambitious and hard-working people looking to get ahead. At the same time, CEOs and stockholders enrich themselves with millions of taxpayer dollars.
Martine Leveque went to Everest College's Licensed Vocational Nursing program after her film-industry job moved overseas. Before enrolling she was promised a program that included hands-on-training in state-of-the-art labs and rotations at UCLA Medical Center. She was told she'd enter a field that makes $28-$35 an hour. The school rushed through the paperwork, and in all too typical a fashion, did not fully inform Leveque of the loan terms.
Everest's promises didn't match reality. According to the Washington Monthly report, the instructors were inexperienced, the labs littered with broken equipment and instead of a rotation at UCLA, Leveque dispensed pills at a nursing home. She wound up becoming a home health care aid, a job that pays nowhere near $28-$35 an hour, and is saddled with $32,000 in debt. She said she made one mistake and now has to pay for it the rest of her life.
Everest College is owned by Corinthian Colleges Inc., a for-profit school with revenues more than $1 billion annually, 89 percent of which came from taxpayers through Pell Grants and federally subsidized student loans. It posted $71 million in profits in 2009 and paid its CEO that year $4.5 million. It spent $295 million in advertising and recruiting students.
"They are by and large a marketing operation," said Sen. Dick Durbin in a September 2010 speech to the U.S. Senate, "bring the students in, sign em up, bring in the federal dollars" and repeat.
Corinthian's student loan default rate was 39.3 percent in 2008. Corinthian is one of the corporations that spent millions against the "gainful employment" rule, which would curb these predatory practices. And, by extension, threatens their ill-gotten profits.
Community colleges, on the other hand, provide many of these same certificate and degree programs as the for-profit schools for a fraction of the cost. And contrary to the for-profit school generated myth, many community colleges are not full or over-capacity. Some are not even at 50 percent.
Durbin said Olive Harvey College, part of the City Colleges of Chicago, is at 50 percent capacity and can absorb many more students in its programs at a much lower tuition rate.
But community colleges spend only 2 percent of their revenue on advertising, going up against the marketing operations of the for-profit schools, which on average, spend 25 percent of their taxpayer-subsidized revenues on advertising.
At Everest College in Skokie, Ill., the average cost for a degree or certificate runs students $14,000, but just a few miles down the road, Oakton Community College offers many of the same courses at a much lower cost. For example, Durbin said, a certificate in medical billing costs $10,000 at Everest and only $1,000 at Oakton.
The American Federation of Teachers, Leadership Conference on Civil Rights and many others have called on Education Secretary Arne Duncan to "issue a strong gainful employment rule that would crack down on programs that fail to prepare their students for a better future."
Photo: From Everest College website.