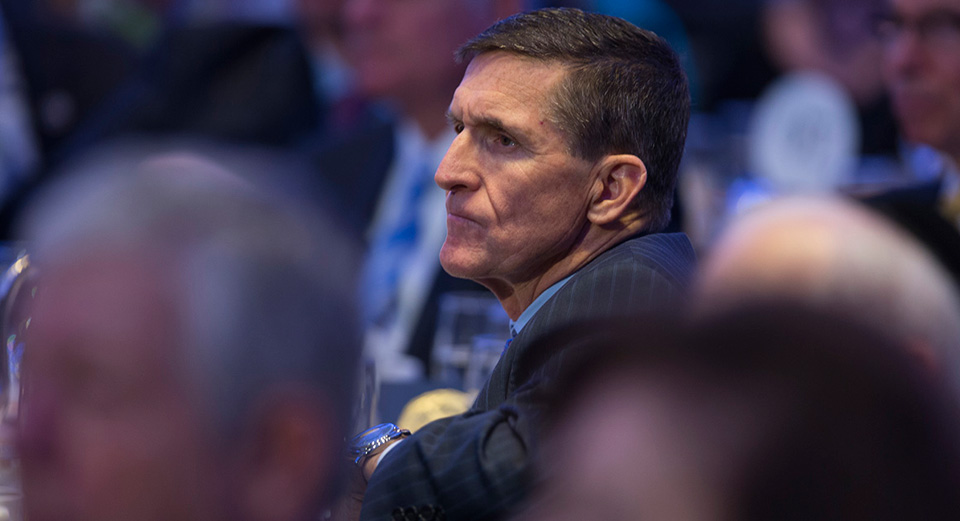 WASHINGTON—Former national security adviser Michael Flynn's guilty plea to one count of lying to the FBI in the investigation of collusion between Donald Trump's 2016 presidential campaign – including between the election and the inauguration – and the Russian government shows Flynn is a big fish in Special Counsel Robert Mueller's expanding corrupt pond.
But he may not be the biggest, according to documents Mueller filed in U.S. District Court in D.C. when Flynn pled guilty on Dec. 1. Both lawmakers and law professors agree with that conclusion.
While pleading guilty to one count which could land him up to five years in jail and a $250,000 fine, Flynn said he's talking to Mueller about collusion between the campaign and the Russians.
Flynn's lies to the FBI occurred on Jan. 24, just after he took office as Trump's National Security Adviser.  He also lied to Vice President Mike Pence – the original reason Trump fired Flynn.
The lies "impeded and otherwise had a material impact in the FBI's ongoing investigation into the existence of any links or coordination between individuals associated with the campaign and Russia's efforts to interfere with the 2016 presidential election," the prosecutors' statement of information says.
Flynn also lied to the FBI by concealing his conversations with top campaign officials about his talks with Russian Ambassador Sergei Kislyak. The top campaign officials are the bigger fish in the pond.
After talking with "a senior official" of Trump's transition team, Flynn spoke with Kislyak about sanctions and U.S.-Russia relations. The day after Democratic President Barack Obama's announcement of sanctions against Russia, Kislyak called Flynn to say, quoting the prosecutors' document, "Russia had chosen not to retaliate in response to Flynn's request."
The document adds Flynn also tried — unsuccessfully – to get Russia to vote down an Egypt-sponsored United Nations resolution condemning the latest round of Israeli settlements in the West Bank. The Obama administration abstained on the resolution, rather than vetoing it. Had any of the Council's five permanent members, including Russia or the U.S., vetoed it, it would have died.
Flynn lied to the FBI not just about those calls; he also lied when he didn't tell the FBI he discussed all of this with, first, a so-far-unidentified "senior official" of Trump's transition team and then with "a very senior official" of the transition team.
There weren't many senior officials above Flynn himself in the campaign or the transition team. News reports identify the "senior Trump official" as K.T. McFarland, whom Trump wanted as Flynn's deputy national security adviser. He had to withdraw her name after it came up in Mueller's probe. News reports speculate the "very senior official" is Jared Kushner, Trump's son-in-law.
How high up was Flynn? Sen. Lindsey Graham, R-S.C., a retired member of the military's Judge Advocate General's corps of attorneys, told Face the Nation: "If there was coordination between the Trump campaign and the Russians, I can't think of a person who would know more about that than Flynn. You've found the one person who would know if it (collusion) did exist.
"So it won't be long before we understand, one way or the other, whether Trump people colluded with Russia because I can't imagine it happening and Flynn not know about it," Graham said.
The law school experts, interviewed by the Vox law blog, concluded Mueller agreed to let Flynn plead guilty to that one count because he expects Flynn to sing. The American Bar Association's canons of prosecutorial ethics permit such agreements, with restrictions.
Typical comments came from Professor Jessica Levinson, an expert on election and politics law at Loyola University in Los Angeles, and Andy Wright, an associate professor of constitutional law and separation of powers at Savannah Law School in Georgia.
"Flynn's plea deal all but ensures he is working with" Mueller, said Levinson. Flynn is likely giving Mueller's team "details that could help continue their inquiry into whether the Trump campaign helped the Russian government interfere with the 2016 election and/or whether President Trump has attempted to obstruct justice by halting that inquiry."
"We can infer Flynn's cooperation by what is not charged," added Wright, an associate White House counsel during Obama's first term. Public reports show "Flynn has a ton of criminal exposure, and yet he's pleading guilty to a relatively minor crime. I'm confident Flynn is singing like a bird to Mueller."
Meanwhile, there's one big question about Trump. To quote the late Sen. Howard Baker, R-Tenn., about Richard Nixon during the 1973 Senate Watergate Committee investigation: "What did Nixon know and when did he know it?" Substitute the name "Trump" for the name "Nixon."
"I had to fire General Flynn because he lied to the Vice President and the FBI. He has plead guilty to those lies," Trump tweeted on Dec. 2. "It is a shame because his actions during the transition were lawful. There was nothing to hide!" Trump's attorney, John Dowd, took ownership of that tweet, in an attempt to take the heat off his boss.
But Sen. Dianne Feinstein, D-Calif., top Democrat on the Judiciary Committee, raised the question of when Flynn lied and when Trump knew, disagreeing with the tweet: "Flynn's guilty plea is about more than just lying to the FBI. What he lied about and when he did it are of even greater significance.
"This shows a Trump associate negotiating with the Russians against U.S. policy and interests before Donald Trump took office and after it was announced that Russia had interfered in our election. That's a stunning revelation and could be a violation of the Logan Act, which forbids unauthorized U.S. citizens from negotiating with a foreign power," Feinstein explained.
"It's critical we determine whether Flynn spoke with the Russians on his own initiative and who knew and approved of his actions. This is just one more proof point these investigations must be allowed to continue without interference."