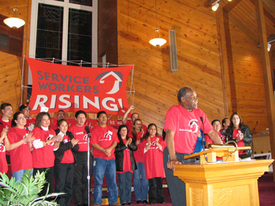 SAN JOSE, Calif. — They may top the list of the country's "best companies to work for," but the thousands of nonunion contract workers who serve gourmet lunches in the luxury cafeterias of Silicon Valley high-tech firms don't see it that way.
The Unite Here union brought food service workers together with labor, elected officials, and community and faith leaders at Antioch Baptist Church Jan. 29 to launch a campaign for a corporate code of conduct.
While high-tech companies claim they are not responsible for workers employed by contract firms, contractors claim they are only doing what their clients want, Jim DuPont, Unite Here international vice president, told the crowd. "So we've got this corporation and that corporation and neither one will take any responsibility. That's why we are creating Service Workers Rising."
With the code of conduct, area high-tech firms would commit to contract with service companies that provide fair wages and adequate health benefits, comply with state and federal laws, and take a neutral stance toward union organizing. The event focused on companies contracting for food service with Guckenheimer Enterprises, which serves dozens of firms such as Genentech, Oracle, Applied Materials and Broadcom.
Workers told harrowing stories about their experiences on and off the job.
Josefina Espinoza, a food preparation worker at Broadcom, was hurt last July when a stack of trays fell and struck her face. "My nose was bleeding," she said. "My co-workers came to help, but found there were only Band-Aids in the first aid kit." When she told her manager what had happened, Espinoza said, he ordered her to wash her face, then stormed back into his office and slammed the door. "I was angry and upset," she said. "I could not tend to my injury until after work."
Adriana Gonzalez, a cashier at Genentech, told of her family's struggle to make ends meet. She, her husband and their two sons live crowded together with her husband's mother, his two brothers and their wives. With health coverage costing $258 a month, and $20 co-pays for doctors' visits, she said, "We can only afford to go to the doctor when we are very, very sick."
They and other workers emphasized the importance of standing together for union recognition.
The rafters rang in San Jose's oldest African American church as South Bay Labor Council head Phaedra Ellis-Lamkins, legendary United Farm Workers union co-founder Dolores Huerta and actor/director Danny Glover led the standing-room-only crowd in chants of "Sí, se puede" and pledges of support for the workers' campaign.
"It is significant when we, men and women of color, come together to celebrate and honor each other, and to respect each other's right to work and to organize," Glover told the crowd.
Without the food service workers "putting food in their stomachs," the high-tech workers "wouldn't be able to do anything," Huerta reminded the audience as she urged them to sign cards affirming their support. "We are going to try to reach the employers' hearts, their consciences, and to let them know we are not going to let them keep these workers in a state of poverty," she declared.
"Today is about all of us coming together to say this is the type of valley that we want to be," said Ellis-Lamkins. "We're going to be a community that says, if you work 40 hours a week, you deserve to be able to support yourself and your family."
mbechtel @ pww.org