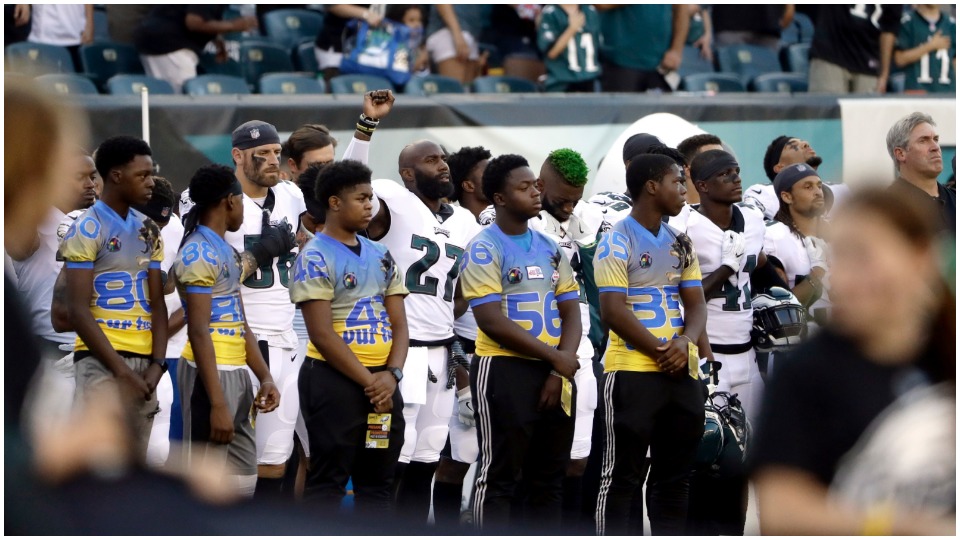 The state of Missouri, city of St. Louis, myself, and almost everyone I know was at the raggedy edge last week. Luckily, we made it through.
But last week also marked the return of America's second favorite pastime: Football.
The NFL preseason kicked off at the Hall of Fame game between the Baltimore Ravens and Chicago Bears, August 2, in Canton, Ohio. The Ravens beat the Bears 17-16, but that wasn't what the newswires picked up.
Most of the headlines flooding my inbox had a singular focus: No demonstrations during anthem at Hall of Fame game.
Thursday night saw everyone on the sideline standing.
"We as a group talked about it and decided that was what we were doing," new Bears coach Matt Nagy said. "It's for unity and togetherness. The guys are really excited to come up with one deal as a team. They were all out there; from what we talked about, it happened."
That's right, negotiations took place and a decision was reached—something the NFL did not do when ramming through it's anthem policy.
So, have we seen the end of anthem protests by NFL players?
Absolutely not.
While the anthem policy has been put on hold by the league in the hopes of reaching a joint agreement after the NFLPA filed a non-injury grievance, it in no way marks the end of player activism on the field.
Week 1 of the preseason found several players take action.
Miami Dolphin wide receivers Kenny Stills and Albert Wilson took a knee, while defensive end Robert Quinn raised a fist. Philadelphia Eagles players Malcolm Jenkins and De'vante Bausby also raised their fists, and teammate Chris Long showed his support for Jenkins by throwing his arm around him.
"Malcolm is taking action and he can always sleep good at night knowing that he's not being a fraud," said Long. "He's (demonstrating) and he's working in the community, like a lot of these guys are doing."
In Jacksonville, Jaguars running backs Leonard Fournette and T.J. Yeldon, cornerback Jalen Ramsey, and linebacker Telvin Smith were not on the field for the playing of the anthem before their game against the New Orleans Saints. They emerged from the tunnel to the field after the anthem, according to the Florida Times-Union.
In Seattle, Seahawks players Duane Brown, Quinton Jefferson, and Branden Jackson reportedly were in the tunnel to the locker room for the anthem. In San Francisco, Marquise Goodwin of the 49ers raised his fist.
And right on cue, the tweeter-in-chief reignited his feud with NFL players.
"The NFL players are at it again—taking a knee when they should be standing proudly for the National Anthem," tweeted Trump. "Numerous players, from different teams, wanted to show their 'outrage' at something that most of them are unable to define.
"They make a fortune doing what they love………..Be happy, be cool!" Trump wrote. "A football game, that fans are paying soooo much money to watch and enjoy, is no place to protest. Most of that money goes to the players anyway.
"Find another way to protest. Stand proudly for your National Anthem or be Suspended Without Pay!"
As players have said time and time again, the protest is not against the country, military, flag, or the anthem itself.
Before the anthem policy was put on hold, it too could be argued that players were taking direct action against a change in working conditions in violation of their collective bargaining agreement.
"I think part of the problem is that when you continue the rhetoric that this is controversial, or this is somehow a negative thing, people treat it as such," Eagles safety Jenkins said after resuming his demonstration before Thursday night's game. "But we've seen in other leagues when they've decided to amplify the voices of their players to also emphasize the importance of the issues that we're raising, and change the narrative away from the anthem, that not only is it more acceptable, the fan base gets educated on what we're talking about, and we can actually make some movement."
Quinn delivered a powerful message to critics, including Trump, too:
"It's not a protest. It's an awareness," he said. "I think 'protest' segregates this country. The awareness we're trying to raise — this country preaches freedom and unity. That's all I'm trying to do. If you believe in something, no matter the consequences you stand by it. I want heaven here on Earth. I believe we preach too much negativity throughout this whole world. I think the message that needs to be spread is peace, love, and happiness.
"Hearing the slander that we're protesting the flag, that's not it. It's not a protest. It's no disrespect to any servicemen or women out there. They salute with their hand over their heart, I hold my fist up. How can you look at that any different? That salute is just as meaningful to them as my fist in the air."
As we've all seen daily, Hell hourly, the scum that is Donald Trump and the hate he represents will never understand concepts of peace, unity, and cooperation—I'll take the version of "freedom" players are protesting for over Trump's version any day.
Also, Trump's inability to understand or "define" what players are advocating is not surprising. His "research" only goes as far as what Fox and Friends tells him every morning, and I doubt they cover anything other than praising the wannabe despot.
For someone who said "he gets it" earlier this summer, Trump's making it hard to believe "getting it" is possible—he can't buy silence this time.
The NFL said it will not discipline players for protests during the national anthem while it works with the union to reach a resolution. But the league repeated its expectations that all players on the field stand for the anthem.
"The NFL has been engaged in constructive discussions with the NFL Players Association regarding the anthem and issues of equality and social justice that are of concern to many Americans," the league said in a written statement issued through a league spokesman. "While those discussions continue, the NFL has agreed to delay implementing or enforcing any club work rules that could result in players being disciplined for their conduct during the performance of the anthem."
So, let's all raise our fists, welcome back football, and give the Trump administration a big "screw you."