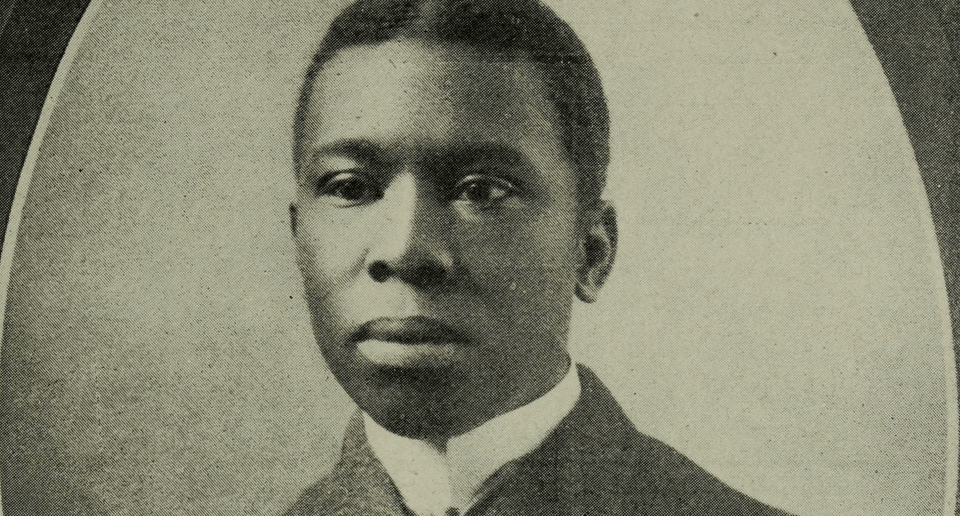 Paul Laurence Dunbar was born in 1872 in Dayton, Ohio, to parents who had escaped from slavery. His father was a Civil War veteran, having served in the 55th Massachusetts Infantry Regiment and the 5th Massachusetts Colored Cavalry Regiment. His parents instilled in him a love of learning and history. He was a student at the all-white Dayton Central High School, where he was both the editor of the school newspaper and class president, as well as the president of the school literary society. Dunbar had also started the first African-American newsletter in Dayton.
Dunbar's first published work came in a newspaper put out by his high school friends Wilbur and Orville Wright, who owned a printing plant. The Wright Brothers later invested in the Dayton Tattler, a newspaper aimed at the black community, edited and published by Dunbar.
His first collection of poetry, Oak and Ivy, was published in 1892 and attracted the attention of James Whitcomb Riley, the popular "Hoosier Poet." Both Riley and Dunbar wrote poems in both standard English and dialect. His second book, Majors and Minors (1895) brought him national fame and the patronage of William Dean Howells, the novelist and critic and editor of Harper's Weekly. After Howells' praise, his first two books were combined as Lyrics of Lowly Life and Dunbar started on a career of international literary fame. He moved to Washington, D.C., in the LeDroit Park neighborhood. While in Washington, he attended Howard University.
His wife Alice Dunbar Nelson was a famous poet as well. A graduate of Dillard University in New Orleans, her most famous works include a short story entitled "Violets." An account of their love, life and marriage was depicted in a play by Kathleen McGhee-Anderson titled Oak and Ivy.
Dunbar maintained a lifelong friendship with the Wrights, and was also associated with Frederick Douglass, James Weldon Johnson and Booker T. Washington. He was honored with a ceremonial sword by President Theodore Roosevelt.
He wrote a dozen books of poetry, four books of short stories, five novels, and a play. He also wrote lyrics for In Dahomey, the first musical written and performed entirely by African-Americans to appear on Broadway in 1903. The musical comedy toured England and America over a period of four years, one of the more successful theatrical productions of its time. His essays and poems were published widely in the leading journals of the day. His work appeared in Harper's Weekly, the Saturday Evening Post, the Denver Post, Current Literature and elsewhere. During his life, considerable emphasis was laid on the fact that Dunbar was of pure black descent, with no white ancestors ever.
Dunbar's work is known for its colorful language and use of dialect, and a conversational tone, with a brilliant rhetorical structure. As the reader will see below, his shrewd choice of words often has the power to evoke far more than the lyrics state.
The poet traveled to England in 1897 to recite his works on the London literary circuit. He met the brilliant young black composer Samuel Coleridge-Taylor, who set some of his poems to music and who was influenced by Dunbar to use African and American Negro songs and tunes in future compositions.
After his return, Dunbar took a job at the Library of Congress in Washington. In 1900, he was diagnosed with tuberculosis, and moved to Colorado with his wife on the advice of his doctors. Dunbar died at age 33 on February 9, 1906, and was interred in the Woodland Cemetery, Dayton, Ohio. Once again regarded as America's first great Black poet, he is considered a significant forerunner of the great explosion of African-American writing in the 20th century.
(This short biography is based on the Wikipedia entry Paul Laurence Dunbar and used under the Creative Commons Attribution-ShareAlike 3.0 Unported License.)
Now for a short selection of poems by Paul Lawrence Dunbar.
Douglass
Ah, Douglass, we have fall'n on evil days,
Such days as thou, not even thou didst know,
When thee, the eyes of that harsh long ago
Saw, salient, at the cross of devious ways,
And all the country heard thee with amaze.
Not ended then, the passionate ebb and flow,
The awful tide that battled to and fro;
We ride amid a tempest of dispraise.
Now, when the waves of swift dissension swarm,
And Honour, the strong pilot, lieth stark,
Oh, for thy voice high-sounding o'er the storm,
For thy strong arm to guide the shivering bark,
The blast-defying power of thy form,
To give us comfort through the lonely dark.
Summer in the South
The Oriole sings in the greening grove
As if he were half-way waiting,
The rosebuds peep from their hoods of green,
Timid, and hesitating.
The rain comes down in a torrent sweep
And the nights smell warm and piney,
The garden thrives, but the tender shoots
Are yellow-green and tiny.
Then a flash of sun on a waiting hill,
Streams laugh that erst were quiet,
The sky smiles down with a dazzling blue
And the woods run mad with riot.
Speakin' at de Cou't-House
Dey been speakin' at de cou't-house,
An' laws-a-massy me,
'T was de beatness kin' o' doin's
Dat evah I did see.
Of cose I had to be dah
In de middle o' de crowd,
An' I hallohed wid de othahs,
Wen de speakah riz and bowed.
I was kind o' disapp'inted
At de smallness of de man,
Case I'd allus pictered great folks
On a mo' expansive plan;
But I t'ought I could respect him
An' tek in de wo'ds he said,
Fu' dey sho was somp'n knowin'
In de bald spot on his haid.
But hit did seem so't o' funny
Aftah waitin' fu' a week
Dat de people kep' on shoutin'
So de man des couldn't speak;
De ho'ns dey blared a little,
Den dey let loose on de drums—
Some one toll me dey was playin'
"See de conkerin' hero comes."
"Well," says I, "you all is white folks,
But you 's sutny actin' queer,
What's de use of heroes comin'
Ef dey cain't talk w'en dey's here?"
Aftah while dey let him open,
An' dat man he waded in,
An' he fit de wahs all ovah
Winnin' victeries lak sin.
Wen he come down to de present,
Den he made de feathahs fly.
He des waded in on money,
An' he played de ta'iff high.
An' he said de colah question,
Hit was ovah, solved, an' done,
Dat de dahky was his brothah,
Evah blessed mothah's son.
Well he settled all de trouble
Dat's been pesterin' de lan',
Den he set down mid de cheerin'
An' de playin' of de ban'.
I was feelin' moughty happy
'Twell I hyeahed somebody speak,
"Well, dat's his side of de bus'ness,
But you wait for Jones nex' week."
Life's Tragedy
It may be misery not to sing at all,
And to go silent through the brimming day;
It may be misery never to be loved,
But deeper griefs than these beset the way.
To sing the perfect song,
And by a half-tone lost the key,
There the potent sorrow, there the grief,
The pale, sad staring of Life's Tragedy.
To have come near to the perfect love,
Not the hot passion of untempered youth,
But that which lies aside its vanity,
And gives, for thy trusting worship, truth.
This, this indeed is to be accursed,
For if we mortals love, or if we sing,
We count our joys not by what we have,
But by what kept us from that perfect thing.