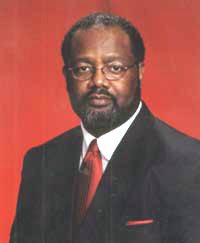 WASHINGTON — When Exxon Mobil reported 2006 first quarter profits of $8.4 billion, it put the energy giant on track to outstrip its record $36 billion profits in 2005. Last week's "Take Back America" conference here noted that while Exxon Mobil is a big winner, millions of Americans are the losers in an economy based on fossil fuels and denial of the human and environmental damage it causes.
"A bevy of Exxon Mobil-funded skeptics continue to ignore, insult and create baseless doubts" about the environmental crisis we face, Larry J. Schweiger, president of the National Wildlife Federation, told the June 12-14 national gathering of 2,000 progressive leaders and activists. "It's time for an oil change in America."
With that spirit, the conference launched the Apollo Challenge, a grassroots movement projecting energy independence, new technology, alternative fuels and 3 million "green collar" jobs by 2020.
The jobs and environment plan has been sparked by the Apollo Alliance, a national coalition endorsed by 23 unions including the United Steelworkers, which represents oil workers, and the United Mine Workers, representing coal miners. The unions have joined hands with environmentalists like the Sierra Club and the League of Conservation Voters and small businesses to build a movement that actor and environmental activist Robert Redford called "the real American voice speaking."
"Don't talk to me about jobs versus the environment; it's jobs for the environment," Apollo Alliance Executive Director Jerome Ringo told the meeting. Hailing from Lake Charles in Louisiana's "Cancer Alley," Ringo is the first African American head of the National Wildlife Federation. He and his family are evacuees from Hurricane Rita.
Ringo said, "African Americans and people of color have been disproportionately impacted when it comes to poor environmental policies. Where there is a railroad track, there's a Black neighborhood. You want to find a sewage treatment plant, you find a Black neighborhood. You find chemical plants, you find a Black neighborhood. We are suffering and experiencing Category 5 events and our White House was suffering from Category 5 denial."
Apollo is gaining traction at the state level, Ringo said. He cited Washington state where the Apollo coalition convened in 2004. Rich Feldman, state Apollo coordinator and executive director of the King County AFL-CIO Workers Center, noted that Apollo had a troubled beginning in Washington, despite the state's "green" image. "Remember, we had the 'war in the woods,' and wind energy developers are not the most union-friendly group in the world," he said. But, "in just two years, working together, we convinced the state Legislature to make state-owned buildings 'green,' set a renewable fuel standard on the state's fleet and investment in solar electric power starting with training for workers in a new industry."
Los Angeles launched its Apollo coalition this February. Its executive director, Jennifer Ito, said they began by sending 40 teams door to door in targeted neighborhoods talking to voters. Their goal is to create 5,000 "green collar" jobs by retrofitting public buildings, estimated to cost $100 million. "We organized people of color against the banks and developers," she said. "It is time the victims of poor environmental choices and economic discrimination were at the table and heard."
Other local Apollo coalitions have sprung up in New York City and Putnam County, N.Y., Florida, Trenton, N.J., and Portland, Ore.
"Apollo is growing," said Ringo. "This year our goal, in addition to new coalitions, is to sign up 250,000 new activists, people who live in neighborhoods like Cancer Alley in Louisiana. We are building toward a peaceful future through economic justice and national security through energy independence."
More information about the Apollo Alliance is at www.apolloalliance.org.