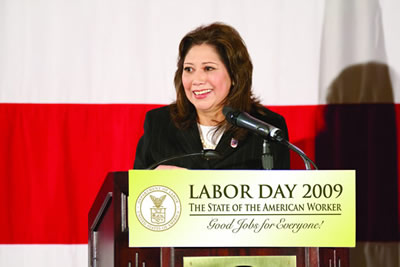 If the last week of October and the beginning of November are any indication the U.S. Department of Labor is on a crime busting spree – with those busted being some very big corporations that must now pay their workers millions of dollars in back wages and other compensation
The department won a big victory on Nov. 5 against Tyson Foods in federal district court in Birmingham, Ala.
Jurors found the giant poultry company guilty of cheating workers out of pay for the time they spent putting on and taking off protective equipment, including very heavy gloves and steel aprons, at Tyson's Albertville, Ala., plant, from 2000 through now.
Labor Secretary Hilda Solis has special reasons to celebrate the decision. First, it will benefit 3,000 workers at the plant, almost all of whom are Latino, to the tune of as much as $600 million in restoration of lost wages.
Second, the victory follows unsuccessful lawsuits by the United Food and Commercial Workers against Tyson on the same issue in Kentucky courts.
"We are very pleased the jury in Birmingham vindicated our position that employers must pay their workers for the time they are required to work," said Solis. "This is a victory for workers, and the result of years of dedicated efforts to protecting the rights of working Americans on the part of attorneys, investigators and others within the Labor Department."
Kim Bobo, executive director of Interfaith Worker Justice, and author of a major study on wage theft, nationwide, declared, "It really is good that we finally have a Labor Department that is pursuing cases. We pushed DOL years ago to do investigations of the poultry industry. It's a great victory for the workers and it sends a signal to poultry and meat processors nationwide."
The department's investigation of Tyson actually began in 2000, during the last days of the Democratic Clinton administration. The trial, the second of two, did not take place until 2009. The earlier trial of Tyson in the same court ended in a hung jury.
Just days before the victory in the Tyson case the Occupational Safety and Health Administration completed a six-month follow-up inspection of BP's Texas City, Texas refinery. The refinery was the site where 15 workers died and 170 were hurt in 2005 in an explosion. OSHA found that BP is continuing to break numerous health and safety rules and announced a new $87.4 million fine the company must pay on top of the $21 million it had to pay in 2005.
BP says it will appeal the record fine.
"When BP signed the OSHA settlement from the March 2005 explosion, it agreed to comprehensive action to protect employees," Solis said. "Instead of living up to that commitment, BP allowed hundreds of potential hazards to continue unabated. OSHA found 270 cases at Texas City where BP let violations go unrepaired, and another 439 new willful violations by BP involving failure to follow industry-accepted protocols at the plant."
Solis noted that "an $87 million fine won't restore those lives lost but we can't let this happen again. Workplace safety is more than a slogan. It's the law. The Department of Labor will not tolerate the preventable exposure of workers to hazardous conditions."
The last two weeks were also tough for Wal-Mart, which had to agree to pay additional millions of dollars in back pay for workers it has cheated.
On Nov. 2 the retail giant agreed to settle a class-action suit over its wage and hour violations in 29 states and Puerto Rico. The company told a federal judge in Nevada that it would pay the workers between $65 million and $85 million in back wages they are owed.
This latest settlement is part of a series of Wal-Mart payments nationwide totaling $640 million in back wages the company has been forced to pay.
The latest class-action suit by the states, including Nevada, California, Alabama, Michigan, Maryland Oregon and Texas, said the retail behemoth broke wage and hour laws by denying workers rest breaks and by shaving their pay.
The lead attorney for the states, Robert Bonsignore, said his team found 7,000 examples during a one-year period where Wal-Mart managers deleted large blocks of time from employees' payroll records.
Bonsignore said Wal-Mart pulled off the time theft from its own workers through a careful system of manipulation of the computers that maintain payroll data.
Photo: http://www.dol.gov/dol/laborday-2009.htm