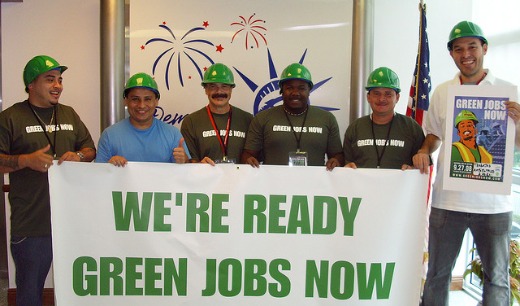 As millions nationwide remain unemployed and struggle to stay afloat in the most punishing recession since the Great Depression, civil rights and labor leaders note Latinos and communities of color continue to suffer the most in the country's current economic crisis.
Latinos face an official unemployment rate of 11 percent compared to 9 percent overall, a foreclosure rate of nearly 8 percent compared to white homeowners at 4.5 percent, and a poverty rate of 25 percent compared to 14 percent overall.
Critics say the economy has taken a significant toll on the labor, financial and housing markets in the past few years, especially on Latino families.
Between 2005 and 2009, the median household wealth among Latinos fell 66 percent compared with 16 percent among white households, resulting in nearly 17 to 1 wealth gap between Hispanic households ($6,325 in wealth) and white households ($113,149 in wealth).
In 2009, Latino child poverty hit 33 percent, it's highest rate since 1997.
"If you're Latino and in the middle class, it's no secret that the odds that you will be able to remain there are tough," said Janet Murguía, president and CEO of the National Council of La Raza, in a blog on the groups website.
Murguía says the above statistics not only threatens the growth and possibility of a Latino middle class, but an American middle class as well.
With one job opening for every four unemployed people, chances are if you're out of work, you can't find a job, writes Murguía.
With nearly 13 million families in danger of foreclosure and banks often not playing by the rules, too few Americans will be able to keep their homes, she says. And with the price of health care rising, too many have skipped a checkup or gone without prescription because they couldn't afford it.
In order to improve the odds, policies must be enacted to reward and protect workers, homeowners and families that work hard to pursue the American Dream, Murguía says.
Last month U.S. Secretary of Labor Hilda Solis wrote in the Huffington Post that Latinos in all walks of life have made significant strides in American society.
Over the years, Latinos have achieved positions of power and influence throughout the nation.
"It's our responsibility to lower the ladder and help our brothers and sisters climb up," she wrote.
Solis, daughter of Latino immigrants, is the first Latina labor secretary. She appreciates how far the Hispanic community has come and "how far we still have to go."
Last year, America's nearly 23 million working and unemployed Latinos represented 15 percent of the nations labor force, writes Solis.
Solis adds the labor department is investing millions in workforce training in high-paying, high-growth industries like health care, information technology and renewable energy.
"But we must dig deeper. We must lower the ladder all the way down to ensure our youngest generation doesn't become our lost generation," she says.
Meanwhile, President Obama plans to deliver a major speech Thursday evening that will address the national jobs crisis.
A coalition that's leading a campaign, Half in Ten, which proposes to reduce the poverty level by half in 10 years, is urging a sweeping jobs programs and immediate relief.
"With zero jobs created last month and projections of anemic job growth without further action, the policies outlined in the presidents speech must match the scope of the jobs crisis," said the coalition in a statement.
"We cannot comprehensively tackle our nation's deficit without putting people back to work."
Wade Henderson, president and CEO of the Leadership Conference on Civil and Human Rights and a partner in the Half in Ten campaign said, "Unless we resolve our jobs crisis, all of our other national priorities are in real jeopardy."
Henderson added, "For the working class, communities of color, and people with disabilities, record unemployment levels have caused far too much pain for far too long. But it's not too late for the Obama administration to commit to a new path forward for our economy," he said.
Photo: At the Democracia U.S.A. office in Miami, Fla., the Latinos Go Green volunteers educate Latinos about green jobs, the green economy and the environment. (GreenForAll.org/CC)