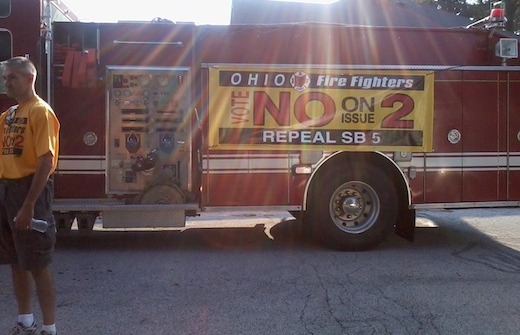 Boosting the fight against Republican attacks on union and voting rights, tens of thousands rallied at Labor Day picnics, festivals and marches in cities throughout Ohio.
In Cincinnati's Coney Island Park, thousands cheered as Vice President Joe Biden denounced the GOP and its corporate backers as "economic royalists" who have "declared war on labor's house. It's about time we stand up. They are reopening fights we thought we had settled 50 years ago."
"Labor," he said in an emotional 25-minute speech, is "under the most direct assault in generations" because "you are the only non-governmental power that is keeping the barbarians from the gates. That's why they want you so badly."
Referring to measures enacted by Gov. John Kasich and the GOP-controlled legislature to end collective bargaining rights for 360,000 public employees (Senate Bill 5) and suppress voting rights (House Bill 194 ), Biden said the Republicans "have a different vision. They have a different value system."
"This is about dignity. It's about respect. It's about basic fairness," he said. "Repeal the laws the governor has passed."
After collecting a record 1.3 million signatures, labor and its allies put SB 5 on the Nov. 8 ballot as Issue 2 and are currently circulating petitions to put HB 194 on the 2012 ballot.
Under the theme of "We Are One Against (Issue) 2," several thousand marched in the Cleveland AFL-CIO event Saturday and cheered impassioned speeches by Reps. Marcia Fudge, Betty Sutton and Dennis Kucinich.
"The entire U.S. is watching Ohio," Fudge said. Senate Bill 5 and HB 194 "are two sides of the same coin."
"We are not going to take what Kasich is doing in Ohio," said Sutton, calling on the crowd to "Vote No on Issue 2 and sign the petition to repeal House Bill 194."
"We are union," Kucinich said, calling to reclaim labor's rights, put Americans back to work and "end these rotten wars."
In Lorain, Joe Thayer, president of the county AFL-CIO, an estimated 15-20,000 took part in the Labor Festival at Black River Landing Sunday despite rainy weather. The event honored safety forces for their bravery and sacrifice in the Sept. 11, 2001 terror attacks and called for thanking them by voting No on Issue 2. Rep. Sutton and state AFL-CIO President Bill Burga stressed the need to defeat Issue 2 and repeal HB 194.
Rep. Fudge delivered the same message to thousands who marched Monday in the 11th Congressional District Caucus parade and picnic in Cleveland.
"Vote No on Issue 2," Marquez Brown, regional director of We Are Ohio, the labor-community coalition leading the effort, told the crowd assembled in Luke Easter Park after the parade.
Supporters of the group distributed placards and 2,000 "Repeal SB 5" stickers to marchers and spectators along the route with many shouting "Kill the Bill!"
The weekend also marked the airing of We Are Ohio's first TV commercial, featuring firefighters pointing out that by destroying their ability to bargain over staffing and working conditions, SB 5 undermines their personal as well as public safety.
The following 30-second ad is being run throughout the state. (Story continues after video.)
Meanwhile, supporters of Issue 2 held a sparsely attended town hall meeting Sept. 1 in Tiffin, Ohio, hosted by North Central Ohio Conservatives, Inc.
"We have found there is a lot of misinformation out there," said Seth Morgan, Ohio policy director of Americans for Prosperity, a group organized by the ultra-right billionaire Koch Brothers.
People, he said, according to a report in the Advertiser-Tribune, "have been fed this line that it's about collective bargaining rights. It's not – it's about our future together and what we're going to do to manage the costs that if we don't manage, will totally run away from the taxpayer and make Ohio a less friendly job atmosphere."
But another speaker, Seneca County Commissioner Jeff Wagner, made no attempt to hide the bill's anti-labor intent.
"I would say that collective bargaining was one of the two biggest mistakes the state of Ohio has ever made – the other was prevailing wage," he said. "A worker with a good attitude and a good work ethic does not need a union."
On Sept. 6, Kasich announced that Beth Hansen, his chief of staff and a veteran Republican operative, was being released to head up the television campaign of Building a Better Ohio, the group set up to stop the SB 5 repeal.
Photo: Parma Heights Fire Fighters Local 1690 joins Cleveland's Labor Day parade. (Rick Nagin/PW)