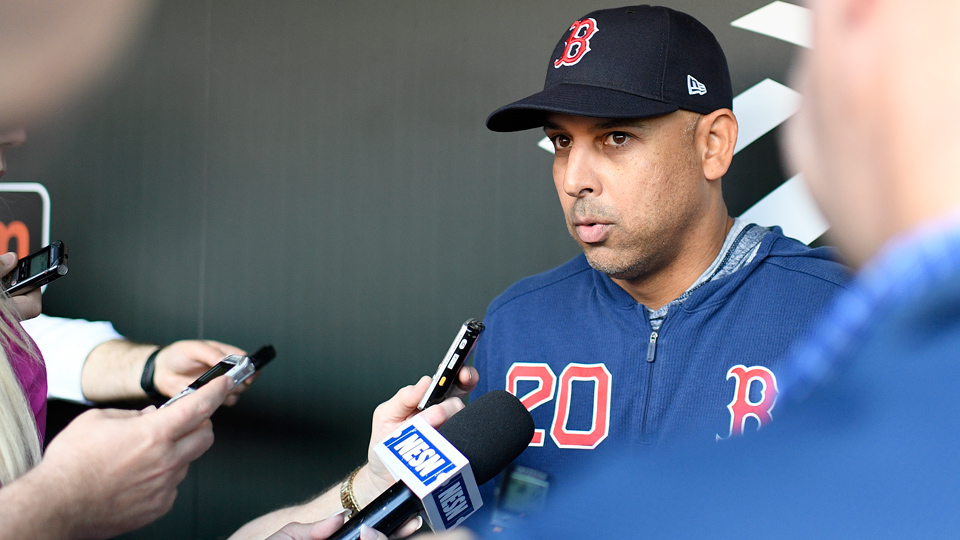 Championship winning sports teams visiting the White House is a time-honored tradition dating back to Aug. 30, 1865, when then-President Andrew Jonson first hosted the Brooklyn Atlantics and Washington National amateur baseball clubs.
Ulysses S. Grant was the first to welcome a professional baseball team, the Cincinnati Red Stockings, in 1869, but it wasn't until 1924 that the first World Series team, the Washington Senators, visited Calvin Coolidge at the executive residence the following year, and established the practice we've grown accustomed to.
Since the election of Donald J. Trump in 2016, a new tradition has been forming. The tradition of players skipping out on White House receptions for "personal" aka political reasons.
Boston Red Sox Manager Alex Cora said Sunday, May 5 he will not attend the White House ceremony honoring the 2018 World Series champions Thursday.
The reason?
The Trump administration's response, or lack of, to Puerto Rico's post-Hurricane Maria suffering.
"The government has done some things back home that are great, but we still have a long way to go," he said, following the Red Sox's 9-2 win over the Chicago White Sox. "That's our reality. It's pretty tough to go celebrate when we're where we're at. I'd rather not go and be consistent with everything.
"It was a decision I made with a lot of conviction. I think the message was clear [and] simple, and everybody understands. I don't feel comfortable going to a celebration while we're living what we're living back home [Puerto Rico]."
Cora will not be the only Red Sox to skip out. Players Mookie Betts, Xander Bogaerts, Jackie Bradley Jr., Rafael Devers, Sandy Leon, Eduardo Nunez, David Price, Christian Vazquez, and Hector Velazquez have said they too would decline the invitation.
The other roughly 20 players, including J.D. Martinez, who is of Cuban descent, said they would attend.
Do you see it?
The one striking factor between those two groups of players: Those sitting out are all people of color. Those attending are white.
Longtime Boston sportswriter Steve Buckley did, tweeting: "Alex Cora has confirmed newspaper report he will not make the trip to meet the president. So basically, it's the White Sox who'll be going.
The racial divide seen within the Red Sox organization is a mere reflection of how starkly divided and politized the U.S. has become during the Trump years.
And can we blame them for their decision to sit out?
Puerto Rico continues to struggle with its recovery efforts—treated as a lowly colony with nearly 3.2 million American citizens unable to cast a ballot or play a role in shaping mainland policy affecting them.
Trump took to Twitter shortly after Cora's announcement, saying:
"Puerto Rico has been given more money by Congress for Hurricane Disaster Relief, 91 Billion Dollars, than any State in the history of the U.S. As an example, Florida got $12 Billion & Texas $39 Billion for their monster hurricanes.
"Now the Democrats are saying NO Relief to Alabama, Iowa, Nebraska, Georgia, South Carolina, North Carolina, and others unless much more money is given to Puerto Rico. The Dems don't want farmers to get any help. Puerto Rico should be very happy, and the Dems should stop blocking much-needed Disaster Relief."
Let's take a moment to breakdown the $91 billion lie:
The total tweeted by Trump is a guesstimate for potential liabilities over the next 20 years that would need to be committed under the Robert T. Stafford Disaster Relief and Emergency Assistance Act of 1988.
In reality, $11.2 billion has been spent for relief with an additional $40.8 billion earmarked for it. Trump's claim the theoretical number was the highest given out to a state ignores the fact that Puerto Rico took the full impact of the storm. And the Congressional Research Service said Congress "provided roughly $120 billion for Hurricane Katrina," which hit three states.
It is foolish to compare the impact of different natural disasters, yet here we are, watching a fool make such a comparison.
In this sportswriter's opinion, Cora—along with all the Red Sox players skipping the White House—deserve a round of applause for standing by their convictions, making clear their intentions, and displeasure with the lies being churned out by the White House.