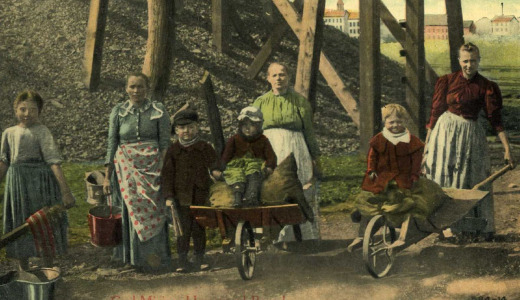 Diane Gilliam Fisher is a true poet of miners, their communities, their culture and families. Her poetic vision in "Kettle Bottom," her most recent collection from Perugia Press, stands out for its stark images of mining life, as well as the tender mercies bestowed on its working people, and the unique contribution they have made, and continue to make, to our national culture. The poem below, "Journal of Catherine Terry, 30 November 1920," copyright © 2004 by Diane Gilliam Fisher, is reprinted from "Kettle Bottom" with the permission of Perugia Press, Florence, Mass. (www.perugiapress.com).
As a memorial for the 25 miners who lost their lives this past week in Montcoal, W. Va., at the Massey Energy mine, it says more than 100 articles. (See our news story about the West Virginia disaster.)

– John Case
Journal of Catherine Terry, 30 November 1920
The trump of the Last Day
could scarce cast such terror
as the siren. It blew
and the world froze. Children
making their way up the hill to the schoolhouse
suddenly stopped, staring at each other
in some nightmare version of their game
of statues. A woman sweeping her porch,
paralyzed, broom mid-thrash.
Another, arms half-lifted in her reach
to a clothesline, face whipped back
toward the siren's wail.
It lasted only a second, this Pompeii,
the terrible tableau vivant,
then everything fell to the ground, clattered
terrible – lunch pails, washtubs, buckets,
brooms – and the world began to pour,
as in a vortex, toward the drift mouth.
It breathed not smoke, but dust – a roof fall,
the mouth of the mountain clamped shut,
eating its children. The siren, merciless.
Merciless the men who got out
fighting rock to get back in.
The eyes of the women, merciless, watching
that mouth for what it would give back
or keep. Don't look, I thought,
for I had never seen a man die –
and wasn't Eurydice lost
on account of just such looking
down toward the underworld? But
their gaze was the only spell they had
to conjure faces out of that dark; it was a net
flung out between a black sky and a black sea
drawn back empty and flung again.
There was nothing else to do:
like Orpheus, I looked.
Photo: A 1912 postcard showing miners' wives and children heading home after picking coal out of refuse heaps for use at home. Original photo is by William J. Harris. http://www.flickr.com/photos/j3net/ / CC BY-SA 2.0