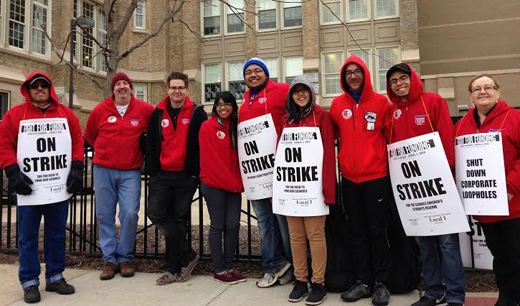 CHICAGO – It was their first strike. They stuck together on the picket line. They wore their union's color – red – and had "On Strike" signs hanging from their necks. A half-dozen first- and second- year teachers at Marsh Elementary got a taste of solidarity April 1, when some 27,000 Chicago Teachers Union members walked out to demand the state pass a budget and fund education.
Illinois Governor Bruce Rauner has refused to sign a budget bill until the Democratic-majority legislature bows to his so-called turn-around agenda. This is the tenth month that the state has been without a budget. Rauner's agenda includes measures that would severely weaken workers' rights and collective bargaining, ultimately driving down wages and hurting the economy. Democratic lawmakers passed a budget, which Rauner refused to sign, and Democrats, in turn, refuse to pass Rauner's extreme measures. There is plenty of blame to go around, but most business, education and union leaders, as well as the bulk of the media, place responsibility for the impasse and ensuing crisis squarely on billionaire Rauner's shoulders. Teachers and others say that closing corporate tax loopholes and making the wealthy pay their "fair share" in taxes would put Illinois on better fiscal footing. (The story continues after the slide show.)
"You gotta be in it for the students"
Physical Education teacher Hector Rico said he felt discouraged about having to strike for funding. "You think that teaching is a safe career. You want to be a teacher. It's got good benefits, a union, all that good stuff," he said. But he added that he was "frustrated how politics and money can influence our schools in a big way."
Rico, who is just starting his career, has had an eventful first year. On top of the battle for state funding, he and his fellow teachers are also in the midst of a long contract struggle. They have been working without a contract since June 2015, but the April 1 strike was called after Chicago Public Schools forced employees to take three unpaid furlough days because of the budget crisis. Despite it all, Rico still plans to be in the schools another nine years. "That's my goal – ten years," he said. "I feel that even though teaching is a good profession, you gotta be in it for the students first and foremost."
Amid the honking horns of passing cars, Nancy Pacheco, a third-grade bilingual teacher, said she had told her class before the strike that "it's not just a day off of school. Your teacher is trying to do what's best for you and trying to get better schools for you and that's why this is going on."
Pacheco is herself a Chicago public school alumna, having attended Jane Addams Elementary School and Lane Tech High School. Like Rico, this is her first year teaching and for her, the fight over resources is not "something you'd like to see happening. You just want to continue teaching."
Michael O'Brien is in his second year at Marsh and teaches fourth grade. He also expressed frustration with having to strike for basic needs. "We are fighting for things in our own contract as well and for our own profession. It's not fair that in different communities other schools have it better," he said.
He said he tells his students, "No one has that right to take your education away from you. And if anyone tries to infringe upon your education, I have to step in and fight that."
Juan Osorio, another first-year teacher, provides music instruction to about 650 K-8 students each week. Yes, 650. Just learning their names must be a challenge, but Osorio says he knows about 75 percent of them, "100 percent when I have a class list."
Like the others, Osorio is excited about his new career and glows when talking about the importance of music education, which he sees as a major aid to the development of critical thinking. He was excited when he "had a really great breakthrough with one of the students." After listening to classical music, a genre that is not really "their style," Osorio said a student commented that he didn't like the music, but he understood why it was good music.
"So that was a big thing. They're understanding the quality of it, not that they have to enjoy it, but that it is good quality music."
Osorio's enthusiasm for the subject and the kids is apparent. For him, it's about the work, and he is worried just as much about the future of the music program as he is about his own paycheck. Music and art teachers are often the first positions cut when budgets are tight.
"If I have enough to survive, to pay rent, pay my student loans, I'm happy," he said, adding his student loan debt is $40,000. "But teaching is where I can do something that I want and can make an impact." He fears that all the "energy" he puts into the program might go "to waste."
An injury to one is an injury to all: save Chicago State University
These teachers are just a couple of years out of college. But their peers currently enrolled in Illinois public universities or receiving Monetary Aid Program (MAP) Grants may not even get an opportunity to graduate and become a teacher.
Chicago State University, a majority African American higher learning institution, may be the first casualty of the state's 10 month-long budget war. It has spent down its reserves covering unfunded state grants for its students and operating costs. CSU relies on state funding for 30 percent of its budget. It has declared a fiscal emergency and sent 900 layoff notices to its employees, cancelled spring break and moved up its graduation date. It is one of only a few public universities in the area that educate teachers, many of whom go on to become instructors in Chicago's public schools.
Now those schools face an existential threat. April 1 was a day of solidarity across the ecosystem of education, public services and low-wage work. The CTU joined with other unions representing university faculty and staff, bus drivers, cleaning and security workers. In addition to the morning picket lines at the city's public schools, press conferences, rallies, and teach-ins took place throughout the day, culminating in a mass march downtown.
Putting students first comes full circle with public university professors. Cynthia Carr, an occupational therapy professor at Governors State, held a GSU University Professionals of Illinois sign that said, "Fund Our Future, Fund Higher Ed in Illinois." She was listening to CTU President Karen Lewis speak and patiently waiting to march.
"I'm here for all the state universities, not just Governors." She said that, like other universities, GSU has prioritized spending its money to cover MAP Grants and has decided not to increase tuition.
"That's why we're there. We're there for the students. Because ultimately, if we become the same tuition rate as a private school, then what are we saying? Education becomes privatized," she said. "There's just something a little strange about our colleges that are for the people not being there, not receiving the budget money in order to survive."
Blowing up colleges of education?
At a rally and New Orleans-style funeral for higher education at the Northeastern Illinois University campus, Samantha Hernandez, a junior in English who plans to enter the college of education, echoed many of the sentiments the first- and second-year teachers had expressed: The desire to give back and inspire kids to navigate the difficult economic and social waters in which they grow up. But she worries about the future of her school.
"Northeastern to me is kind of like a second home. You're molded into one of the bricks that build the school," she said. "Northeastern is such a great school, it's very diverse and the professors care so much about the students."
U.S. News and World Report rates NEIU as one of the most racially and ethnically "diverse universities in the nation," and says "its students graduate with the least debt among regional Midwest universities." The federal government designated it a Hispanic-Serving Institution, the only four-year public university in the Midwest designated as such. Northeastern was founded in 1867 in Blue Island, Illinois, as the Normal School, Cook County's first teacher training institution.
The population at public universities like NEIU tends to be more racially and ethnically diverse, with many working-class, low-income, immigrant, and – at a few public universities in Illinois – rural students. Some 150,000 low-income students statewide depend on MAP grants to cover part of their costs to go these public universities.
After all the smoke has cleared from the field of this budget battle, one wonders what will happen to all these new and aspiring, bright, energetic teachers? Will they look for another career path? Will there even still be public colleges of education? Or public universities?
Colleges of education (and teachers unions) have long been a target of the Republicans and right-wing ideologues. One Bush administration official famously said in 2002, "If there was any piece of legislation that I could pass, it would be to blow up colleges of education."
Hernandez said she is afraid of "what the government is doing" to destroy education. "But I'm going to continue to be a teacher because teachers are the people who create the pathways for others to go farther in life," she said. Inspired by one of her teachers, Hernandez will encourage her own students to speak up, and when they do, she will listen.
"I always thought that was so important because when you are young, you are always shushed…people think what you have to say doesn't matter. To have a teacher who tells you your voice matters is one of the greatest things anyone can have."
Slideshow: Scenes from April 1 strike includes photos of all interviewees. (Teresa Albano/PW)
Photo: First- and second-year teachers at Marsh Elementary stand with veteran teachers in the fight for funding and their students. (Teresa Albano/PW)