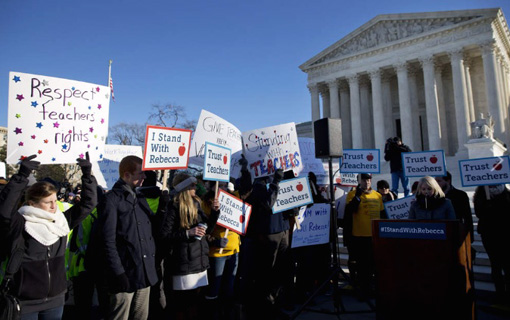 WASHINGTON (PAI) – For Ethel Everett, Reagan Duncan and Bryce Wickstrom, the elevated arguments over union dues and agency fees, which took place inside the U.S. Supreme Court on Jan. 11, are personal.
That's because Everett, Duncan and Wickstrom, three of hundreds of unionists massed outside the court during and after the debate, see how the loss of revenue to their unions could hurt them, their families, their kids, the students they teach and the elderly they aid.
Everett, a home care worker and SEIU member from Springfield, Mass., Duncan, a Vista Teachers Association (NEA) member and kindergarten-first grade teacher from San Diego, and Wickstrom, a heavy equipment mechanic and AFSCME District 5 member from Minneapolis, joined unionists from National Nurses United, the Service Employees and others from around the nation in 20-degree temperatures outside the court.
Inside, the justices heard the case of Friedrichs v. California Teachers Association – Duncan's statewide union – which will decide whether all state and local governments, from school boards on up, will become so-called "right to work" fiefdoms where workers could all be "free riders," getting union services but not paying for them.
Outside, the unionists waved both printed and hand-made signs with phrases such as "Working people want a voice," "We do better when we stand together" and "Don't silence us." A smaller group of anti-unionists, marshaled by the right, countered with printed signs saying "We <3 teachers." A so-called association of religious teachers sided with Friedrichs.
"We're preparing for the worst and hoping for the best" from the justices when they decide the case by the end of June, Wickstrom told Press Associates Union News Service. A decision against workers and their allies "would be a severe blow against labor, and especially against organized labor.
"I choose to work union because it gives me guarantees" of success in the middle class, said friendly, bearded, Wickstrom, wearing a green Minnesota Department of Transportation windbreaker and a warm knitted hat.
"Minnesota has been good to us across the board, with fair wages and equal pay for equal work. It gives me something my family could base our lives upon."
That same path succeeded for his mother, a longtime police union official and retired 31-year veteran of the Duluth police force, he added.
Duncan said her students are even more threatened than she is. She noted that 89 percent of her students are English language (ESOL) learners and 95 percent are from families with low socio-economic status. Duncan and other California Teachers Association members view themselves, she said, not just as teachers of their kids, but as their advocates.
And they need a strong union for that, she said. Throw out agency fees, Duncan said, and "it could result in a lot fewer people choosing to form a union" as unions would be deprived of money they need to organize the unorganized.
"By being part of a union, we've been able to work with these families" of the elderly and the disabled "to ensure they get the care they (family members) need," Everett explained. "Our union can negotiate services for our families, so they can be self-sufficient," she added.
Take away dues and agency fees, and it would be less able to do so, Everett said.
"The key distinction is between campaign mode" – when unions try to organize new members – "and governing mode," said the unions' attorney, David Frederick. "In governing mode, they bring stability" to state and local governments "and services" to members, which the fees pay for, he explained.
The lead challenger, dissident California teacher Rebecca Friedrichs, disagreed. She sat through the 80-minute long courtroom argument. Friedrichs, who "spent half of my 28-year career as a union member," said "my voice was silenced" by her union even on her local's board, as well as when she just paid the agency fees. That led her to challenge the fees as "political" violations of free speech, even in contract bargaining and grievances.
"For nurses, who depend on the protection of their union to be able to advocate, without fear of employer retaliation, for their patients at a time when massive healthcare corporations are placing profits over public and patient safety, the threat is particularly dire," said National Nurses United Co-President Jean Ross, RN, before the rally on the courthouse steps.
The political aspect of the Friedrichs case didn't come up in the justices' deliberations, but it did come up outside the courthouse door – in questions to Michael Carvin, the attorney for Friedrichs and the other dissidents. The anti-union, anti-worker National Right to Work Committee hired him to represent them at the SCOTUS session.
And the RTW committee is part of a continuing and growing far right crusade to smash unions, notably public worker unions, which are a bulwark of opposition to business and its political allies, especially congressional and state-level Republicans.
Carvin didn't touch that angle, though, even though the questioning reporter brought up that angle, pointing out that unions and their allies mostly support Democrats.
"There is a political element to this," Carvin replied. "If it was anything but a union case, the American Civil Liberties Union" – a noted defender of free speech rights – "would be standing here at this microphone, not me," he added.
Photo: People participate in a rally at the Supreme Court in Washington, Monday, Jan. 11, 2016. | Jacquelyn Martin/AP