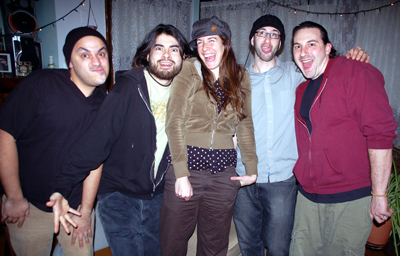 CHICAGO – Even during hard economic times people need something to help them relax and get through it all. "Lovers In Arms" is providing just that through their music. The local up-and-coming, five-piece band's CD "Strength for the Weary" offers a message of hope, unity and relationship-building through beats that comfort the soul. The fun hip grooves and peaceful vocals express a human emotion that binds us all, universal love.
These 20 and 30 something musicians share much in common with each other and their peers: the belief that music – like food – is a necessity of life.
"Our music reminds folks that love is worth fighting for especially when everyday people struggle with anger and frustration," said Armando Perez, 29, and lead guitar-player. "We want our listeners to believe in patience and forgiveness."
"Strength for the Weary" is an album about being supportive and being there for one another.
Caroline Yohanan, 27, is the writer and lead vocalist of the group and said the name "Lovers In Arms" is derived from "brothers in arms" but challenges ideas of violence and war.
"Our music is a great example of what we believe in. And when we recognize a problem we know that we can get through it together," said Yohanan.
Each band member started playing music at an early age in or around the Chicagoland area. Most come from musical households where talents were passed down including percussionist Juan Pablo Lugo whose father was a musician.
"Music is my outlet and helps me forget about what's happening in the world," said Lugo, 29. "It's truly a healing power. Our music is like a journey traveling from one spectrum to another provoking a lot of emotion."
The band incorporates many genres, hip hop, jazz, blues, funk, folk-acoustic, dance and rock, giving it a "funky, rock band" style.
The band's bass guitar player Ryan Schoen, 32, loves listening to classical music. "Beethoven drives me crazy," he said. Schoen also enjoys West African music. "The rhythm just gets into my soul."
Drummer Dan Lieber, 25, studied Latin Jazz in New Orleans and Cuba and said, when the band performs live, "It's almost like shrinking the whole vibe into a basement hip hop show, energy wise."
Like many start-up musicians, each band member works a job during the day. But it's their music that they focus on.
"Music is my life, it's my career, it's what I want to do with my life," said Perez, who, as a kid, organized punk-rock garage bands at his parents' home on the northwest side.
Yohanan said, "We don't take ourselves too seriously, especially when we're on stage. We're going to be interactive. And, as a group, we have fun."
Performing in front of an audience gives the band lots of food for thought, too. "Each time we perform we're reminded what's most important in our lives, making music. It helps me believe in my music," Yohanan said. "People need the arts and music now more than ever."
"Lovers in Arms" is a genuine and fun group that all ages and diverse backgrounds will enjoy. When you hear their music expect the unexpected, embrace the creativity and definitely think outside the box.
Visit them at www.myspace.
com/loversinarms or go to "Strength for the Weary" on iTunes. One of their line-ups includes a show at Chicago's famous jazz lounge, Green Dolphin on March 5 at 8p.m. Go and check them out.
plozano@pww.org