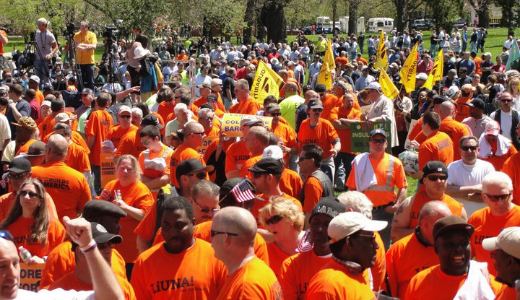 NEW HAVEN, Conn. – This was a May Day to remember and build on. With everything on the line, from Social Security and Medicare to the right to organize, lots of working class families came out, many for the first time, to make their voices heard at rallies and events around the state.
As one local president said, "You can feel the force of unity."
In Hartford, over 5,000 workers and their families rallied in Bushnell Park, across from the State Capitol, to say "enough is enough – stop the war on workers!" The Laborers District Council initiated the rally, which was endorsed by the building trades and public and private sector unions. The state's top elected officials and Ted Kennedy, Jr. were invited to speak along side labor leaders.
"We're not Wisconsin and we' not Ohio," said Lieutenant Governor Nancy Wyman." We want to have more organizing of labor, not less organizing of labor."
The turnout delivered a strong message on the eve of the budget vote, which passed the state's legislature this week. The budget is contingent on negotiations with state worker unions including those of health care workers, teachers, custodians and first responders, who are being asked to give up $2 billion in concessions over two years. While the state unions have proposals on how to save money, they strongly reject the concessions, and are being threatened with the layoff of 4,000 workers.
A UAW member who was interviewed put it in a nutshell. "I don't think we have a spending problem. This country has a revenue problem. They are trying to generate revenue off the backs of the working guy and the poor people by taking things away."
In New Haven, a rally and march of several hundred was initiated by immigrant workers who had just won a long fight with Goodfella's Restaurant for $23,000 in unpaid wages. Representatives from local unions, student and community groups joined in. The march through downtown ended at the New Haven Green for the annual May Day celebration, including information tables, a giant peace sign project, performances and speeches.
At the end of the afternoon, an overflow crowd from around the state turned out for the presentation of People's World Newsmaker Awards to Spectrum nursing home workers locked out on strike for one year, Communications Workers Local 1298, and SEBAC, the bargaining coalition of all state worker's unions representing 40,000 workers.
Organized around the theme "We are One – Workers Rights are Human Rights," the event honored Connecticut's public workers, their unions and the services they provide. It offered an opportunity for youth leaders, strikers, community activists and state labor leaders to discuss how to build a more powerful political force of working people that can change the debate from deficits to taxing the rich and big corporations, and achieve a change of priorities in our country.
Exemplifying the kind of courage required, Carmen Boudier, president of New England Local 1199,
said the 400 Spectrum workers had rejected a company attempt to rehire only some workers and not others. "We will all stay out until we can all go back," she declared to cheers and applause.
Bill Henderson, whose local negotiated with AT&T a year longer than the rest of the country to win a contract without concessions, decried corporate outsourcing of jobs to other countries, and called for a change in policy to build up good jobs in the United States.
Dan Livingston, chief negotiator for SEBAC, emphasized that the corporate attack on workers has accelerated globally in the last 20 years. He urged the youth present to help develop new ways of communicating the importance of the labor movement to their generation.
The audience was inspired by youth participation in the program, including The Union rap group, poetry and remarks from high school students. A performance by singer and social justice activist Fernandito Ferrer, visiting from Puerto Rico, highlighted the common struggles of workers in all countries.
John Olsen, president of the Connecticut AFL-CIO, addressed all three events. "There is a class war going on – they're trying to exterminate us," he said. Warning against balancing the budget on the backs of state workers, he said that if the Bush tax cuts extended by Congress in December were collected from Connecticut residents making over $250,000, there would be no deficit.
The May Day events culminated a hectic week of marches, rallies and press conferences on an array of demands, including a fair state budget, SustiNet health care, paid sick days, Social Security, a state Dream Act and Workers Memorial Day ceremonies commemorating those who died on the jobs and advocating for worker safety and the right to organize.
On the 125th anniversary of the birth of May Day as an international day of worker's struggle and solidarity, the need for unity is greater than ever, speakers at all the events emphasized. The celebrations inspired and gave new strength for the giant battles ahead.
Image: Laborers' Union members were prominent among the thousands that gathered for the May Day "Enough is Enough" rally in Hartford, Conn. Photo Win Heimer/PW