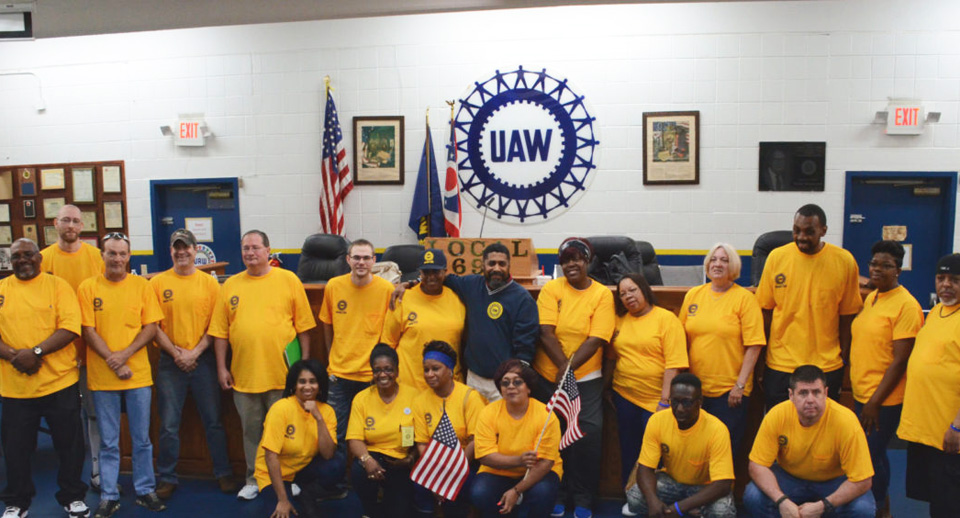 MORAINE, Ohio—Imagine having to choose between caring for your sick child or keeping your job. That's the impossible position Fuyao Glass America, a leading Midwestern manufacturer of auto glass, puts workers in. And it's one reason the workers have filed union election authorization cards with the National Labor Relations Board, one worker leader says.
Teodore Searcy, a worker at the Moraine, Ohio, plant, described that impossible choice as the Auto Workers announced October 17 they filed the needed cards with the NLRB's regional office (see video below). No date has been set for the vote, which would cover 1,500 workers.
"We've had a lot of turnover and lot of safety issues, and we need a voice on the job," Searcy told a telephone press conference. And one big reason for the success of the organizing drive was a "points system" the firm established to denigrate workers.
The points, as Searcy described them, were like demerits, and could be awarded for any reason, or none at all. Originally, Fuyao fired a worker who accumulated ten points, but now it fires a worker with five.
"They've fired a lot of good workers with no excuse," Searcy said.
Fuyao's system penalized workers with family emergencies, he explained. If the worker had a sick child and missed work, the worker was docked a point. "But they said too many people took advantage of the system" under the 10-point limit. "Now it's five and you're out – and there's no appeal and no explanation.
"They say it's a family," Searcy said of the plant's managers. "It's not a family."
The point system isn't the only reason UAW succeeded in getting enough union election cards – the legal minimum is 30 percent of the workforce – to call for the NLRB vote, UAW said. Others include rampant job safety and health violations, and pay that is below a living wage, with few or no benefits.
That's in contrast to the pay and benefits at the other two big Midwestern auto glass plants in UAW District 2A, which covers Indiana and Ohio, said district director Rich Rankin. The UAW represents the workers at the other two.
"We have workers" at Fuyao "who are working in deplorable and unsafe conditions, and they shouldn't be treated like that," Rankin explained. And not paying the Fuyao workers a living wage lets the firm undercut the two other glass plants.
Other issues in the organizing drive included unpaid wages and overtime — which led four workers to file a class action suit against Fuyao on August 30 — erratic scheduling and workweeks of less than 40 hours.