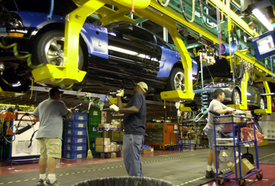 DETROIT — Ford's latest plan to turn the company around puts on the "fast track" the biggest restructuring in the auto giant's 103-year history. Bearing the pain will be autoworkers and the communities they live in.
Under the plan, announced Sept. 15, approximately 50,000 Ford workers will no longer have jobs by the end of 2008. The new cuts will leave Ford with less than 80,000 hourly and salaried U.S. workers, down from 130,000 in 2003.
The United Auto Workers has negotiated a buyout that is being offered to all 75,500 Ford workers represented by the union. Workers who sign up for one of eight different buyouts or early retirements must leave the company within the next 12 months.
Also getting the axe will be 10,000 salaried positions. This comes on top of 4,000 salaried jobs cut earlier this year. It means that by 2007, one-third of Ford's white-collar jobs will be eliminated. But Ford expects many of these employees to be gone by next March.
By 2012, Ford will close two more plants on top of the 14 announced earlier this year.
The latest cuts have added to the already gloomy economic picture in Michigan, home to many Ford employees. Michigan's official unemployment rate is 7 percent, and the state is number one in the nation in housing foreclosures.
Ford's downsizing announcement came shortly after the arrival of new CEO Alan Mulally, a former Boeing executive who eliminated more than 30,000 jobs at the aircraft company.
While Mulally is implementing painful cuts at Ford, his own future is somewhat rosier. Mulally's deal with his new employer is reportedly worth $35 million this year, including his salary, one-time bonuses and the value of stock options and restricted stock awards. That price tag doesn't include other Ford-paid benefits for its new CEO, including two years of temporary housing in Michigan and unlimited personal travel on a company airplane. Next year, Mulally will be eligible to earn up to $16.5 million in salary and stock options.
In a policy speech just before the cuts were announced, UAW President Ron Gettelfinger said, "To keep our consumer-based economy going strong, consumers need access to something other than affordable goods and services. We also need access to a continued stream of good jobs at good wages." As workers lose income, he said, they'll buy less consumer goods, local businesses will lose sales and local communities will lose tax revenue.
Among other things, Gettelfinger called for national health care funding; auto company investment in flex-fuel, clean diesel and advanced-technology vehicles like hybrid, electric and fuel-cell vehicles; and bankruptcy reform to stop Delphi's cynical abuse of the bankruptcy process.
While Ford is closing unionized plants here, it is accelerating its production of nonunion vehicles in Mexico. Ford already builds the Fusion, Lincoln Zephyr and Mercury Milan in Mexico.