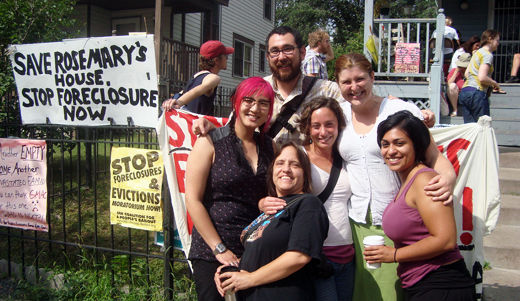 The slight dip in foreclosure rates in 2011 was not the beginning of a trend towards reversal of the mortgage crisis. Home foreclosures are set to rise again this year as huge filing backlogs are processed more expeditiously.
Delays artificially lowered rates last year began when banks, in a rush to make extra profits, signed off on thousands of foreclosure documents without carefully reviewing them for accuracy. Then the resulting over-booked court schedules added to the problem, causing even more delays.
"The numbers in 2011 were artificially low because of the foreclosure delays, so we will see an uptick" this year, said RealtyTrac spokesman Daren Blomquist in Chicago Sun Times.
The uptick is also predicated on the expectation of continued progress in overcoming the recession.
RealityTrac is a company that charts the foreclosed housing market and issues regular reports.
The mortgage crisis began due to speculation on subprime loans, but as the recession deepened it quickly spread to standard loans. Close to 3 million homes were foreclosed on in 2010. Between 2009 and the end of 2012 more than 9 million homes are expected to be in foreclosure, according to the Center for Responsible Lending.
The crisis caused property values to drop, resulting in many mortgages going "underwater" with loans higher than their current market value.
The Afro American writes, "In late 2011, nearly 28.8 percent of all homeowners in America owed more on their homes to the bank than they were actually worth – many of those banks being the same institutions that were bailed out with taxpayer money."
The Obama administration has launched a number of initiatives including the Home Affordable Modification Program (HAMP) to address the crisis. The mortgage adjustment program can reduce some mortgages by up to 30 percent.
HAMP has had mixed results: It has initiated 909,953 permanent mortgage modifications through November 2011, but another 923,545 attempts at reducing monthly payments have been cancelled, according to the government's latest figures.
Nevertheless, the administration says the program has made some progress. "As we compare today's data to market data from last year – and certainly from the economic conditions when we took office in 2009 – it's clear that we've made important progress in recovering from this housing crisis," said Housing and Urban Development Assistant Secretary Raphael Bostic.
"But with so many homeowners still struggling to pay their mortgages or move into more sustainable loans, we cannot rest on our laurels. There is still a lot of work to do."
National and local grassroots initiatives have sprung up across the country, demanding action against the banks responsible for the mortgage crisis. With a possible class action settlement underway, negotiated by the Department of Justice and several banks, Working America has called for letters to states' attorneys general who initiated the suit to demand real action. The letter can be signed here.
Photo: Creative Commons 2.0