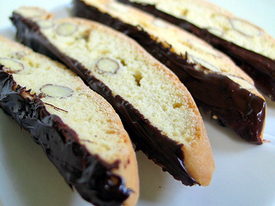 BRONX, N.Y. — My mother loved Stella D'Oro "S" cookies. She would eat two every morning, dunking the anise-flavored delight in her coffee. I always felt a loyalty to the brand based on that childhood memory. But no more.
Below the elevated "1" train here, dozens of workers are walking a picket line in front of a block-long building flying Stella D'Oro's red, white and green flag. Many of these workers, like the tricolor, are originally from Italy. Many have spent 40 years of their lives bringing the public cookies and breadsticks.
Stella D'Oro, no longer a "family-owned and operated" business, is just another company, owned by private equity firm Brynwood Partners of Greenwich, Conn. It has followed modern-day capitalism's business practice — wring as much as possible out of workers, and if there is a union and collective bargaining agreement in your way, steamroll over them.
One hundred forty workers represented by Local 50 of the Bakery, Confectionery, Tobacco Workers and Grain Millers tried to negotiate a contract in good faith with the company — their old contract expired in June. The company demanded massive cuts in wages and benefits. In August, after management walked out of a negotiating session and refused to return, the workers felt they were forced to strike.
Brynwood partner Hendrik J. Hartong III did not return a phone call from this reporter.
The workers call the company's demands a "reverse contract." Instead of getting a raise each year, two-thirds of the workforce would get a dollar-an-hour wage cut for the five years of the proposed contract.
The company also wants to slash vacation time, eliminate four paid holidays and all 12 sick days, and raise workers' health care costs by 20 percent.
To add insult to injury, the company called the union in November and said that as of Dec. 31 it is pulling out of the existing guaranteed-benefit pension plan. Instead, it is forcing workers to accept a 401(k) plan, so discredited by the Wall Street crash.
A first shift of workers walked the picket line in 20° weather Dec. 8. Their anger was palpable. "Lying, thieving #$%#," was one response. Not one union member has crossed the picket line.
One worker, Giuseppe, asked, "How is it possible to criticize other countries about what they do and then treat us workers like this with 'take it or leave it' attitude?"
A woman worker said she had lived just across the street when she started working at the factory in 1968. Introducing her foreman, she said proudly, "He makes beautiful breadsticks."
But when she complained, "Now they bring in Black people to do our jobs," what a discussion ensued! "They do that all the time," someone piped up, "to pit people against each other — white against black against Latino."
"Yeah," said someone else, "we have to be together. We can't let the company divide us."
Then someone brought up the Republic Door and Window workers in Chicago who were in their third day of a sit-in. "Look, Obama supports the Republic workers. It's all about sticking together," said another.
In a Dec. 15 telephone interview, Local 50 President Joyce Alston called the Stella D'Oro workers a "terrific group."
Some of the new hires the company has brought in leave quickly, she's been told. "When I was on the picket line, some even came over and said 'You guys are right.'"
Alston said, "The economic times we are in couldn't be worse to have a fight. But not one union member has crossed or thought about crossing the picket line."
They know a thing or two about solidarity, she said, noting that the pay cut the company proposed was "for two-thirds of the workforce — mostly women." The company would have given 30- or 50-cent-an-hour raises to one-third of the workforce — higher skill-level, mostly men — but the workers didn't let the company break the union that way, she said. The company wants to "render us obsolete," she said, but the workers won't allow it.
Alston said the union has filed charges with the National Labor Relations Board against the company, which she hopes will add to the union's leverage. "Everybody is talking about the banks and bailing everybody out, but they don't understand that the working people of this country need to be bailed out," she said.
As Giuseppe put it, "This strike is like a chain. If we break, it's finished for everybody. What I worry about most is the future for the children."
My mom, during her retirement, started making her own biscotti. Below is a recipe she used. Try it, instead of buying union-busting Stella D'Oro. Create some holiday solidarity memories for your family, co-workers and friends.
You can send solidarity greetings and support to BCTGM Local 50, 145 Talmadge Road Suite 17, Edison NJ 08817, or e-mail: BCTGMlocal50@aol.com.
Ivy's biscotti:
Ingredients:
2 cups sugar; 1 cup butter, melted; 4 tablespoons anise seed; 4 tblsps. anisette; 3 tblsps. whiskey; 2 cups sliced almonds; 6 eggs; 5 1/2 cups flour; 1 tblsp. baking powder.
Directions:
Mix sugar with butter, anise seed, anisette, whiskey and nuts. Beat in eggs. Mix flour with baking powder and stir into the sugar mixture. Blend thoroughly. Cover and chill for 2-3 hours. Grease baking sheets. Shape dough into flat loaves that are 1/2-3/4 inch thick and 2 inches wide and length of the baking sheet. Place two loaves on one sheet parallel and well apart. Bake in a 375 degree oven for 20 min. Take from oven and let loaves cool – just until you can touch them. Cut in diagonal slices about 1/2 inch thick. Lay slices on cut side, close together on baking sheets. Return to 375 degree oven for 15 minutes more or until lightly toasted. Cool on wire racks and store in airtight containers.