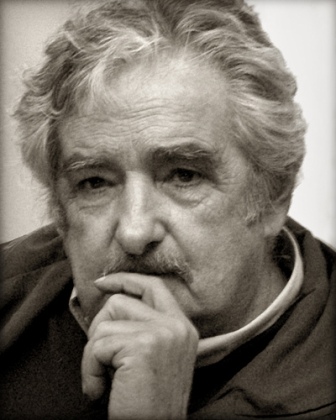 Now 74 years old, José Mujica was a guerrilla fighter who, when amnestied in 1985, had spent 14 years in jail under Uruguay's dictatorship. In a runoff election on Nov. 29, he won the presidency by a 52 to 43 percent margin over former president Luis Alberto Lacalle of the right wing National Party.
Mujica, formerly a senator, served as agricultural minister in the Broad Front government of incumbent President Tabaré Vázquez. He takes office on March 1, 2010, and will serve for five years.
"There were no winners or losers," Mujica told supporters after the vote, adding that, "It is a mistake to think that power comes from above, when it comes from within the hearts of the masses … it has taken me a lifetime to learn this."
Mujica's style is said to be direct, unstudied and relaxed. A day after his victory, he met with defeated opponents Lacalle and Pedro Bordaberry, the Colorado Party leader. He invited representation of their parties in his cabinet.
A meeting with leaders of Uruguay's main labor federation PIT-CIT followed. "This was a new form of relationship," observed Secretary-General Juan Castillo. Under discussion were reforms in health care, education, taxes, and labor relations. Federation official Fernando Pereira told reporters that "we communicated with Mujica that from our point of view, the state must be oriented toward development of production, distribution of wealth and social justice," and workers must have a "protagonist role." He expressed hope the new government would "solidify achievements of the Tabaré Vázquez government – the best in the last 50 years."
There was agreement that a "Work Commission" would be formed to include representatives of the Broad Front government and the union federation. The PIC-CIT asked that Mujica attend the MERCOSUR labor summit set for Montevideo Dec 7-8.
The center-left government Mujica will head faces criticism from the left that the awarding of cabinet seats to right-wing ministers signifies perpetuation of a status quo, giving banks and transnational corporations free rein. Critics point out that officials of state owned banks and businesses hold only sub secretarial rank, and they are excluded from cabinet deliberations.
Uruguayan writer and former political exile Eduardo Galeano, however, added perspective. Mujica's victory is important, he suggests, as representing a defeat of "an oligarchy that was imagining it was going to rule for all eternity, but the people responded." He attributed the strength of the Broad Front to the "diversity of affiliated parties and the respect they gained" working within the coalition. The present Broad Front administration of President Vázquez had kept the government on a stable course by melding strong debate with collective decision-making. Also, Mujica's hand will be strengthened by the election of slim majorities for his coalition in both houses of Congress in the October 25 general election.
Galeano expressed regret that voters in November failed to pass a referendum overturning the 1986 "Ley de Caducidad" (law of expiration) which awards impunity for human rights abuses committed during the dictatorship era. He also lamented the government's failure to pass legislation allowing Uruguayans living abroad to vote absentee.
Mujica will be buoyed along by successes of the Tabaré Vázquez government. Despite severe drought and the world economic crisis, Uruguay has avoided recession. Instead, over five years, the GDP grew from US$2.5 billion to US$5 billion with a 40 percent industrial growth rate. Direct investment in industry and infrastructure rose by 340 percent; there are 30,000 new jobs, and the public debt is down.
Poverty has fallen from 46.2 percent in1986, to 31.9 percent in 2004, to 20.3 percent presently. Extreme poverty fell from 7.7 percent in 1986 to 1.4 percent last year. Tax reform has benefitted working and retired people.
Education reformers are calling the government's Plan Ceibal "the world's most ambitious roll-out of educational technologies." One of its goals is one laptop for every child, another for every teacher.
The Broad Front for which Vasquez and President-elect Mujica are standard bearers was founded in 1971 as a coalition of leftist parties. It was illegal during the years of military dictatorship, 1973 – 1984. Left – center formations joined the Front in the past decade. It preserves strong ties with the PIT-CIT labor federation.
Photo: José Mujica http://www.flickr.com/photos/vincealongi/ / CC BY 2.0