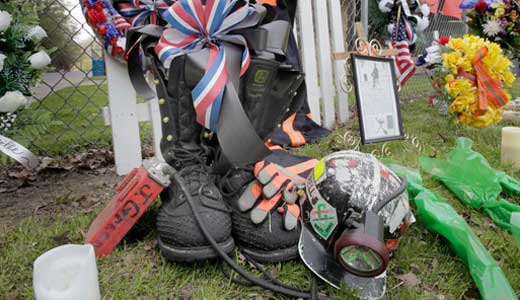 Massey Energy's former security director was sentenced to three years in prison for lying to federal investigators and destroying documents they sought relating to the deadliest mine explosion in 40 years that killed 29 at West Virginia's Upper Big Branch mine in 2010.
U.S. District Judge Irene Berger sentenced Hughie Elbert Stover to three years in jail, two years of probation and a $20,000 fine after he was found guilty of two felonies: Making a false statement and hampering a government investigation of the Upper Big Branch disaster.
Stover was found guilty last October by a federal jury of lying to investigators about the routine but illegal practice in Massey mines of warning underground workers as soon as government inspectors arrived near the above-ground entrance of a mine. That same federal jury also decided that Stover tried to get one of his guards to destroy company documents about safety procedures at the mine.
The routine practice of sending out alerts about arriving inspectors played a major role in the disaster resulting in 29 deaths, according to the federal Mine Safety and Health Administration (MSHA) investigators who conducted an official government probe of the disaster.
MSHA coal administrator Kevin Stricklin testified for prosecutors, describing his agency's investigation of the explosion.
Stricklin said the practice of giving advance notice of inspections kept MSHA officials from knowing the full extent of safety problems at Upper Big Branch, by giving the company time to hide the hazards and avoid having to make the required repairs.
U.S. Attorney Booth Goodwin had sought a 25-year sentence for Stover but said after the sentencing: "Three years for a man who is 60 years old is a long time. We wanted to send a very clear message and we have done that."
Families of the dead miners had little sympathy for the defense lawyer's argument that a long jail sentence amounted to unwarranted cruelty.
"They were in there worried about Mr. Stover seeing his grandchildren and being with his family," Lisa Workman told the press afterward. Workman, whose brother-in-law Dean Jones died in the explosion, said she had no sympathy for Stover. "Deano will never get the chance to see his 15-year-old son graduate high school. He'll never get the chance to hold his grandchildren."
Stover is the second person convicted in the case. Last September the same judge sentenced former Upper Big Branch miner Thomas Harrah to 10 months in jail for faking a foreman's license when he carried out critical mine safety inspections and for then lying to federal inspectors about his actions.
Last week, Gary May, former superintendent at the Upper Big Branch mine, was charged with conspiracy to violate federal mining safety laws.
Yesterday he came to testify for the prosecution, however saying he has reached a plea agreement through which he admitted to conspiring to violate safety laws at the mine and agreed to help prosecutors in the case.
May said that nine guards routinely went underground to warn workers about arriving inspectors and that he and other officials would scramble to cover up violations.
"I always spread rock dust if I knew someone was coming, to make it look good," May said in court.
Four separate investigations by government agencies, an independent team and the United Mine Workers union all concluded that the deadly explosion resulted from Massey's failure to maintain mine equipment, provide required underground ventilation and clean up explosive coal dust in mine tunnels.
Photo: A miner's boots, helmet and gloves at a memorial for the 29 miners who died in an explosion at Massey Energy Co.'s Upper Big Branch mine in Montcoal, W.Va. Amy Sancetta/AP