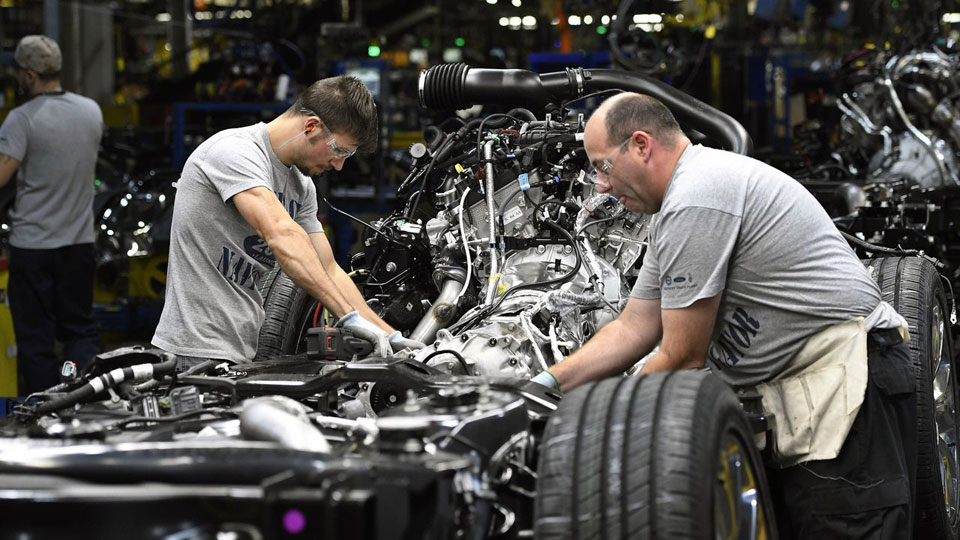 CINCINNATI—Three former Occupational Safety and Health Administration chiefs, under both Democratic and Republican administrations, want the federal appeals court in Cincinnati to reinstate the agency's Emergency Temporary Standard that forces firms to protect their workers and customers against the coronavirus.
Represented by lawyers for Public Citizen, Dr. David Michaels—Barack Obama's OSHA chief for his whole tenure—Charles Jeffress (Bill Clinton) and Gerard Scannell (George H. W. Bush) said another appeals court ruling basically putting OSHA's rule on indefinite hold is a complete misreading of the 1970 Occupational Safety and Health Act, and way too narrow.
That other appeals court's ruling said "OSHA lacks authority under the Occupational Safety and Health  Act to issue standards addressing health threats to workers from workplace transmission of viruses and other infectious agents," Michaels, Jeffress, and Scannell told the judges.
"That view of OSHA's authority is groundless," the three, who headed OSHA for a combined 15 years, said.
President Joe Biden's OSHA issued the standard on Nov. 5, finally responding to a long drive by unions and job safety and health groups that the agency move forcefully against firms that refuse to protect their workers.
The Emergency Temporary Standard (ETS) was supposed to take effect immediately. It required firms with at least 100 workers to both develop and implement anti-virus protection plans and to require workers to either be vaccinated or undergo weekly anti-virus testing. It also requires firms to have workers wear masks and keep physical distancing.
The point of the ETS was to protect workers, their colleagues, and their communities from "community spread" of the modern-day plague. Since the federal government declared the pandemic in mid-March 2020–despite denials from GOP Oval Office occupant Donald Trump—through 8 a.m. on Dec. 1, some 48.56 million people have tested positive and 780,241 have died. That's equal to killing everyone in Seattle, plus 26,500 people in its suburbs.
But no sooner had OSHA issued the standard than right wingers halted it in its tracks.
The Republican governors of Texas, South Carolina, and Utah, backed by the "Word of God" religious group, its TV station, and a mob of allegedly small businesses with similar or identical names, got three GOP-named judges on the Fifth U.S. Circuit Court of Appeals in New Orleans to order a nationwide halt. Other appeals courts had ordered the standard to take effect. A lottery landed all the cases in the appeals court in Cincinnati.
So the three former OSHA chiefs filed their friend-of-the-court brief there, speaking from their practical experience in administering the nation's 51-year-old job safety and health law.
The 1970 Occupational Safety and Health Act's key Section 6 "grants OSHA ample authority to carry out the act's purposes by issuing standards aimed at preventing workplace outbreaks of communicable diseases caused by viruses and other infectious agents," the three former OSHA chiefs told the Cincinnati court in their brief.
"OSHA's authority expressly extends to setting standards addressing 'toxic materials or harmful physical agents," they added. Such OSHA standards are supposed to "adequately assure…using the best available evidence," that no worker "will suffer material impairment of health or functional capacity" due to exposure to job hazards, including airborne viruses.
And "Section 6(c) authorizes OSHA to issue emergency temporary standards to protect employees from 'grave danger' resulting 'from exposure to substances or agents determined to be toxic or physically harmful,' and from 'new hazards,'" the three added. In both sentences, the three OSHA chiefs' brief italicized "or" for emphasis.
"These provisions unambiguously grant OSHA authority to protect workers from workplace exposure to a virus that causes severe and often fatal illness. Such a virus falls squarely within the plain meaning of 'harmful physical agent,'" they stated.
By contrast, their suit says, the Fifth Circuit's anti-OSHA ruling, written by Judge Kurt Engelhardt, a Trump appointee to that appeals court, was so narrow that it renders the OSH Act meaningless and unenforceable. Engelhardt, writing for a three-judge panel, said OSHA can only cover toxic substances, not dangerous ones, the three former agency chiefs assert.
"The Fifth Circuit's suggestion that OSHA may not provide workplace protections against threats also found outside workplaces has no support in the language of the OSH Act or OSHA's 50-year history of administering it," Public Citizen added.
No date has been set yet for the Cincinnati court to hear the case. A check of the court's calendar shows it's not on the schedule yet, at least through mid-December.
Meanwhile, Biden's OSHA is still taking comments on the ETS, and just extended the comment deadline to Jan. 19. Anyone wishing to comment can go to www.regulations.gov, docket OSHA-2021-0007. The three former OSHA chiefs did not indicate whether they have already submitted formal comments to OSHA about its anti-virus rule.