NEW YORK—Legendary news reporter Tim Wheeler, long time editor/reporter/journalist for The Worker, Daily World, and People's Weekly World read from his recently published book, News From Rain Shadow Country, at the Tamiment Library in New York City on October 3.
Jarvis Tyner, former Executive Vice Chair of the Communist Party, gave a moving and congratulatory introduction thanking Tim for his tireless work for peace, justice, and his fight against racism. One of Tyner's earliest remembrances of meeting Tim and his wife Joyce was at Amherst College. "I was a newly radicalized unemployed shop worker less than three years in the party and new to left wing politics," Tyner recalled. "That Amherst visit helped build my confidence. I don't know if I said it then, but thank you Tim and Joyce for your help… my next stop was Harvard."
Jarvis continued, "After over half a century as an active leader of our party and an outstanding working class journalist and editor, Tim has mastered the ability to tell the stories of ordinary people and how they have struggled to improve their lives and how they help bring about a better world… The positive understanding in Tim's book sustains the struggle, his optimism sustains the struggle. His book is a weapon against racism, anti-communism, all forms of bigotry, and for peace and freedom."
In his opening remarks, Tim said that optimism, even in these most unpredictable and difficult times, is what defines communists. Tim's reading from his book was typical of his wit and honest, indefatigable character. He tells the moving story of his mother and family; how they fought back against anti-communism and the hardships imposed on the family – his mother and father were blacklisted by Cold War anti-communism. Their lives working the family dairy farm can in ways be compared with the plight of the Joad family and others in The Grapes of Wrath. Tim recounts the heroic fight to keep the family farm and feed the young children while their father was called to D.C. to testify before HUAC many times.
He talks about the day his mother had a breakdown after the many months of difficulty caring for her four children and the farm. "She had been holding herself together far too long. She fell into bed weeping uncontrollably. We all gathered in the bedroom with her… I burst into tears, 'Don't cry Mama. Please don't cry.' So what did Mama do as tears streamed down her cheeks and mine? She started to laugh…seeing in our situation something absurd, so ludicrous what could you do but laugh about it. Then Daddy started to laugh. And Steve, Susan, and little Honeybee in her diapers. And I too began to laugh even as I wiped away the tears. We all had a great laugh together."
Tim's great grandfather was a Union soldier during the Civil War and marched with General Sherman to the sea. Tim tells that in his diary, his great grandfather wrote, "'Quartermasters' men drove off cattle, horses, and mules…ransacked cellars and kitchens to the dismay and distress of the people who never thought of resistance as it would have been folly unspeakable to attempt it…It was awful. My heart ached for the miserable people and I reflected on the years of toil that would be required before this lost property could be recreated."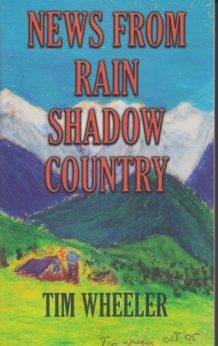 "[Great Grandfather] continued, 'One reflection however, showed me why all this evil had come on them. It was the remark of an old Negro (sic) with whom I was conversing.' Said he, 'This property was not theirs. They never earned or cared for it. We earned it. It was ours.'"'
News From Rain Shadow Country is a wonderful read, especially for the youth today who wish to learn from the past experiences of their own families. The book not only enlightens but also engages one's imagination through the joy of struggle for a better world.
News From Rain Shadow Country can be purchased from International Publishers, which in early 2018 will be releasing another book by Wheeler, News for the 99%.
Tim Wheeler's book tour schedule:
October 5 – CT AFL-CIO Convention at Foxwoods north of New Haven, Conn.
October 7 –  2 p.m. at the New Haven People's Center
October 8 – 11 a.m. at the Community Church of Boston
October 11 – 6:15 p.m. Kellogg Hubbard Library in Montpelier, Vt.