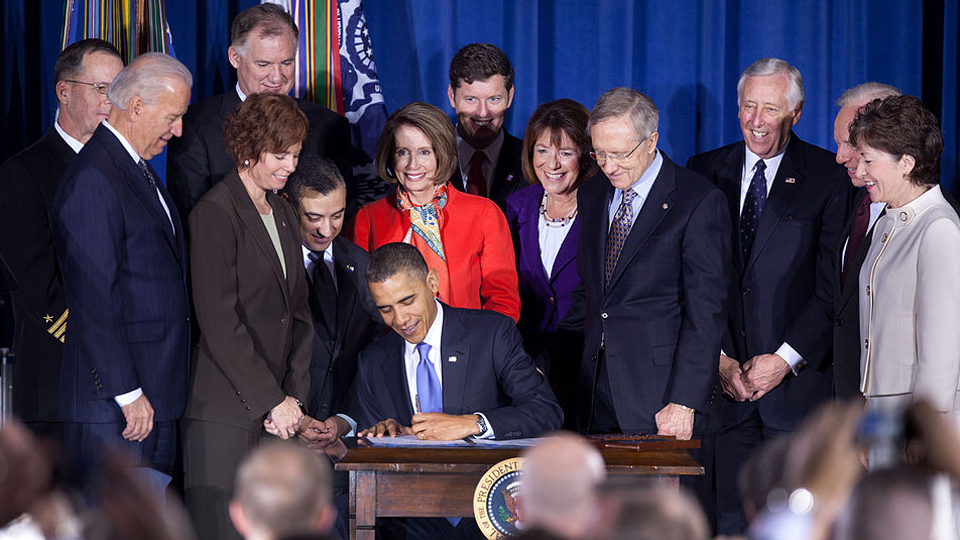 The terrain of struggle for LGBTQ equality suffered a seismic shift on the morning of November 9, 2016, with the Electoral College selection of the runner-up in the popular vote for the presidency.
Following a years-long evolution toward full LGBTQ rights, notably on marriage equality, and a few inexplicable gaffes during the campaign, such as her praise of Nancy and Ronald Reagan's response to the AIDS crisis, candidate Hillary Clinton grew into a reliable ally who was amenable to criticism and growth.
Although he surrounded himself with a host of unsavory right-wing and white nationalist ideologues, as well as his avowedly anti-LGBTQ vice presidential pick Mike Pence and a phalanx of evangelical supporters who managed to overlook his moral and ethical lapses, candidate Donald Trump did not appear on the surface to be waging a war on the LGBTQ community. He made statements of assurance that marriage equality was settled law, and he had a number of prominent LGBTQ backers such as libertarian PayPal founder Peter Thiel.
What a difference a day makes!
The election over, the pieces started falling into place. Trump's cabinet appointments signaled a broad retreat on the social and economic policies that have come to define progress in America since the New Deal of the 1930s. Most notably, every advance achieved during the Barack Obama years was targeted for repeal. Egged on by the president-elect's attacks on the free press and "political correctness," bullies of every stripe from the boardroom down to the schoolyard suddenly felt emboldened to bash their fellow Americans with the cudgels of straight white male nativist Christian privilege.
In her re-election campaign Wisconsin Sen. Tammy Baldwin has been subjected to a new wave of slimy attacks for being an open lesbian. We are likely to see similar mudslinging in other races involving LGBTQ candidates.
The LGBTQ community is now right up there in the ranks with the Trump administration's attacks on women, healthcare, the environment, workers' rights, religious minorities and immigrants.
But Americans have not stayed silent. The LGBTQ community is participating as full partners in the Resistance against the Trump-Pence regime. Equality PAC, Equality California, Lambda Legal, National Center for Lesbian Rights, the National LGBTQ Task Force, and the Human Rights Campaign are but a few of the organizations that have been mustering opposition to some of the most egregious moves of the administration and its supporters in the states.
Conservative Senator Mike Enzi from Wyoming is the textbook definition of all that the LGBTQ movement stands against. He recently told a group of high school students that LGBT people "kind of ask for" violent attacks. At a time when atrocious acts of hate and violence occur way too frequently, Sen. Enzi defends the perpetrators: Our elected leaders are actually encouraging violence against our community.
Enzi's Republican colleagues have failed to censure his remarks. To the contrary, now more than ever, they're using their platform to preach a toxic ideology that has very real effects on our families. Secretary of Education Betsy DeVos, a right-wing evangelical Christian, for example, has donated heavily to organizations that lead the fight to discriminate against LGBTQ folk.
Our children need leaders they can look up to, people who will fight for a future in which no one is discriminated against for being who they are.
Here come the executive orders
On May 4, the so-called National Day of Prayer, Pres. Trump signed an executive order directing the IRS to "exercise maximum enforcement discretion" toward churches which, like all non-profit organizations, have been prohibited since the Johnson Amendment in the 1950s from engaging in overt political endorsements and activity. The separation of church and state has long been a core American value, one that protects our government from being infiltrated by religious radicals. Although actual IRS withdrawal of non-profit status has been rare, the prohibition has served to moderate the temptation of preachers telling congregants how to vote.
From now on, unless the courts or the legislature challenge the ruling, expect to hear blatant politicking and fundraising from the pulpit. Needless to say, the LGBTQ movement will be one of the major targets of religious attack as one more way the right wing seeks to divide the Resistance.
In that executive order, however, Trump backed off from the expectation widely held in the LGBTQ community, that he would include a "religious freedom" clause   allowing discrimination against LGBTQ people in public accommodations, medical and pharmaceutical care, and in county clerks' offices.
Evangelical Mike Pence has always been a crusader for the right-wing homophobic agenda. He made bigotry the highlight of his political career in Indiana. As Vice President, he's pushed the White House to usher in some of the most aggressively anti-LGBT laws imaginable. The Trump administration has already rolled back protections for transgender students and reversed Pres. Obama's law protecting LGBTQ federal workers from discrimination.
The "religious freedom" struggle will continue on the state level in many places. On the federal level, that one omission in the executive order appears for now to be a minor LGBTQ victory.
Erasing history?
The Stonewall Riot of 1969 at a small gay bar in New York City's Greenwich Village was one of the most important moments in LGBT history. At a time when homophobia and transphobia were the accepted norm in America, LGBTQ protesters sent a clear message: "We are prepared to stand up and defend our basic rights."
Last year Pres. Obama recognized the Stonewall Inn as the birthplace of the modern-day LGBTQ rights movement by making it a national landmark. Now Pres. Trump has signed an executive order to review Stonewall's landmark status. The organized LGBTQ movement is saying, "We can't let him erase our history. We can't let him erase our movement!"
Already in a previous move, Trump ordered the Census Bureau to eliminate any reference to LGBT households from the 2020 census. The census is a critical document to help government and healthcare officials, as well as business, plan for the next decade and beyond. To "disappear" LGBTQ people from society is bad enough policy: Now Trump proposes to eradicate one of the most important sites of the LGBTQ movement. A petition to save Stonewall Inn can be signed here.
Where anti-discrimination protections exist for LGBTQ workers, Republicans in Congress want Trump to allow federal employers to legally discriminate on the lines of gender identity and sexual orientation, again reversing protections secured for federal contracts under Pres. Obama. Fundamental rights are under threat. Job protection does not exist at all in half the states, and now federal protection may be lost as well. As the saying goes, You can be married on Saturday and fired on Monday. An employer's "religious freedom" is a transparent maneuver to legitimize hatred and discrimination.
Marriage is not the end of the civil rights struggle
Rachel B. Tiven, CEO of Lambda Legal, describes a recent case they have taken on:
"When Jack's husband Bob passed away, he lost his best friend and partner. They'd been together for more than 50 years. As we describe in our lawsuit, what happened next was shocking: The funeral home refused Bob's body after learning that Bob and Jack were married.
"Even though they'd already entered into an agreement, even though common human decency says you shouldn't be cruel to people who are already suffering, and even though it is a funeral home's job to help people in their time of grief, at Jack's lowest moment this funeral home made it even worse.
"We're suing that funeral home, because no one should have to go through what Jack did. Watch his story now.
"…our movement for equality still has a long way to go. After we won nationwide marriage equality in 2015, Jack and Bob got married. According to the law and to the Supreme Court, their marriage was equal—but that promise of equality can't come true if we don't enforce it. It's discrimination, pure and simple."
Banning conversion therapy
Perhaps it has no chance of passage in a Republican Congress, but Congressional Democrats have introduced a measure, the Therapeutic Fraud Prevention Act, to ban "conversion therapy." If not in this Congress, then perhaps in the next we may be one step closer to ending the abusive practice of conversion therapy once and for all.
For years, young queer kids have been subject to senseless abuse at the hands of extremists who think sexuality or gender identity is a mental illness that can be reversed. Vice President Pence is a lifelong advocate of this torturous pseudo-therapy, which often entails electroshock treatment, social harassment, and even physical and sexual abuse. This harmful practice has been widely discredited by nearly all major American medical, psychiatric, psychological, counseling, educational, and social work professional organizations. According to a study at San Francisco State University, LGBTQ youth who undergo it are eight times more likely to attempt suicide, six times more likely to report depression, and three times more likely to use illegal drugs.
Fewer than ten states have laws banning the practice, and even those are under attack in the courts. House Democrats' new bill would outlaw conversion therapy nationwide and label it for what it is: abuse and torture. Children's lives depend on it.
The act would clarify that providing conversion therapy to any person in exchange for monetary compensation, or advertising such services, is an unfair and deceptive act or practice. Furthermore, it would explicitly underline the Federal Trade Commission's responsibility to enforce this provision and would provide state attorneys general the authority to pursue enforcement in federal court. Sign here to support a nationwide ban on conversion therapy.
The attack on trans people
Transgender Americans are being targeted, oppressed, and attacked simply because of who they are. With transphobic "bathroom bills" gaining traction nationwide and hate crimes on the rise, we must demand change when and where we need it most. Out of "religious" or other prejudice, trans people are being denied essential services. Only 15 states have nondiscrimination laws that protect people based on gender identity.
More than one in four transgender people have been the victim of a bias-driven assault, and that staggering number is even higher for transgender women of color. Almost all the media focus on Caitlyn Jenner, a wealthy outspoken Republican, as fulfilling their obligation to cover transgender issues, but there is still no nationwide nondiscrimination law that protects the transgender community. Our highest leaders refuse to acknowledge these trends: According to Trump's Attorney General Jefferson Beauregard Sessions, "Today, I'm not sure women or people with different sexual orientations face that kind of discrimination. I just don't see it." Sign here to demand an end to transgender discrimination.
Resistance takes many forms
The state of California, which has not elected a statewide Republican since Gov. Arnold Schwarzenegger in 2006, is shaping the future and showing the world a very different approach concerning whom and how we love. In an era where LGBTQ civil rights are at risk, and reckless rhetoric promotes bigotry and criminal acts, Californians have shown a high level of unity in the Resistance.
The #ResistHate campaign speaks to a core California value, inclusion:
"We must resist and boldly stand up when hate and division infiltrate our schools, workplaces and communities, because hate anywhere hinders our ability to ensure equality and justice for all. We want all Californians to know that whoever you are—LGBTQ, Muslim, undocumented or a member of any other group that is being targeted or is feeling less safe right now—we stand with you and will fight for love and inclusion alongside you…. Efforts to dismantle affordable health care are threatening the lives of vulnerable people everywhere."
In another nationwide move, openly gay Congressman David Cicilline from Rhode Island just reintroduced the Equality Act to stop LGBTQ discrimination. This historic bill would add gender identity and sexual orientation to already existing civil rights protections and guarantee basic protections for LGBTQ Americans. The majority of states still do not have explicit LGBTQ non-discrimination protection laws. Right-wing extremists in Congress are fighting to make sure it never becomes law.
Forty-seven U.S. senators and 194 U.S. representatives have endorsed this measure, calling it "the civil rights bill of our generation," and are asking for Citizen Co-Sponsors of the Equality Act to pressure Congress to do the right thing. Sign the Equality Act here.
The bill would explicitly ban discrimination in a host of areas, including employment, housing, public accommodations, jury service, access to credit, and federal funding.
The full text of the Equality Act of 2017 is available here.
Let's end with a bit of good news. Pres. Trump selected Mark E. Green, a Tennessee Republican state senator and former Army physician as the next U.S. Army secretary. But back in September he addressed a tea party assembly, a video recording of which has him saying that being transgender is a "disease." He also expressed his belief that public schools were being indoctrinated by Islam. A coalition of 41 groups urged the Senate Armed Services Committee to reject Green's nomination, and under pressure, he withdrew his candidacy. Sen. Charles E. Schumer of New York said, "He was the wrong choice to serve as secretary, and should not have been nominated in the first place." The outgoing Army secretary was Eric K. Fanning, appointed by Pres. Obama as the first openly gay person to serve in such a capacity.