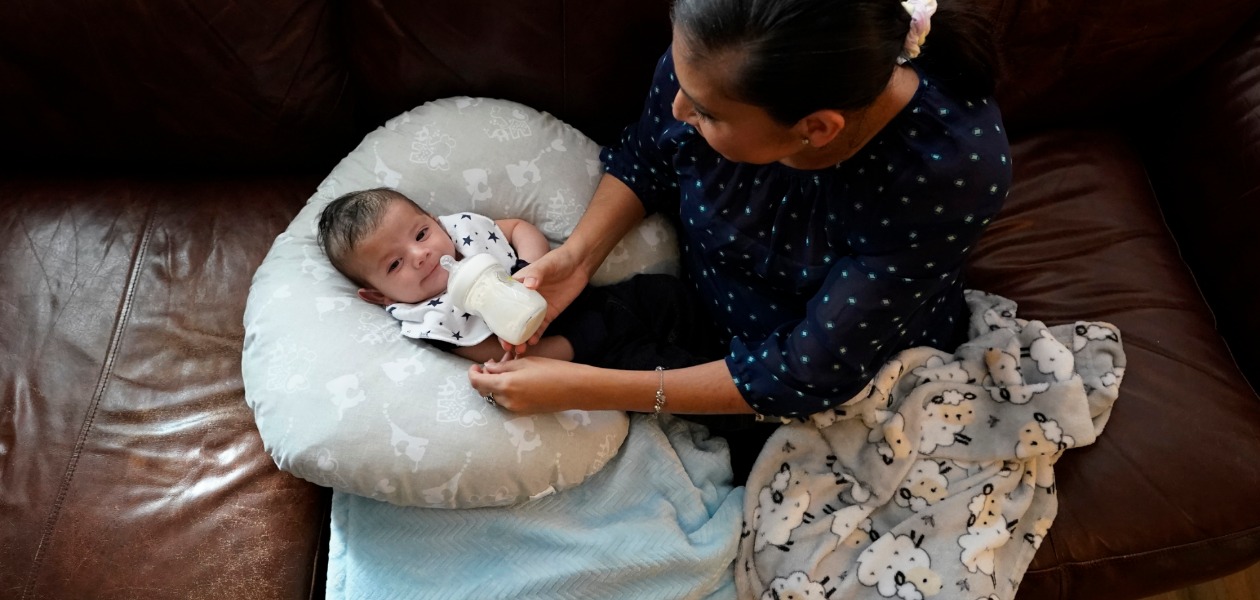 With store shelves stripped of baby formula, families across the country are getting desperate. Hungry babies cry, with bellies not quite full enough. Some parents report spending hundreds of dollars to ship a few precious cans from another state. Moms who live close enough to the northern border say they've been driving across to Canada, where stores were still well-stocked, at least until recently. But still, they can't find enough.
Doctors and public health officials are encouraging moms to breastfeed and pump more, but that's not a solution for everyone. Some mothers are unable to produce the amount of milk their babies need. Or a child's particular health issues may mean they can't take breast milk.
The immediate reason for the disappearance of baby formula from retailers is a bacterial outbreak at a Michigan factory belonging to Abbott Nutrition that makes the Similac line of products. Several babies became sick, and two later died. A former Abbott employee whistleblower had warned the Food and Drug Administration about food safety violations, including lax cleaning and falsification of records, at the Michigan plant back in October. The FDA didn't inspect the plant until the end January. Recalls began in mid-February, and the plant was then closed.
Pandemic-induced supply chain problems and supposed labor shortages added to the trouble. The problem goes beyond simply a screw-up at a single plant or COVID economic disruptions, though. These parents and their babies are in a struggle for survival against monopoly capitalism. The concentration of baby formula production in a few corporate hands has left the whole nation vulnerable to a crisis exactly like the one now unfolding.
Desperate measures
"It gets really scary," Alabama mom Carrie Fleming told the New York Times. Only one brand of formula is tolerated by her three-month-old daughter Lennix, and it's nowhere to be found in Birmingham, where they live. After telephoning stores across the country, Fleming managed to locate four small cans in New York. The cost to buy them and get them to Birmingham? $245. Private sellers online are making a killing with price-gouging.
Those without the cash or time to undertake a nationwide search—working-class moms and dads—have been reduced to watering down formula or rationing it. Carrie Fleming, for instance, has been putting a half-scoop less into every bottle. Or they search online for homemade formula recipes. They're trying to stretch what they've got but are left with the terrifying guilt of wondering whether their baby is getting the nutrition they need.
"We tried Amazon. We tried every pharmacy in town. We called Similac to see if there was anything they could do. They just apologized for the inconvenience," one mother, Heather Gliva, told the press. "I was so frustrated…I would just start crying because I didn't know what else I could do."
In San Antonio, Maricella Marquez told a reporter that she was down to the last can of the expensive special formula required by her 3-year-old daughter due to a rare allergic disorder. Her husband works at a grocery store, where health insurance covers 80% of the cost of the prescription-grade formula. But even then, the family is still spending $375 a month to feed their child—when the formula is available. Now, they're sampling other products, hoping they don't put their daughter in the hospital. "I have no other choice," Marquez said.
In her Latino-majority city, the formula shortage rates are the highest in the country, with nearly 60% less supply available than normal. Many moms here lack health insurance, work at low-wage jobs with little time allowed for breastfeeding, and get a lot of the food their families need every month from food banks—including the formula for their babies.
Milk monopoly
Finding the reasons for this assault on families' basic ability to survive requires looking beyond the typical explanations given for the "everything shortage" that defines the economy right now. More is at work than just logistics challenges or supposed worker shortages. Those issues were already facing formula producers before the current acute shortage.
The baby formula crisis is a monopoly problem, and it's a capitalism problem.
The formula industry in the United States, like so many others, is highly concentrated. Just three companies—Abbott, Gerber, and Reckitt—account for nearly 100% of the formula consumed by American babies. Abbott, the owner of the Michigan bacteria-infected plant, alone accounts for around 40% of the market.
When that single Michigan plant went offline, it immediately shook the entire supply chain. The market for baby formula is extremely stable, with little fluctuations in the amount consumers purchase from year to year. That means manufacturers produce just at the level of what will sell, with no excess capacity in case of a problem at one plant or company.
And with a corporate trifecta controlling nearly the entire market, that means there are few other producers to pick up the slack when trouble arises.
Less competition for these monopoly manufacturers means the prices they charge parents are higher than they would be if capitalism lived up to its alleged "free market" rhetoric—moms and dads have no alternative. It also means they can keep the wages they pay workers lower.
"Abbott does not fear consumers will leave," Sarah Miller of the American Economic Liberties Project told the Times. She and her organization want to revive the days of trustbusting and break up concentrated corporate power. Nor does Abbott really fear the government, which Miller says "has a pathetic track record when it comes to holding powerful corporations and executives accountable."
In fact, government regulations have helped maintain the baby milk monopoly. Even though formulas manufactured and sold in other countries often exceed Food and Drug Administration nutritional requirements, they are kept out of the U.S. market through technicalities like labeling standards. Many formulas manufactured in Europe, for instance, may even be healthier for babies because cheap additives used in U.S. formulas like corn syrup are banned.
Former President Donald Trump's new NAFTA, the U.S.-Mexico-Canada Agreement, also put up barriers to imports from Canada. Under pressure from the U.S. Export Dairy Council, then headed by current Agriculture Secretary Tom Vilsack, the U.S. government added a provision to the trade deal that put a cap on Canadian infant formula exports anywhere in the world. The measure was aimed not just at keeping Canadian formula out of the U.S., but also to limit Canadian sales to China, where parents try to rely on foreign supplies of formula since a 2008 tainting scandal. The Trump administration wanted to lock in some of those sales for U.S. companies.
But with U.S. capacity now partially crippled, it means Canadian formula is blocked from importation. The USMCA hindrance comes on top of the 17% tax that the U.S. government puts on imported formula, no matter the origin.
Further insult to injury came on Wednesday night when Republicans in Congress tried to sink emergency legislation to tackle the formula shortage. The bill, called the Infant Formula Supplemental Appropriations Act, would speed $28 million to the FDA to respond to the scarcity. Democrats backed the bill, but 192 Republicans voted no. They were more concerned with trying to shift blame to President Joe Biden than with helping families.
Add it all together and you get a protectionist racket that guarantees the monopoly profits of just three manufacturers and leaves the babies of the nation and their parents vulnerable to any little mistake in the supply chain.
Making children a national priority
A long-term solution would be ending monopoly capitalism and replacing it with a socialist system that puts people before profits. But even before that day comes, there are measures that can be taken right now to address this crisis.
Rep. Rosa DeLauro, D-Conn., has proposed using the Defense Production Act—which was used during COVID to compel corporations to produce needed pandemic supplies—to issue orders to formula manufacturers to produce at set prices.
"Parents shouldn't have to pay a price because Abbott has a contaminated product," DeLauro said last week. "If there was a shortage, why weren't we in the business of making sure that wasn't happening? What did we do in times of crisis in the Second World War? We produced what we needed to produce."
DeLauro says she's looking into a proposal to include baby formula in the Strategic National Stockpile. The U.S. already keeps a huge stockpile of oil for times of shortage or national emergency. Surely the food needed to feed the babies of the nation qualifies as an essential good that should be always kept in reserve.
Sen. Sherrod Brown, D-Ohio, has suggested a stronger planning role for the FDA, which would see the agency monitor all the components of the formula manufacturing process—aluminum packaging, vegetable oil, lactose, and such—to head off shortages before they happen.
All of these are things to be pursued before the next crisis, but what are parents to do for their hungry babies right now?
Capitalism's answer is the same as it's always been: You're on your own.