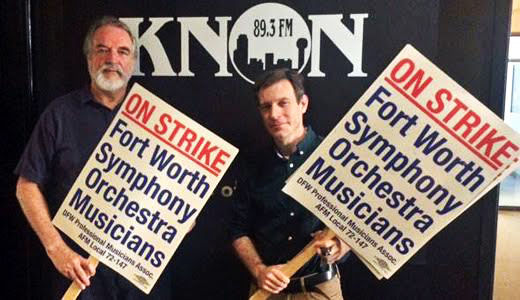 Musicians of the Fort Worth Symphony Orchestra (members of the Dallas Fort Worth Professional Musicians Association, AFM Local 72-147) went on strike after management declared it would implement a regressive agreement that musicians voted down evening.
Despite 14 months of continuous negotiations and the assistance of a federal mediator, management said it would now force musicians to work under substantial pay cuts ranging from 2% to 7.5% as a "last, best and final" offer to be implemented in a week.
Musicians took a 13.5% pay cut in 2010, saving management over $2.7 million. Management's final terms would reduce musicians' income more than 5% below that earned in 2010.
According to Stewart Williams, President AFM Local 72-147, "With strong ticket sales and great reviews in a dynamic metropolitan area ranking sixth in the nation economically, management should respect the talented musicians with a fair agreement."
Williams and Executive Board member Paul Unger appeared on KNON's "Workers Beat" talk program on September 10. Callers showed support. One school bus driver said that his co-workers needed to follow the musicians' example. Another caller identified himself as a "right winger," but said that people of all political persuasions should support this strike. A caller from Louisiana said people in his state were following the events closely.
At 5 p.m., the musicians and many supporters rallied at the Tarrant County Courthouse. Among the many speakers pledging support was National Musicians' President Ray Hair. Hair actually began with the Fort Worth Symphony. We chanted and marched our way down to the opulent Bass Hall in downtown Fort Worth, where we picketed for some hours.
The musicians are courageously conducting a high profile labor action. The strike is also very winnable, because management cannot simply hire a few scabs and then pretend to produce quality music. They have an online donation site.
Photo: Gene Lantz Facebook
Gene Lantz is Press Secretary of the Dallas AFL-CIO Council. His talk radio program Workers Beat is on KNON 89.3 fm.