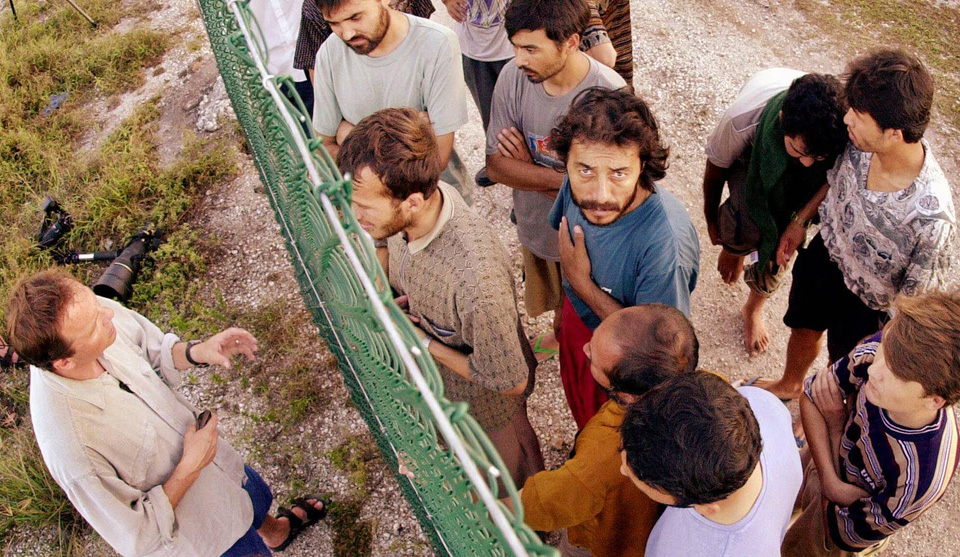 SYDNEY, Australia – Claims that Immigration and Border Protection Minister Peter Dutton is seeking "Trump-like" powers to target visa-holders that appeared in some media outlets last week are not far-fetched. Amendments to the Migration Act that gained support in the House of Representatives on February 9 and U.S. President Trump's attempts to ban people from seven countries with Muslim-majority populations have strong similarities.
There are differences in form though, with Trump attempting to directly use his presidential powers and Dutton seeking to gain similar powers through thinly-disguised parliamentary legislation.
If passed, the Migration Amendment (Visa Revalidation and Other Measures) Bill 2016, would give Dutton and future Ministers unchecked discretionary powers to subject any group based on race, nationality, or other trait holding a visa, regardless of whether the visa is permanent or temporary, to a re-validation test and possible cancellation of their visa.
Trump's attempts to ban Muslims from the countries on his hit list have little to do with countering terrorism. For example, the list does not include Saudi Arabia, one of the most oppressive regimes in the world which has played a major role in training and funding terrorists.
This is not surprising as Saudi Arabia is also one of the largest importers of armaments from the U.S. and Trump is reported to be set to approve large orders from the Saudi regime that had been blocked by former President Obama.
Trump's attempted bans, still hanging on court decisions as to their constitutionality, have much more to do with the reactionary politics of anti-Islam, xenophobia, and authoritarian and demagogic politics of the far-right.
The amendments to Australia's Migration Act which passed through the House of Representatives on February 9 share the same politics as Trump's ban. They were supported by the Labor Party on the Senate Legal and Constitutional Affairs Legislation Committee. The Australian Greens issued a dissenting report opposing the bill. Labor did, however, vote against the bill last week. It is now before the Senate.
The bill seeks to introduce a system of online visa re-validation. Visa holders would be required to update information and answer other questions as and when determined by the Minister. Failure to meet requirements set by the Minister would result in loss of their visa.
The claimed objective of the new visa provisions is a new, 10-year, "longer validity" visitor visa to be used by business people and tourists. This visitor visa is explained as necessary to compete with other countries offering longer visas to tourists. It would allow multiple visits with a limit of three months each time.
The bill provides for a trial of the 10-year visa for Chinese nationals only. The concept was raised as a means of making it easier for business people and tourists from the People's Republic of China to come and go at short notice. It is suggested that nationals of other countries would progressively be allowed to apply for the 10-year visa.
Dutton argues that over a period it would be necessary to require visa holders to routinely update the information they have previously provided to the Department of Immigration and Border Protection. Hence the need for the changes.
According to the Memorandum of Understanding accompanying the bill, visa re-validation "is designed to manage the risks to the Australian community that may arise in the context of longer validity visitor visas, including a person's individual circumstances changing over time, or in the event of a serious incident occurring overseas which may create a situation where it is in the public interest to reassess a visa holder's individual circumstances in light of such an event. The amendments will allow the government to ensure that visa holders continue to meet the health, character, security and other requirements for entry to Australia."
Broad application
As well as providing for a routine re-validation system, the bill also gives the Minister the power to personally decide that an individual or class of individuals must have their visas re-validated.
The Minister could exercise his or her powers on the basis of which country they are from, their ethnicity, religion, etc. This is referred to as "public interest" re-validation.
The Minister's powers apply to all visa holders, not just to those on a 10-year visa, even though the argument for their necessity was based on monitoring changes over 10 years.
The "public interest re-validation check [is] to manage specific, serious, or time-critical risks in relation to an identified cohort of visa holders," Dutton said in his Second Reading speech.
"In such circumstances, issuing a personal ministerial re-validation requirement will immediately prevent specified visa holders from being able to travel to and enter Australia until they successfully re-validate their visa," Dutton said. (Emphasis added – Ed.)
The wording of the bill leaves it wide open as to what groups could lose their visas and be denied visas in the future.
Already there is legislation on the books that restricts areas Australian visa holders can visit without good reason such as visiting their family.
The re-validation check will require the visa holder to provide information via their secure online account that will allow the Minister to assess whether the visa holder passes the re-validation check.
For example, it could result in the loss of visa and denial of entry for persons who live in or have travelled through a specific country or a particular area of a country; have travelled through a particular area; have contact with people in a designated region or country; are of a specific nationality or even are the children of immigrants from certain countries. It could also be applied to specific religious beliefs or races.
It contains the potential for loss or denial of visa retrospectively if the offending behavior occurred prior to it being considered a security risk or what the Minister considers undesirable.
This raises the question of why the government would make provisions for the banning of "cohorts" of people, maybe even nationals from a whole country, along similar lines to Trump, unless the intent is to use them.
Trump makes no pretense about his agenda of banning Muslims or nationals from those seven countries that are on the U.S.'s hit list. Dutton is not so honest about his intentions.
A visa holder will pass a re-validation check if there is "no adverse information" relating to the person, or if there is, that it is reasonable to disregard that information. "No adverse information" is not defined in the legislation. It is left to the Minister to determine what is adverse information. The Minister can delegate power to deny and cancel visas.
The Minister also has complete discretionary power to determine who is required to undergo re-validation. While the process is underway, their visas cease to be in effect, denying entry until they pass re-validation. If someone is in Australia at the time, they would not become unlawful non-citizens at the time, but if "adverse information" is found, then they would have to leave Australia.
The bill also provides for new classes of visas making it far more difficult to gain citizenship.
New developments
Recently leaked documents reveal plans for new types of visas, a longer and more difficult process to gain permanent visas and citizenship, and delays in gaining access to social security.
The current government is getting away with these laws after years of successive governments demonizing asylum seekers, then Muslims, and increasingly giving prominence to and normalizing the politics of the far-right.
This is an edited version of an article which originally appeared in The Guardian (Australia) newspaper.