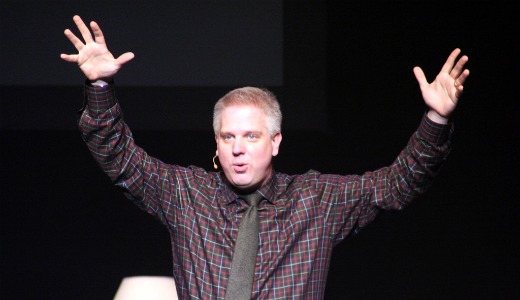 After 27 months of incendiary right-wing hate rhetoric, Glenn Beck's daily show on Fox News is no more. It's over and Beck is being booted off the air, for now at least.
According to a joint statement released April 6 by Fox News and Beck's production company, Mercury Radio Arts, Beck intends to "transition" off the program, which is expected to wrap up sometime this summer. It's not clear what his next move will be.
Many believe Beck's sinking ratings this year have a lot to do with his departure. They fell 32 percent for the first three months of 2011, to 1.9 million total viewers, according to Nielsen Co.
Others say his departure from Fox was in large part due to an aggressive advertiser boycott after Beck called the nation's first African American president, Barack Obama, a racist with "deep-seated hatred for white people or the white culture." After an outcry over that, hundreds of Fox advertisers refused to allow their commercials to air during Beck's program.
The advocacy group Color of Change, which organized a petition campaign for the advertising boycott, said it "strongly applauds" the news of Beck's departure.
"Fox News Channel clearly understand that Beck's increasingly erratic behavior is a liability to their ratings and their bottom line, and we are glad to see them take this action," said the group in a statement.
Beck, 47, pushed the paranoid politics of the right-wing tea party and Republican Party extremists. His program featured red-baiting and bizarre guilt-by-association attacks on Obama, the labor movement, immigrants, civil rights groups, environmental advocates and religious leaders.
In recent months Beck devoted much of his airtime to conspiracy theories.
He was widely condemned last month after he said the devastating earthquake and tsunami that hit Japan was a message from God.
In January, several hundred rabbis urged Fox News to sanction Beck for repeated use of Nazi and Holocaust imagery and his attacks on World War II survivor and financier George Soros. The rabbis also sent a letter to Rupert Murdoch, chairman of News Corp, which owns Fox, demanding an apology from Fox News chief Roger Ailes for characterizing Beck's Jewish critics as nothing more than "left-wing rabbis." Beck once compared Reform Judaism to radical Islam.
Last summer Beck offended civil rights advocates and many others when he organized a rally to "restore America" on the 47th anniversary of the Rev. Martin Luther King Jr.'s "I have a dream" speech. Right-wing icon Sarah Palin was one of the featured speakers at that rally, which was held at the Lincoln Memorial where King delivered his legendary speech.
Beck was hired away from CNN's Headline News in 2008.
Image: Kevin Trotman // CC BY-NC-ND 2.0