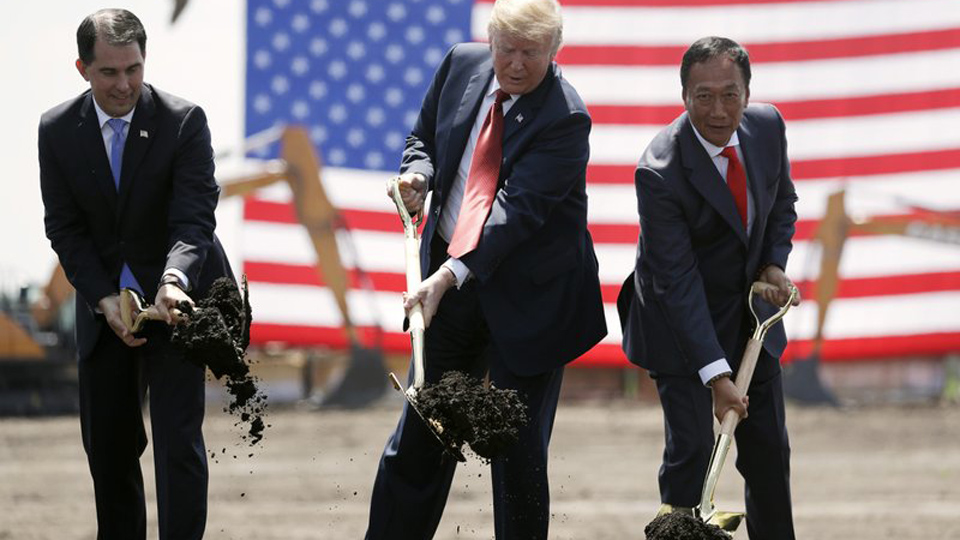 MILWAUKEE – There has to be a factory. It's intrinsic to Foxconn's deal with the Wisconsin Economic Development Commission (WEDC, the scandal-plagued GOP replacement for a state commerce department). Otherwise, the company doesn't get that extraordinarily rich $4.1 billion in state tax money.
So imagine the shock in Republican circles in mid-January when the respected Nikkei Asian Review reported that Foxconn was abandoning its $10 billion, 12.5 million-square-foot LCD fabrication plant in Mount Pleasant, Wisc. It also would not seek a blue collar workforce but hire mainly engineers and researchers for a "technology hub" because of changing business conditions. Despite the land purchased, the buildings put up, the tax incremental financing district (TIF) created, it couldn't afford to make TV liquid crystal displays (LCDs) anywhere in America, particularly not the giant Generation 10.5 screens it had touted for Wisconsin two years ago as state of the art.
"In terms of TV, we have no place in the U.S. We can't compete," Foxconn spokesman Louis Woo conceded to Reuters in a follow-up story — obviously before reading the contract's fine print. "In Wisconsin, we're not building a factory. You can't use a factory to view our Wisconsin investment."
Those Asian news reports were picked up by U.S. media, which described Wisconsin as the first class boob in a giant "bait and switch" by a Taiwanese company, Foxconn (real name Hon Hai Precision Industry Co. Ltd).
Yes, what Trump called "the eighth wonder of the world," the size of 11 Lambeau Fields, was dying on the vine. A plot hatched on a piece of paper, hailed at a 2017 White House press event, built on Republican dreams, needed a rescue.
So, according to the Republican version of the tale, Trump stepped in and laid down the law to Terry Gou, Foxconn CEO, who is now on a media blitz to justify the whole confusion. The company now promises to build some sort of manufacturing factory by 2020 — a "Generation 6" LCD production facility to make phone and car screens and other components, in what the industry and even Foxconn admit is a second-tier operation. It originally promised to hire 5,200 workers by the end of 2020 but now says it is aiming at 1,000.
Gen 6 means queen-bed size glass sheets that can be shipped into the state rather than made at a plant. But the technology may also be dying since OLEDs (organic LCDs as a thinner, lighter, clearer improvement on the current technology) won the Nobel Prize for Chemistry in 2014. Of course, by the time any Foxconn plant gets going, we could be getting the news on holographs or on refrigerator doors, so volatile is the technology.
Even in 2017, when the deal with Wisconsin was announced and when Peoples World started running stories calling it an economic fiasco, many in the industry saw an enormously expensive Midwest fantasy, the hope that the much-maligned "Rust Belt" could jump ahead in the world of modern technology.
To that end, Wisconsin waived its environmental rules, ordered increased electricity, agreed to build special roads and infrastructure, passed laws to protect Foxconn from the usual scrutiny and encouraged eminent domain for land the company wanted.
Today we are left with competing narratives, from Trump saved the day (the Republican take) to a more sobering evaluation to the media from Greg LeRoy, founder of Good Jobs First: "Even if they build it, it's going to be a 'screwdriver shop' taking components made in Asia and slapping them together here. "
The Republican explanation: Foxconn got cold feet because Wisconsin got a Democratic governor, Tony Evers, while it was far more comfortable working with Scott Walker.
The factual explanation: The double-cross by Foxconn was apparent last April under Walker, who ignored the hesitations. Evers, while speaking out against the environmental hardships imposed on the state, is now called an honorable partner by Foxconn, to the anger of many Democrats who want him to get tougher. Though other Democrats support his caution.
Evers has decided he can't break the law. He was squeezed out of important involvement in Foxconn by that GOP lame-duck legislation after he won, denying him a role in WEDC decisions or staffing until September. Which at least makes the GOP attempts to blame him look foolish.
The Republican explanation: The Democrats don't understand business. Marketing conditions forced Foxconn to re-evaluate. They have to be nimble in a changing landscape, diminishing hiring expectations. That's just good business practices riding out the technological climate.
The factual explanation: This is a backstabbing road much traveled by Foxconn, which has left states like Pennsylvania and countries like Vietnam and Brazil (where in 2011 it promised a similar $10 billion plant) bleeding in the wake of its broken promises.
In Wisconsin, it clearly will come nowhere near the 13,000 jobs originally envisioned, not as Foxconn sheds 50,000 jobs in Asia and abandons other major projects, yet not cutting back on the financial terms even as it backpedals. It was hardly good business by Wisconsin to make a deal that doesn't pay any rewards to the state for 23 years! That's the best estimate of the state's own legislative fiscal bureau – and even that is regarded as optimistic by many interviewed.
"I don't think we'll ever get our money back," said Dana Wachs, a popular Eau Claire lawyer who dropped out of the governor's race but sat on the WEDC board as a member of the Assembly. "I told them that to their faces," he said.
The Republican explanation: Walker made a "pay for performance" deal with the WEDC so Foxconn under its contract hasn't been paid a dime of state tax money. Foxconn so far has failed to meet the job quota criteria – a publicized 1,040 in 2018 but a mandated payback floor of 260, of which Foxconn could only muster 178. So WEDC only pays Foxconn credits for jobs created and for approved capital expenditures.
The factual explanation: The taxpayers have already spent $1 billion. The money to Foxconn is not just for job platforms they haven't reached but tax credits for investments the company makes and reports as qualifying under the contract. The public won't know about those until the end of 2020 though Foxconn already loosely reports spending $200 million on financing, land purchases and construction, with no breakdown of what is going to middlemen from a list of local companies that, surprise surprise, gave heavily to the GOP.
But some $1 billion in taxpayer assistance is committed in the side language with the legislature as a sort of wish list but not projected back to the public by WEDC announcements. A nonprofit watchdog group, Wisconsin Budget Project, reveals $764 million in local government (Mount Pleasant area) TIFs, $542 million in roads such as an I-94 corridor while other I-94 work is cut back and about $294 million in utility work, grants, and sales tax exemption.
 The Republican explanation: Though the new Foxconn promise relies on engineers and researchers and not a blue-collar workforce, surely Foxconn will recruit heavily from the state's universities where it conducted interviews throughout 2018. Surely it will move ahead with "innovation" offices announced for Milwaukee, Eau Claire, Racine, and Green Bay.
The factual explanation: Those offices are talked about for late 2019. Foxconn has pulled back to Asia its special LCD training teams from subsidiary Innolux. Gou insists the future lies not in a human workforce but in the full automation that Foxconn is pursuing. Talking privately to fellow Democrats who are his friends and still believe the Foxconn promise, one state legislator told them, "Mount Pleasant is just a way station on Foxconn's journey to robotics."
Not even discussed yet – does Foxconn still want seven million gallons of water a day pulled from Lake Michigan? It is facing lawsuits from environmental groups involving that.
Does it still need the extra output from WE Energies, which has accelerated its plans for a 49-mile, $187 million gas pipeline ending near the Foxconn site? Is it still pursuing a free trade zone status for Mount Pleasant area to escape fees for foreign trade?
Several public officials still cling to the thinning hope that Wisconsin wasn't a prize chump in yet another Foxconn fiasco.
But industry observers are making harsh comparisons. Several suggest Foxconn is ducking, dinking and delaying until Trump leaves office so it can then blame departure on any successor.
Another likens Wisconsin to a Wall Street suckers list: The Mike Milken junk bond scandals of the 1990s from which many have not recovered. The decade-old Bernie Maddof Ponzi scheme. Seriously, one financial reporter asked me, shouldn't Wisconsin be put on the same list?