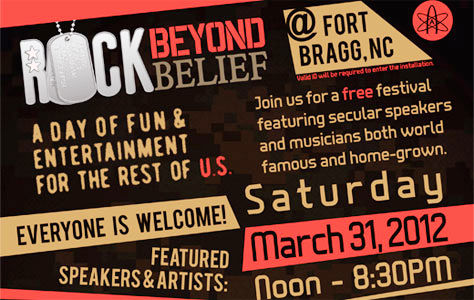 They fight for your rights and freedoms, including the right to freedom of — and from — religion. Now they are fighting for their own.
Despite the guarantee of religious freedom in the Bill of Rights, soldiers routinely find they are forced to accept or at least go along with evangelical Christianity as the de facto official religion while in the military. Foxhole atheists have been met with retribution when they have tried to organize, but they are undeterred.
Groups representing atheists, humanists and other freethinkers in the military are preparing for two national events, one for the public at large and one specific to the military. On March 24, they will participate in the Reason Rally, aimed at defending freedom from religion.
Only a week after that, on March 31, they will host Rock Beyond Belief, a concert to take place at Fort Bragg aimed at pushing religious freedom within the armed forces.
The concert, sponsored by the Military Association of Atheists and Secular Humanists, or MASH, was originally to take place in 2011. Organizers noted that shortly prior, Billy Graham had been allowed to host a concert at Fort Bragg, and had that tens of thousands of public dollars had been spent on it.
However, the freethinkers' had to be cancelled at the last minute after military brass switched the venue. Thousands of people were expected, and the new space could seat only 700. MASH cancelled the event, worrying that they would be unable to ensure a safe environment.
Now they are trying again, and, according to the organizers, "The situation has changed drastically in the months since our first approach fell through. Fort Bragg's Garrison Commander, Colonel Sicinski has made the right call, and has now approved our event with the full support and government co-sponsorship that was promised."
In a further reversal, Fort Bragg has gone so far as to announce the event on its Facebook page. Still, organizers argue, more work needs to be done.
"Local groups continue to spring up, even with only sporadic chaplain support," the Military Association of Atheists and Freethinkers says. "Only MacDill AFB, MCAS Miramar, and USAFA are providing sanctioned activities for atheists and humanists. Good for them, but hopefully the other 1000 installation and ships will follow suit soon, at least those with active presences from MAAF affiliates and military groups."
MAAF will also be present at the Reason Rally, which they are organizing with other groups of freethinkers.
On the bill will be Nate Phelps, the estranged son of Fred Phelps, of the notorious Westboro Baptist Church. After escaping that cult, he became a supporter of religious freedom. He will speak as his former church protests the rally.
A group of evangelicals calling themselves "Reasonable Christians" plans to counter the free speech rally.