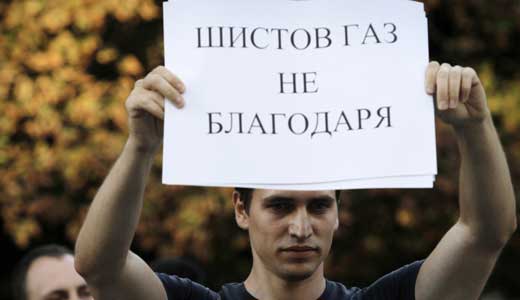 Following major protests by environmentalists, lawmakers in Bulgaria voted to ban fracking, which thwarted plans for shale gas exploration by oil giant Chevron.
On January 18, the vote was 166 to six for putting a stop to the controversial gas retrieval process known as fracking, or hydraulic fracturing. Lawmakers also established a 100 million-lev ($65 million) fine for those who fail to obey this rule.
This development marks Bulgaria as the second country in the European Union to ban fracking, after France.
"The ban is for an indefinite period of time and is valid for the whole territory of the country, including the Black Sea territorial waters," said lawmaker Valentin Nikolov.
The legislation was passed four days after major demonstrations, in which several thousand people gathered at rallies to protest fracking. They had called for Parliament to put a moratorium on shale gas extraction.
The Chevron Corporation is headquartered in the U.S., where fracking has been criticized for the hazards it poses to the environment and the wellbeing of people. Environmental experts have linked the drilling process with underground water pollution, and a confirmed fracking-triggered earthquake in Ohio has led to stateside protests and a public hearing to investigate the situation.
Bulgaria would not be pushing the oil company out of the country entirely, as Energy Minister Traicho Traikov remarked, "Chevron can still have the right to test for oil and gas, but without using the controversial technology of hydraulic fracturing."
Chevron has recently decided to further explore the shale gas reserves of other countries, including Poland and the Ukraine, and is just one of several U.S. oil magnates to do so. Other major companies pursuing international fracking include Royal Dutch Shell, which is also drilling in the Ukraine, and Exxon Mobile.
The government of Bulgaria's fellow European Union state – Poland – meanwhile seems unfazed by these events and by the fracking ban. The Polish Foreign Ministry remarked that the Bulgarian legislation wouldn't sway the energy aspirations of the Polish government.
"This will not change Poland's existing position presented to the EU," said the Ministry in a statement. "Every member state has the sovereign right to define its own position regarding energy resources."
Poland has some of the richest shale gas deposits in Europe, which are currently under examination by both Chevron and Exxon Mobile. Though fracking protests have taken place in the country, they have so far not disrupted the Polish government's intention to pursue the practice.
In Bulgaria, although the Blue Coalition political party voted against the anti-fracking legislation, the party's co-leader Martin Dimitrov backed the moratorium, noting he was definitely "opposed to experiments done on Bulgaria. The time will come when the technology is [either proven] safe or its risks are clarified."
Photo: During a protest in Sofia, Bulgaria, an environmentalist protesting fracking holds up a sign that reads, "Shale gas – no thanks." Valentina Petrova/AP Photos