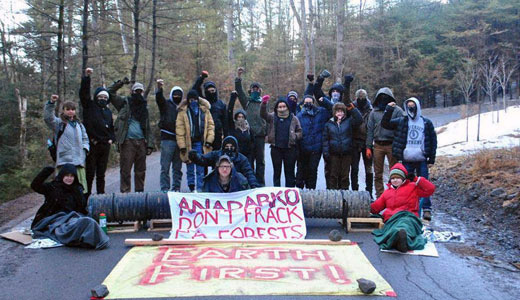 Five activists were arrested Mar. 20 in Pennsylvania's Tiadaghton State Park for protesting fracking operations there. Blocking the only access point to a wellpad, they chained themselves to barrels of concrete, preventing workers from entering the site. The activists, who are members of environmental group Marcellus Shale EarthFirst!, are among the many demanding that oil/gas corporation Anadarko cease its interference with the sensitive ecosystems of the Keystone State.
The sudden increased drilling in the state is due to a recent executive order issued by Republican Gov. Tom Corbett to open Pennsylvania's remaining public lands to such projects. This includes state forests that were previously spared from fracking back in 2010, when then-Gov. Rendell declared a moratorium on any new drilling leases for such places. That moratorium was based on a study by the Pennsylvania Department of Conservation and Natural Resources, which determined that no remaining public lands could be tampered with for oil or gas operations without causing "significant surface disruptions." Corbett's current move to subject state forests to fracking disregards this study and seeks to run roughshod over environmental safety.
Thus, the response came swiftly from concerned activists, who descended on Tiadaghton. Retired school teacher Michael Badges-Canning, who was among the protesters, remarked, "The public lands of Pennsylvania belong to all Pennsylvanians. It is my obligation as a resident of the Commonwealth and a grandparent to protect our wild heritage, our pristine waters, and the natural beauty for my grandchildren."
Marcellus Shale EarthFirst! member Danielle Dietterick said, "As a lifelong resident of Pennsylvania, I feel a moral responsibility to protect my home from the malicious onslaught of an industry with a track record of environmental degradation and human rights violations. Our governor's complicity proves that he is an industry pawn who can ignore the words of our state constitution and the desires of those whom he is supposed to represent."
Corbett has touted fracking as a jobs creator, but that claim may be exaggerated, according to the Keystone Research Center, whose board members include members of the American Federation of State, County, and Municipal Employees and the United Steelworkers. Corbett claims as many as 200,000 jobs could be created, but as of now there are only 30,000 jobs linked to Marcellus Shale proper. Moreover, an analysis by the Allentown Morning Call indicates that job growth in the fracking industry has fallen by 29 percent since 2010.
Anadarko, the company behind this particular operation, is a Texas-based corporation that is in the top three percent worldwide for environmental safety violations, according to the Pennsylvania Department of Environmental Protection's Oil and Gas compliance report. Anadarko has been cited with nearly 250 such violations over the past five years alone. The company has a messy history of water pollution and has been at the receiving end of several lawsuits for incidents it has caused.
Adam Kron, lead author of a report by the Environmental Integrity Project on the safety record of Anadarko, stated, "Anadarko has the dubious distinction of being Pennsylvania's seventh-worst oil and gas company when it comes to keeping its pollutants out of rivers and streams. The Commonwealth's own data demonstrates this fact."
The Tiadaghton protesters managed to suspend operations for six hours before five were arrested and the rest dispersed. And while that may not be a victory, it sends a clear message. Demonstrator Matt Smith said, "We locked down, disrupting and stopping drilling activities for six hours. This was to let the public know and to let the corporation know that there's a growing ground swell of resistance and opposition to shale gas drilling in Pennsylvania."
Photo: Tom Jefferson/MarcellusShaleEarthFirst.org