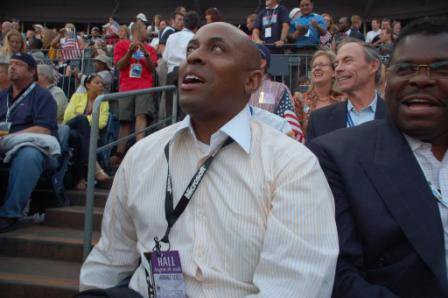 In response to the anti-immigrant Arizona law, Alpha Phi Alpha Fraternity, known as the oldest, integrated and historically black Greek-lettered organization in the world, recently announced it will boycott the state and relocate its 104th anniversary convention from Phoenix.
The fraternity said it plans to boycott Arizona due to the draconian anti-immigrant law signed by Republican Gov. Jan Brewer last month. Critics say the law criminalizes immigrants, violates civil liberties and encourages the racial profiling of Latinos.
"Our national board of directors voted unanimously to rescind the location of Phoenix, Ariz., as our meeting location, and to denounce the egregious immigration act signed recently by the governor of Arizona," said Herman "Skip" Mason Jr., national general president of the fraternity in a statement.
"It was the full opinion of the board that we would not host a meeting in a state that has sanctioned a law which we believe will lead to racial profiling and discrimination, and a law that could put the civil rights and the very dignity or our members at risk during their stay in Phoenix, Ariz.," said Mason.
The convention was scheduled to take place in July and will now be moved to Las Vegas, Nevada. Organizers say the fraternity's special summit on the African American Male, was expected to attract up to 10,000 Arizona visitors. It would have added hundreds of thousands of dollars in revenue to Phoenix's economy, they add.
Alpha Phi Alpha was formed in 1906 at Cornell University in Ithaca, NY and is viewed as one of the most influential groups in the country. Notable civil rights leaders in its membership include U.S. Ambassador to the United Nations, Andrew Young. Others are McDonald's President Don Thompson; National Urban League President and former New Orleans Mayor Marc H. Morial; CNN Political Analyst Roland Martin; White House Deputy Associate Director of Intergovernmental Affairs Michael Blake; and several high-ranking members of Congress.
The late civil rights leader Dr. Martin Luther King Jr. and Supreme Court Justice Thurgood Marshall were also members of the organization. Many of the fraternity's members held key posts during presidential administrations dating back to Ronald Reagan. Several continue to serve under President Barack Obama.
"Our late brother the Rev. Dr. Martin Luther king Jr. said, in a letter he wrote while sitting in the Birmingham Jail, 'injustice anywhere is a threat to justice everywhere,'" said Mason. "Alpha Phi Alpha's decision to boycott Arizona continues that same fight, fought during the Civil Rights era."
Mason continued, "We will not only speak with our voices and our feet, we will speak with our economic clout. And we will not spend our money in Arizona and urge other organizations and people who believe in equality under the law, to do the same."
Supporters of the fraternity's decision to boycott Arizona say the move highlights Black-Latino unity and is an affirmation of broad African American solidarity for undocumented workers and immigration reform.
The fraternity has long stood at the forefront of the African American community's fight for civil rights. Through its college and alumni chapters, the organization serves the community through its more than 600 chapters in the U.S., Europe and the Caribbean.
Photo: Herman "Skip" Mason Jr., left, celebrates the nomination of Barack Obama in 2008 at Denver's Invesco Stadium. (Teresa Albano/PW)