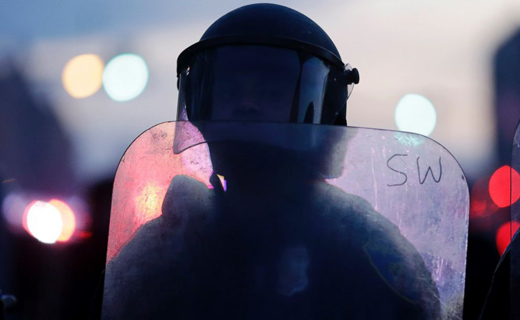 BALTIMORE – Freddie Gray. His name tragically joins the seemingly endless list of young African American men brutally murdered at the hands of police.
Michael Brown, Eric Gardner, Walter Scott, Tamir Rice, and on and on ad nauseum.
An explosion of anger rocked Baltimore on Apr. 27, but the fuse had been laid during years of "zero tolerance policing," brutality, racial profiling and unexplained murders – daily occurrences in the African American community. The fuse was lit by the murder of Gray, who was brutalized by police on Apr. 12 and died in the hospital Apr. 19.
The eyes of the nation are now riveted on this city where a state of emergency has been declared and National Guard dispatched after an afternoon and evening of violence following Gray's funeral. The violence followed a week of peaceful protests, with one other exception, demanding justice for Freddie Gray and police accountability.
Gray's funeral was held before a crowd of 3,000 people at Shiloh Baptist Church in the heart of the Mondawmin neighborhood, an area of sweltering poverty and high unemployment. The sanctuary overflowed with family, community residents and activists, clergy and elected officials.
Overwhelming grief and pain mixed with ringing calls for justice. Speakers painted a real-life picture of the 25 year-old Gray and called for building a movement to end police brutality and killings, institutionalized racism and for economic development.
"I see all the cameras here. But did you see Freddie Gray when he was alive?" asked Representative Elijah Cummings, referring to all of the media present. "Did you see him? Did you see him?"
"One of life's greatest tragedies is to think you are free but still being confined to a box. Living in a box of stereotypes," said Pastor Jamal Bryant of Empowerment Temple AME Church who delivered the eulogy. "Other people's opinions, sweeping generalizations, racial profiling."
Bryant went on to describe the social and economic prospects Gray faced, of life "in a box," of closed doors and opportunities.
"What we are seeing are throngs of young black people who are marching, making up in their mind, 'I am not surrendering, I'm marching,' " he said. Bryant interwove a Biblical story with the protests surrounding Gray's death and the African American community's long struggle for freedom.
"Freddie's death was not in vain. After this day we will keep on marching, demanding justice," he said.
The week of peaceful protests followed Gray's death, including a march of thousands on Saturday. The mass actions and vigils were punctuated by destruction of property after Saturday's march and following the funeral. Community and religious leaders continue to work to restore calm and warned the violence shouldn't be used to justify diverting attention from police crimes and Gray's murder.
The property destruction followed what many leaders viewed suspiciously as police provocations against the protesters and efforts to turn public opinion against them, creating sympathy for the police. The police department had issued warnings they were being "targeted by gang members" and a general hysteria pervaded the corporate media.
However, clergy and community leaders dispute this account. What has not been widely reported is that 150 ministers met with leaders of gangs and street cliques in a peace truce following Saturday's violence. And in fact gang members were in the streets restoring calm on Monday evening. This raised questions about where the call to attack police and property came from.
In addition, a new broader coalition of clergy and community groups has been created called Baltimore United for Change (#BMoreUnited) whose aim is to mobilize a peaceful interfaith, multi-racial movement to bring about radical changes in the criminal justice system. The first demand is to alter the Law Enforcement Bill of Rights (LEBOR) which gives police a 10-day window before they are questioned. Many charge this gives police time to develop their story and corroborate their testimony with each other.
The law must be changed by an act of the state legislature and signed by the governor, in this case Maryland's new Republican Governor Larry Hogan. Legislation to change LEBOR died in committee earlier this year after a huge lobbying campaign by the Fraternal Order of Police, whose presence in uniform was intimidating.
The Baltimore Police Department is known as one of the most brutal and racist in the nation. In a recent study, the ACLU documented 109 police killings across Maryland between 2010 and 2014. Seventy percent were African American and 40 percent were unarmed. Police were charged with a crime in only two percent of cases.
This is not the full story by any means. The ACLU suggests, "Outside of the families and communities who have borne the brunt of these losses, the full extent of deaths in police encounters has never been formally acknowledged by public officials in Maryland."
On Apr. 12, Gray was accosted by police, made eye contact and fled out of fear. He then stopped and was arrested without resistance. Video footage then shows police handcuffing and dragging him into a police van. Gray was struggling to breathe and pleaded for help.
Only police officers know what happened next. He was taken for a "ride" as many prisoners are subjected to, without even being charged with a crime. All is known is that Gray was taken to a hospital where he died a week later from a "spinal injury." Just what kind of a spinal injury? Three vertebrae broken, his neck 80 percent severed and larynx crushed. One can only imagine the horrors that occurred in that van.
An expose by the Baltimore Sun revealed that there have been many victims of this brand of torture. "Such injuries have been inflicted by what is known as a 'rough ride' – an 'unsanctioned technique' in which police vans are driven to cause 'injury or pain' to unbuckled, handcuffed detainees," reported the Sun.
A "torture cell on wheels," overseen by a demented police crew taking pleasure in its work.
"Dondi Johnson Sr., who was left a paraplegic after a 2005 police van ride, won a $7.4 million verdict against police officers. A year earlier, Jeffrey Alston was awarded $39 million by a jury after he became paralyzed from the neck down as the result of a van ride. Others have also received payouts after filing lawsuits," reported the Sun. Johnson later died of the injuries.
Johnson and Alston received considerable less than the awards. In total, $6.3 million in damages have been awarded in settlements to over 100 victims of brutality. The city has paid an additional $5.8 million in legal fees. In total, 350 lawsuits have been filed since 2011.
In the midst of the protests it was announced the medical examiner had ruled the death of Anthony Anderson, who died in police custody on Sept. 21, 2014, a homicide. Police had maintained Anderson died while choking on drugs.
The examiner reported the death was due to massive internal bleeding from blunt force injuries, including a ruptured spleen and multiple fractured ribs. Witnesses say a policeman hoisted Anderson above his head and body and slammed him on the pavement.
Christine Abbott, a 27-year-old assistant librarian at the Johns Hopkins University, is suing the city over similar injuries sustained in 2012.
Abbott's hands were tied behind her back, she was thrown into a police van and left unbuckled. She was "maniacally" driven to the police station, while being tossed around the interior of the van.
"They were braking really short so that I would slam against the wall, and they were taking really wide, fast turns," Abbott told the Baltimore Sun. "I couldn't brace myself. I was terrified."
Meanwhile Rev. Al Sharpton is preparing to lead a march in May from Baltimore to the Justice Department in Washington, D.C., to bring to the attention of Attorney General Loretta Lynch the epidemic of police murders including the killing of Freddie Gray.
"Loretta Lynch has a tremendous challenge in front of her," said Pastor Bryant.
Photo: Matt Rourke/AP