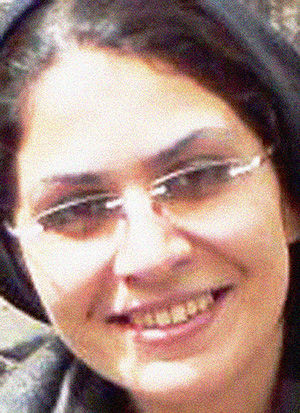 Bahareh Hedayat will be 32 years old next month. She looks likely to mark that birthday in prison unless the Iranian government can be persuaded to free her.
Hedayat is one of the leaders of the powerful student movement in Iran and a woman's rights activist. She was a member of the executive committee and spokesperson for Iran's pro-democracy student movement, the Daftar-e Takhim-Vahdat (Office for Consolidating Unity). She was also an initiator and active in the One Million Signatures Campaign that seeks to end legal discrimination against women in Iran.
Hedayat has been sentenced to nine and a half years in prison and is serving that time in the notorious Evin prison in Tehran.
Around midnight on Dec. 31, 2009, she was arrested by the Intelligence Ministry of the theocratic regime in Iran for the fifth time in four years and taken to unit 209 of Evin prison. Hedayat met with one of the harshest punishments ordered against the student activist movement over recent years. She was sentenced for participating in legal, peaceful activities and for challenging the existing discriminatory laws against women.
The injustices and oppression inflicted upon Hedayat are retaliation for her activism as a female university student. The sentence imposed upon her by a Tehran court comprised two years for "insulting the Supreme Leader"; six months for "insulting the President"; and five years for "acting against national security and publishing falsehoods." She was also sentenced to an additional two years in prison for "acting against national security through holding a protest gathering for women," currently suspended.
Hedayat is suffering from serious health issues that require urgent medical attention, without which her life could be in danger.
As well as Bahareh Hedayat at least 14 other high-profile women rights campaigners are incarcerated in Iran's political prisons for demanding their rights. In recent weeks, we have witnessed the passing of inhumane long-term jail sentences against a number of women activists.
One such example is Mariam Shafi' Pour, a university student activist who was arrested in 2010, in Qazvin. She was suspended from the university and was expelled in her eighth term at the university. She had been sentenced to one year's suspended sentence, but this was extended to seven years after 67 days in solitary confinement. She suffered torture and beatings, because she had refused to admit to crimes she had not committed. She had been threatened by her interrogator that she would get a long sentence, and her seven-year sentence suggests the power of interrogators in the judicial system.
This year, the Democratic Organization of Iranian Women celebrates the 71st anniversary of its foundation. In all these years the organization has campaigned tirelessly for women's rights and freedoms, and against traditionalist and reactionary laws.
However, the regime in Tehran continues to consider laws that worsen the lives of women in Iran and marginalize them in the economic and social arenas.
In March last year, the employment of women by the state became limited to those who work part-time. Their salaries, benefits and pensions were halved accordingly. The presence of women in workplaces has been limited further by the introduction of home work for women. This is publicized as a progressive move to enable women to look after their children by working from home.
The last government (under President Mahmoud Ahmadinejad) initiated a policy for increasing the population by closing down the Family Planning Unit in 2010. The Minister of Health at the time said, "The Ministry's Pregnancy Prevention programs have been removed completely. No birth control is promoted any more – on the contrary – the Ministry of Health's new policy is population growth."
In the education sphere the regime has introduced the strict segregation of sexes in universities. The opening of 10 women-only universities in different towns and cities in Iran was heralded as the dawn of the Islamization of universities. There has been a significant reduction in the acceptance of women in universities.
Against this background women such as Bahareh Hedayat, who are prepared to make their voices heard and speak out for the rights of Iranian women, continue to be dealt with severely.
Since his election as president in August 2013, Hassan Rouhani has been trying to present a more liberal face to the West, to give the impression that conditions for the opposition in Iran are not as harsh as solidarity movements suggest. It is worth noting that the security forces prevented hundreds of women from holding an International Women's Day celebration last Saturday, March 8.
While some political prisoners were freed in September and on the eve of Rouhani's much publicized appearance and speech at the General Assembly of the United Nations, many are still languishing in prisons. The continued incarceration of Bahareh Hedayat and others gives the lie to Rouhani's claims of liberalization.
The women's movement in Iran has gained itself a prominent place in the struggle of the Iranian people for freedom and equal rights. It has been intelligent in its choice of tactics to reach the masses and to publicize its demands. Over the last decade the women of Iran have been at the forefront of major campaigns against the reactionary rulers of Iran. The One Million Signatures Campaign organized by progressive women against discrimination and inequality against women was very successful in galvanizing women, gaining international recognition and support and forcing the regime to notice. The persecution and imprisonment of the activists has not succeeded in silencing it.
On the occasion of International Women's Day 2014, the Committee for the Defense of the Iranian People's Rights (CODIR) renewed its call for the release of Bahareh Hedayat; renewed its call for the Islamic Republic of Iran to grant equal status in law to its female citizens; and reaffirmed its solidarity with the women in particular, and the people of Iran in general, in their struggle to achieve true peace and democracy.
CODIR calls upon all those concerned for women's rights and freedom in Iran to put pressure upon the Iranian government to free political prisoners in general, and to release Bahareh Hedayat in particular. If the claims of President Rouhani to be leading a more liberal regime are to have any credence, such action would be a small but necessary first step.
Photo: Bahareh Hedayat. United4Iran CC