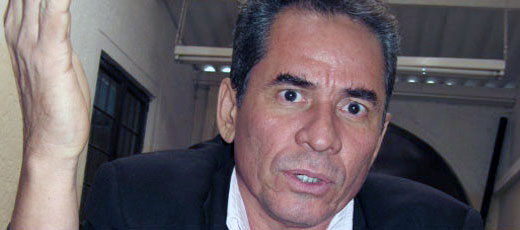 September 14 was the end of David Ravelo Crispo's first year in jail and a time of renewed solidarity for this human rights activist imprisoned in Colombia.
"They are getting even for my longstanding, relentless work in defense of victims and for my unbreakable position against injustice, " Ravelo told an interviewer in April. And, he added, for having publicized a video showing former President Alvaro Uribe interacting with violent right wing paramilitaries.
Ravelo headed the human rights group CREDHOS in Barrancabermeja (in northeastern Colombia), led the a section of the Movement of Victims of State Crimes in Colombia's Middle Magdelena area, and belonged to the Colombian Communist Party's Central Committee. He worked on behalf of the Alternative Democratic Pole, a leftist electoral coalition. In 2009, the Barrancabermeja Roman Catholic Diocese honored Ravelo for his 35 years of human rights work. In prison, he advocates for prisoners' rights.
The accusation against Ravelo comes from a charge by imprisoned paramilitary chieftain Mario Jaimes Mejía's that Ravelo arranged for a murder of mayoral candidate in 1991. Ravelo's lawyers say Mejía was cooperating with authorities to get a reduction in his sentence from 40 years to eight years, and is alleged to have been involved in numerous deaths and human rights violations.
A video called David Ravelo a Year in Prison, uploaded by colombiapbi explains the case and it's ramifications. As stated in their introduction:
At the end of August 2011, nearly a year after his initial incarceration, a judge formally opened trial proceedings against recognized human rights defender and economist David Ravelo, who is accused of murdering David Nuñez Cala in 1991. Ravelo is one of the most important social leaders in the Magdalena Medio. In 30 years spent defending human rights, he has denounced innumerable extrajudicial executions, displacements and forced disappearances in the region.
To send a message of solidarity to Colombian human rights defender David Ravelo Crespo, go here.
Photo: Your LinkDavid Ravelo
On a related note, an AFL-CIO blog post by James Parks on Sept. 26, reported that AFL-CIO President Richard Trumka said the violence against workers is continuing in Colombia despite the labor action plan that President Juan Manuel Santos agreed to in April. Until that violence ends, the United States should not approve the U.S.-Colombia Free Trade Agreement. In a letter to President Obama, Trumka also said Colombia is suppressing the rights of indigenous people and the country's minority Afro-Colombian community.