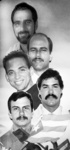 The U.S. government is still holding five Cuban nationals in jail for the "crime" of fighting terrorism.
René González, Gerardo Hernández, Ramon Labañino, Fernando González and Antonio Guerrero were convicted of various charges, including "conspiracy to commit espionage," in 2001 for monitoring terrorist organizations harbored in Miami. These were organizations known to be connected to terrorist acts against innocent civilians — including the destruction of a Cuban airliner in 1976 that killed 73, including the entire Cuban fencing team. The Five have been imprisoned in inhumane conditions, including solitary confinement, since their arrests in 1998.
The charges against them, and the lengthy prison terms they have received, are a terrible miscarriage of justice.
Aside from other problems with the 2001 trial, the judge denied the defendants' requests to move the trial out of Miami, a hotbed of resentment against socialist Cuba, rejecting the defense arguments that the Five could not receive a fair trial there. Finally, in August 2005, three Atlanta appeals court judges agreed with that defense argument, overturning the convictions. But in November, a majority on the full 12-member appeals court reversed that decision and agreed to rehear the case.
The Cuban Five's new day in court began Feb. 14.
In opening arguments, federal prosecutors insisted that the Cubans had received a fair trial and demanded that the convictions be left standing.
But lawyers for the five men said jurors in the original trial could not help but be influenced by the extreme anti-Cuba hysteria permeating Miami at the time of the Elián González case. Bomb threats, unrest and demonstrations contributed to the tense atmosphere faced by jurors.
The new trial in Atlanta offers a glimmer of hope for these five anti-terrorist heroes. But no one should harbor illusions. The Bush administration, which is protecting known terrorist Luis Posada Carilles in this country, is virulently hostile to socialist Cuba and anyone who defends it.
We urge our readers to contact Attorney General Alberto Gonzales and demand he drop all charges and free the Cuban Five, now.