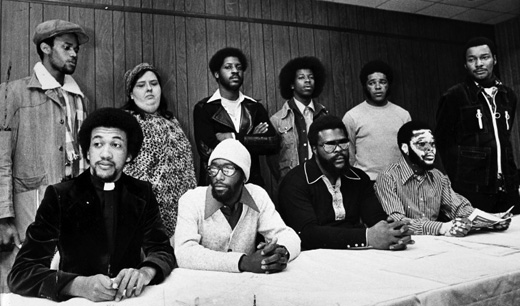 Forty years. Damn it's been a long time. When I first heard the news that Gov. Bev Purdue of North Carolina had pardoned the Wilmington Ten, I was so torn. Ecstatic and angry. So glad that finally, finally, forty years of justice denied was being corrected. Most importantly the Governor made it a "pardon of innocence." She said it was a racist and illegal prosecution. Now the record is almost straight.
Still those forty years saw all of the Ten spend years in prison, and they were innocent. There has never been a real investigation into KKK influence in the frame-up and prosecution of the Ten, and they were innocent. Some of the Ten and some of their family members have passed away without ever knowing the "pardon of innocence," and they were innocent.
The fight for the freedom of the Wilmington Ten was a critical part of the civil rights movement of the 1970's. It also helped form a whole generation of young activists, especially in the South.
We registered voters, we petitioned, we marched, we picketed, we wrote letters, and fought the Klan. We learned from great leaders of many different movements, like Angela Davis, like Anne and Carl Braden, like Charlene Mitchel, like Henry Winston and Gus Hall and the Rev. Ben Chavis, one of the Ten.
We learned how to take the case to unions, churches, neighborhoods, campuses, and to rural communities Black and white. We watched and learned as experienced fighters took the case to the world and gathered international support.
As I look around the movement today, I see lots of my old friends from that struggle still fighting the good fight in so many different ways; in labor, in civil rights, in peace, in faith based coalitions, in the environmental movements and more.
Then this victory for the Wilmington Ten really comes home to me. The victory of the Wilmington Ten, for these ten incredible brave freedom fighters, glows in a brighter light.
Dr. King famously said, "the arc of the moral universe is long but it bends towards justice." And the Wilmington Ten and their fight for justice has greatly helped it bend in the right direction.
Photo: Archival photo of Wilmington 10: From left, front row, Rev. Ben Chavis, Joe Wright, Connie Tindall, Jerry Jacobs; from left, back row, Wayne Moore, Anne Sheppard, James McKoy, Willie Vereen, Marvin Patrick and Reginald Epps. 1976. News & Observer file photo.