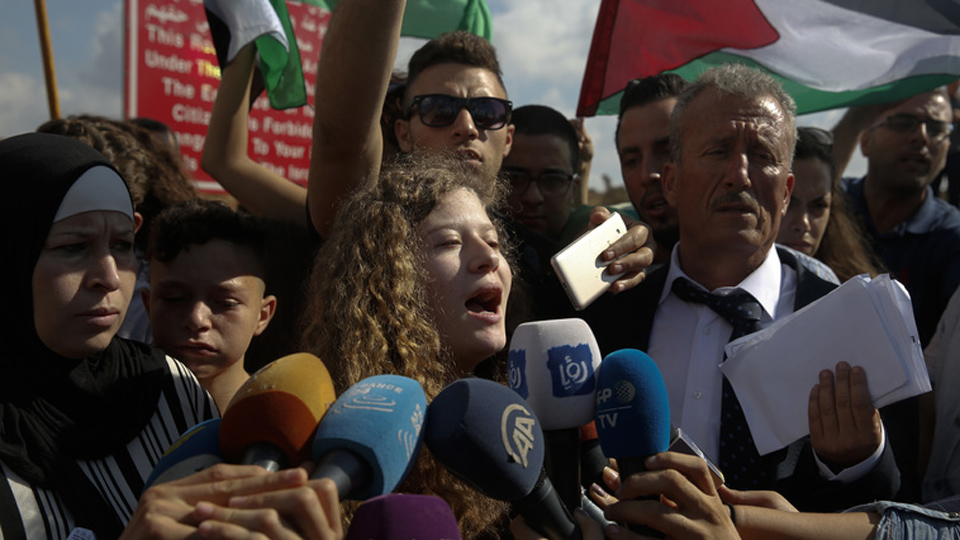 On July 29, Palestinian resistance icon Ahed Tamimi broke down in tears as an emotional crowd in her home village of Nabi Saleh welcomed her return from an Israeli prison.
She said she was "extremely happy" to be "in the arms and embrace of my family," but she added that her "happiness is not complete" when other Palestinian female prisoners are still behind Israeli bars.
"My happiness is not complete without my sisters who are not with me. I hope that they will also be free," she declared.
Ms. Tamimi was released with her mother Nariman, who was also sentenced to eight months by the occupation regime's military court system.
They were greeted with banners, cheers and Palestinian flags as they entered their home village.
She was sentenced for "terrorism" in slapping an occupation soldier who had entered her family's West Bank property shortly after her cousin was put into a coma as the result of being hit by a rubber-coated steel bullet.
Her mother was arrested for videoing Ahed's resistance and posting it online.
Israeli forces initiated a crackdown on Nabi Saleh after the video went viral, arresting residents and shooting dead Ahed's 21-year-old relative Izz al-Din Tamimi during a raid on the village last month.
The 17-year-old relayed messages delivered to her by Palestinian female political prisoners, saying that they "call for national unity inside Palestine, for the people of Palestine to remain strong and united in their resistance and for everyone to stand with the rights of political prisoners and work for their release."
Ms. Tamimi said she was planning to pursue a career in law in order to "hold the occupation accountable."
"In the end I want to say that the power is with the people and the people will and can decide their destiny and decide the future.
"Women are a key part of the Palestinian struggle for freedom and the women's role will continue to expand not only in the struggle but by producing new generations that can continue the struggle.
"We say: 'Leave, leave occupation'."
Her mother added: "As a parent, I want to say that we shouldn't be afraid of our children and we should support them in whatever they choose to do.
"They are being killed whether in our homes or resisting in the streets, so support them in resistance."
Ahed's father Bassem Tamimi described the release of his wife and daughter as "a very happy moment." He added: "We have missed them a lot, but I am also worried because the occupation is continuing and still in our lives."
Mr. Tamimi said he was worried about the safety of his daughter after her release, noting that she had been threatened by right-wing Israeli politicians and settlers.
Nabi Saleh residents woke up earlier this year to Hebrew graffiti splashed around their village, which read: "Death to Ahed Tamimi" and "There's no place in this world for Ahed Tamimi."
Residents believe it was the work of Israeli settlers from the adjacent Halamish settlement, which was built on top of Nabi Saleh's lands.
In another incident, settlers from Halamish demonstrated on a road that divides the village and the settlement, carrying makeshift coffins and chanting: "Death to Ahed Tamimi."
On July 28, Israeli border police arrested two Italian artists who were painting a mural of Ahed Tamimi on Israel's apartheid wall in Bethlehem, apparently to welcome her release.
They were charged with vandalism.
In contrast, Israeli settlers who set fire at the weekend to farmland as well as a house in the Palestinian village of Jaloud, near Ramallah, under the watchful eyes of occupation military, were allowed to carry out their intimidatory actions without interference.
At least 2.5 acres of wheat was burnt and the settlers cut down dozens of Palestinian-owned trees in the area.
Also on July 29, Israel's military intercepted a Freedom Flotilla Coalition ship carrying medical aid and activists from 14 countries to Gaza, taking it to an Israeli port.