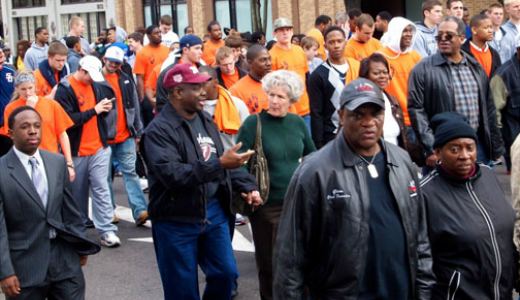 BIRMINGHAM, Ala. – After a wreath laying ceremony at the Rev. Martin Luther King Jr. statue in the famous Kelly Ingram Park, hundreds marched from Birmingham City Hall to the Sixteenth Street Baptist Church. The whole march was steeped in the past and present of civil rights struggle. (Video below)
Remembering the mighty history of the struggles against racism and discrimination, the march also joined in the many streams of struggle today for jobs, justice and equality. The modern-day Birmingham civil rights movement has been a vibrant center of struggle against Alabama's infamous anti-immigrant law.
The march ended in a rally at the historic Sixteenth Street Baptist Church. The Sixteenth Street Church was the scene of one of the most heinous acts of racist violence during the civil rights struggles of the 1960s. On Sept. 15, 1963, Ku Klux Klan members detonated a powerful bomb at the church killing four young African American girls attending Sunday school.
The march was spirited and festive with singing and chanting, including standards of the civil rights movement and modern slogans.
Rev from Scott Marshall on Vimeo.
Photo: (PW/Scott Marshall)