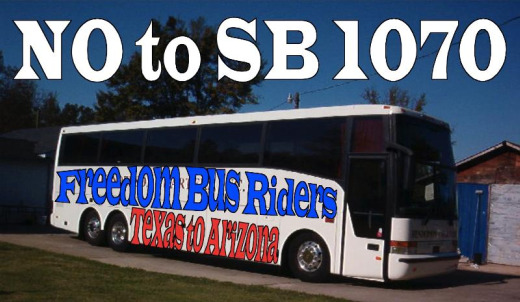 DALLAS – After the downtown May Day immigrant rights march of 28,000 or more here, organizers set out to send a busload to Arizona to carry a message of solidarity there. Domingo Garcia, central organizer of the May 1 "Mega-March," joined with Peter Johnson of the Southern Christian Leadership Conference to build a diverse group. The bus left on May 13 and arrived in Phoenix the next day.
On May 16, they reported that they had stopped at a number of cities along the way to help build the nationwide opposition to the repressive Arizona anti-immigrant law. They counted on supporters, especially members of the League of United Latin American Citizens, to help build local protests.
In Phoenix, the Freedom Riders arrived just in time to protest at the JW Marriott Hotel. Inside, Sarah Palin was said to be joining the hate campaign alongside Arizona Gov. Brewer. The group marched out of the bus singing a melody written by a fellow Freedom Rider. They were quickly approached by Marriott security agents and over 30 local police officers. Undaunted, the group set up their picket line before hundreds of wealthy Republican Brewer supporters and held their ground for about 30 minutes before a SWAT team showed up.
They didn't move far even then, but went to the front of the hotel to continue the protest with local brothers and sisters. The Phoenix contingent fed the Dallasites a home-cooked meal of mole and tamales. The report that the Dallas group sent back home ended: "Our message is being heard loud and clear in Arizona … America will not stand idle as the values we hold dear are threatened. We stand in solidarity with our brothers and sisters as we act as defenders of American values of justice for all and justice now. Hasta la victoria!"
Photo: Via Jim Lane