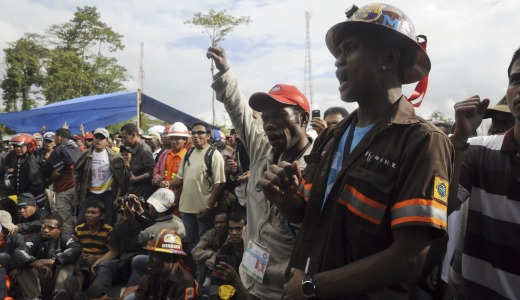 PT Freeport's mine in Indonesia produces three million pounds of copper and 5,000 ounces of gold every day. Since September 15, 8000 strikers there have cost the parent corporation, Freeport McMoRan Gold and Copper (FMGC) daily revenue losses worth $20 million due to production having fallen by 20 percent.
Phoenix-based FMGC, the world's largest mining company, recently posted $1.37 billion in second quarter profits. The mine itself, occupying 632,000 acres in Grasberg, West Papua, ranks first in the world for profits and gold production, second for copper production, and first for reduced costs. In addition to the striking full time mineworkers, the mine employs some 3000 staff workers and 10,000 contract workers.
The strikers, earning between $1.50 and $3.50 an hour, insist on wages comparable to FMGC counterparts in Africa, Europe, South America, and the United States. Workers at FMGC's Cerro Verde copper mine in Peru have been striking for an 11 percent wage increase since September 29.
The mineworkers, belonging to the Confederation of All-Indonesian Workers Labor Union (SPSI), launched a weeklong strike in July that ended with company promises to study worker demands. The strikers this time rejected both a government-suggested 25 percent wage increase and a 22 percent hike offered by EMGC. With negotiations breaking down, the union extended the strike set for a month to mid November.
The strikers first demanded $17.50 per hour as a minimum wage and $43 as top wage, later modifying their expectations to $12.50 and $32 respectively. A union spokesperson recently signaled acceptance of a $7.50 per hour minimum wage. Strikers want healthcare coverage and educational services for their children.
PT Freeport threatens to fire striking workers and has imported "replacement workers," who along with apprentices work 12-hour days. The labor ministry issued an opinion October 12 that dismissal of striking workers and recruitment of replacements are illegal. A court decision is pending.
Strikers have blocked mine access roads. SPSI chairperson Sudiro narrowly escaped being shot on September 11. Strikers incensed at replacement workers arriving at their barracks fought the police on October 10. In the fracas, one striker was killed and eight wounded. Amnesty International responded by asking the Indonesian government to investigate. President Susilo Bambang Yudhoyono has called for apprehension of perpetrators.
Accusations of human rights abuses, directed at thousands of national troops and police stationed in the remote area, have proliferated over many years. With U.S. financed arms, they've targeted a separatist insurgency in the region. In league with paramilitaries, they also provide security for PT Freeport, paid for by the company.
Worker grievances could reignite separatist longings, says academician Ikrar Nusa Bakti. Quoted by the Jakarta Post, he asked, "Freeport be more transparent in its operations." That may be asking a lot: the government owns almost 10 percent of PT Freeport shares. FMCG is Indonesia's largest single taxpayer, having paid $12.8 billion since 1992 including $1.4 billion so far this year. The corporation pays only 1.0 percent and 1.5 percent respectively as gold and copper royalties despite legal requirements of 3.75 and 4 percent, respectively. The government's fending off of international criticism directed at Freeport's horrific environmental record demonstrates an attitude of subservience to the corporation. Tailings at the Grasberg mine have damaged 11 square miles of rainforest, and according to a 1996 international report, over three billion tons of waste are releasing noxious chemicals into river systems.
To upset the Freeport applecart could run counter to historic U.S. government priorities going back to the tenure of former Secretary of State Henry Kissinger. As a Harvard University professor, Kissinger was advising international corporations, among them FMCG predecessor Freeport Sulfur. In 1965, Kissinger allegedly arranged with future Indonesian dictator Suharto for Freeport to be able to develop its Papua copper and gold mine.
Later that year in Indonesia a CIA fostered massacre began to unfold of a million or so Communist Party activists and supporters. For Time Magazine, it was "the West's best news in years." In 1967, Suharto, now the government head, awarded Freeport Sulfur access to 250,000 acres of land in West Papua for its mine. Indigenous residents were forcibly removed.
On December 6, 1975, Kissinger and President Gerald Ford visited Jakarta where they are alleged to have given Suharto the go-ahead for Indonesia's invasion the next day of newly independent East Timor. Up to 100,000 East Timorese soldiers and civilians were killed.
Beginning in 1989, FMCG paid annual fees of over $500,000 to Kissinger Associates for Washington lobbying. From 1995-2001 Kissinger served on the FMCG Board of Directors at a $30,000 annual salary. He remains as a majority stockholder.
Photo: Workers of mining giant Freeport-McMoran shout slogans during a strike in Timika, Papua province, Indonesia, Sept. 16, 2011. Thousands of workers at Freeport-McMoran's gold and copper mine in eastern Indonesia kicked off a month-long strike to protest low wages, bringing production and shipments to a standstill. (AP Photo)