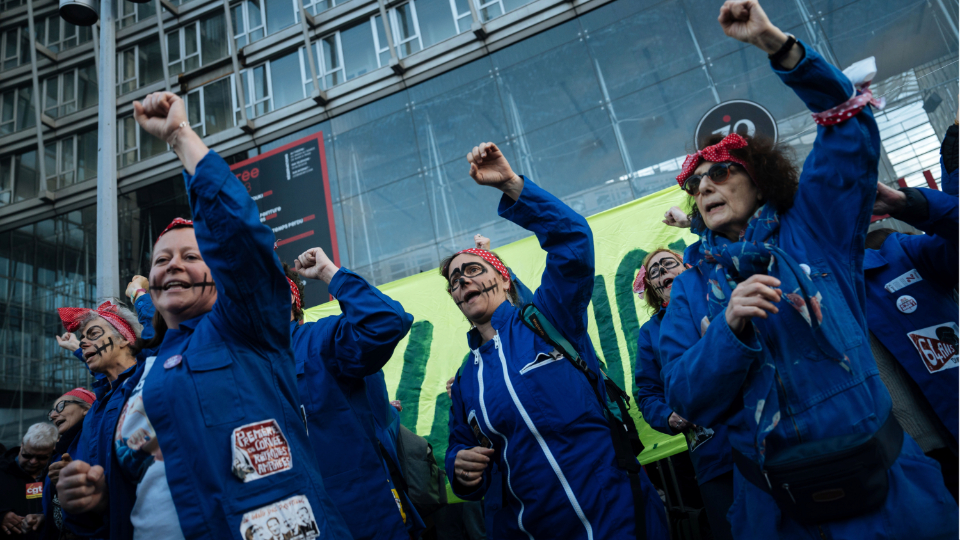 French Communists said Saturday that they "can definitely win" a vote of no confidence in the government of President Emmanuel Macron.
Monday's confidence vote was tabled after Macron decided to force through his unpopular pensions legislation rather than risk defeat in the National Assembly last Thursday.
The bill, which raises the retirement age from 62 to 64, provoked further angry protests across France at the weekend.
Demonstrations took place in major cities, including Nantes and Marseille, where protesters got past police to occupy the main railway station.
In Paris, police banned gatherings on the Champs-Elysees and in the Place de la Concorde, where protesters had tossed an effigy of Macron onto a bonfire Friday.
"The government should change its position and listen to the people because what is happening is extremely serious. And we are seeing a radicalization," said psychologist Isabelle Vergriette.
If you enjoy reading People's World and the stories we bring you, support our work by donating or becoming a monthly sustainer today.
The strike by Paris sanitation workers has left piles of garbage across the French capital.
Emmanuelle Pierre-Marie, mayor of the city's 12th arrondissement, said: "Food waste is our priority because it is what brings pests to the surface.
"As soon as we have a bin lorry [garbage truck] available, we give priority to the places most concerned, like food markets."
Police have forced sanitation workers to clean up some districts, but heaps of trash remain.
More strikes are planned Monday in numerous sectors from public transport to energy.
The left-wing General Confederation of Labor (CGT) warned that at least two oil refineries are set to be shut from tomorrow.
Communist Party General Secretary Fabien Roussel said: "The constitution is clear: A law is adopted unless a motion of censure, tabled within the following 24 hours, is passed."
He called on all opposition parties to vote against the government, saying: "On Monday, we can definitely win."
Related Stories:

> Dictator? French Communists slam Macron for imposing pensions bill without a vote

> Garbage piles up in Paris streets as Macron prepares to trash workers' retirement

> Striking workers bring France to standstill to protest rise in retirement age
Morning Star
We hope you appreciated this article. Before you go, please support great working-class and pro-people journalism by donating to People's World.

We are not neutral. Our mission is to be a voice for truth, democracy, the environment, and socialism. We believe in people before profits. So, we take sides. Yours!

We are part of the pro-democracy media contesting the vast right-wing media propaganda ecosystem brainwashing tens of millions and putting democracy at risk.

Our journalism is free of corporate influence and paywalls because we are totally reader supported. At People's World, we believe news and information should be free and accessible to all.

But we need your help. It takes money—a lot of it—to produce and cover unique stories you see in our pages. Only you, our readers and supporters, make this possible. If you enjoy reading People's World and the stories we bring you, support our work by donating or becoming a monthly sustainer today.